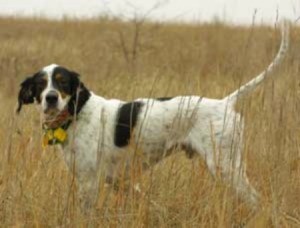 Breed Description:
The mottled color of the English Setter makes it easy to distinguish from other breeds of Setter. This friendly breed is an extremely responsive gun dog that also makes a loving and devoted companion.
Group: Sporting Group
Purpose of Breed: Retrieving birds
Country of Origin: England
Average Size: Dogs range 24-27 inches and 55-80 pounds. Bitches range between 23-26 inches and 45-70 pounds.
Color(s): Combinations of black & white, white & orange, white & lemon, white & chestnut or tricolor. Speckling is often present.
Coat Type: The English Setter's coat is long and silky. Hair on the legs and thighs is feathered to the feet. The English Setter's coat requires regular brushing in order to maintain its silky sheen. This breed is an average shedder and should be checked for burrs and tangles that can embed themselves in its fur.
Grooming: The Setter's coat needs regular brushing to maintain its shiny appearance. This breed requires standard care for eyes, pads and nails. Its long ears should be cleaned and examined regularly.
Exercise Needs: This breed grows restless indoors and needs a high amount of daily exercise to maintain physical and mental health. A fenced yard is also ideal.
Temperament: This friendly breed is sweet and gentle and makes a wonderfully devoted family pet. English Setters do not make good kennel dogs are happiest when they feel like part of the family. They are playful and enjoy the company of children and get along well with other family pets. In general, the English Setter is good-natured and mellow, but this breed can have a tendency to bark if not properly trained when young.
Common Ailments: Prone to false pregnancies, hip and elbow dysplasia and obesity.
Life Expectancy: Averages 10-12 years.
Trivia: The three most common setters-English, Gordon and Irish-are really three separate breeds, not just variations on color. The term "setter" refers to the way they sit ("set") after locating game.
More Information: English Setter Association of America, Inc.