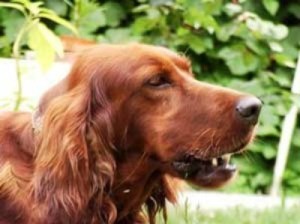 Breed Description:
Irish Setters are an unusually beautiful breed of dog with a long, flowing, silky red coat and a streamlined, athletic body. When trained for hunting, this breed demonstrates reliability and incredible stamina to track game over long distances in the field. Irish Setters are highly intelligent and independent in nature, and make loyal and affectionate companions.
Group: Sporting Group
Purpose of Breed: Retrieving and tracking game
Country of Origin: Ireland
Average Size: Range from 25-27 inches tall and 60-70 pounds.
Color(s): Deep chestnut red or mahogany.
Coat Type: This breed has fine, short hair on the head, front of the legs and tips of the ears. Hair on the rest of the body is medium long and flat, with long, silky feathering on the ears, backs of legs, stomach, and tail. They are average shedders and require daily brushing in order to keep their coats in excellent condition.
Grooming: Irish Setters are average shedders and their coats need regular grooming to stay shiny and tangle free. This breed requires standard care for eyes, pads and nails. Ears should be cleaned and examined regularly.
Exercise Needs: Irish Setters were bred for the open countryside. This is a high-strung breed that requires a lot of daily exercise and playtime. This breed will simply become restless and neurotic if not given adequate exercise.
Temperament: Irish Setters are excellent family dogs. They are highly affectionate, intelligent, and good with children. These dogs should start training at an early age to prevent the development of bad habits. They are slow to mature both mentally and physically, however, so they need an owner that will train them with love and patience. The good news, is that they usually retain their puppy-like exuberance into adulthood.
Common Ailments: Susceptible to gastric torsion (bloat), epilepsy, and progressive retinal atrophy (PRA).
Life Expectancy: About 11-15 years.
Trivia: The earliest ancestors of the Irish Setter were not solid, but red and white in color.
More Information: Irish Setter Club of America