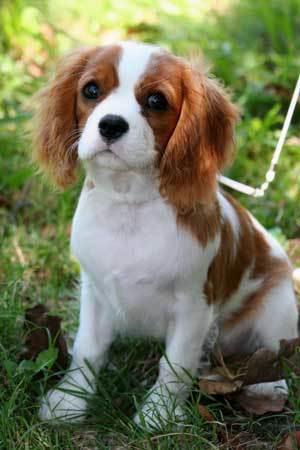 Breed Description:
The toy-sized Cavalier King Charles Spaniel has long, velvety ear, beautiful round dark eyes and a long silky coat similar to a Golden Retriever. This sweet, good-natured breed excels at what it was developed to do-give companionship.
Group: Toy
Purpose of Breed: Companionship
Country of Origin: England
Average Size: Cavalier King Charles Spaniels range from 11 inches to 13 inches at the shoulder and weigh between 10 to 18 pounds.
Color(s): Tricolor (black, white and tan), black and tan, ruby (solid red) or white and red (officially called Blenheim).
Coat Type: Cavalier King Charles Spaniels have long, fine, silky coats.
Grooming: This coat on this breed is easy to maintain with regular brushing and never needs trimming. Cavalier's require standard care for eyes, ears, pads and nails.
Exercise Needs: This breed was developed to be an indoor dog and is suitable for apartment living if given proper exercise.
Temperament: This outgoing and friendly breed is very affectionate. Their loving nature makes them suitable for nursing home therapy and they make wonderful companions for the elderly or disabled. They prefer the company of their family and do not like to be left alone for long periods. The Cavalier King Charles Spaniel loves people and gets along well with other dogs.
Common Ailments: Susceptible to Mitral Valve Disease (heart murmur), ear infections, eye conditions and patella luxation.
Life Expectancy: Averages 9-14 years. Trivia: The Cavalier King Charles Spaniel was featured on the hit HBO series, "Sex and the City," as character Charlotte York's dog.
More Information: American Cavalier King Charles Spaniel Club, Inc.