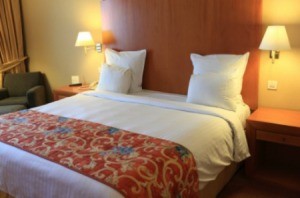 I have California King, which are the most expensive to buy sheets for, if you can find them anywhere at all. I just received my order from overstock.com of an entire cotton flannel set for $23, and that included shipping! That is where I will be buying all my sheets in the future.
By linda from Bellevue, N.E
Read More

Comments

We are considering buying a California king size mattress. We currently have a king size mattress and need a replacement. The California king and king are the same price.
Does anyone have any ideas on how to use a king size flat sheet on the California king? I am thinking of buying clip-on sheet straps to hold it on. I don't think I can use the fitted sheets.
Eventually we will buy California king size sheets when I see a good sale. We plan on using the same blanket and quilt/bedspread that we already have. I am not very good with sewing; I can mend, but not create.
Thanks for all your ideas and suggestions.
By it's.only.me from NE PA / USA
Answers

March 12, 2010
0

found this helpful
My best friend has (had? - she was thinking about replacing it) a California King. I know she had a difficult time finding sheets for it, and when she did, they were expensive. I thought about getting her a set one Christmas, but I asked about color preferences, and that's when she said she might be getting a new bed.
I know, not much help. Sorry! But I just wanted to share her experience with you, before you go and make your purchase. Best of luck, whatever you choose!

March 12, 2010
0

found this helpful
I also used to have a CalKing. Finding sheets was a real challenge-I was so happy to get a regular King to replace it. You might want to re-think getting the CalKing-it's not that much bigger, but just too big for regular King sheets.
Hope that helps you make your decision!

March 12, 2010
0

found this helpful
You could try sewing a piece of elastic on the ends of the sheet to go down around the corner. JC Penneys online has Ca King sheets on sale for 60 some dollars. Regular is $140.

March 13, 2010
0

found this helpful
I had a CA king for years. In CA the sheets are easy to find. The only place I've seen them now that I'm in TX is JCPenney catalog. King and CA king are vastely different sizes. CA king is wider? longer? But anyway, you can't mix/match the sheets.

March 15, 2010
0

found this helpful
Grab your tape measure --Sizes will help you decide - Eastern (Standard) King Size Mattress: 76 inches wide x 80 inches long. Western (California) King Size Mattress: 72 inches wide x 84 inches long.

March 15, 2010
0

found this helpful
Turn your sheets side ways. That's what I do with the flat sheet, it covers the bed easier. You can buy California king sheets on ovc or hsn. In most cases you can pay in 4 month payments.

(Guest)
Gold Post Medal for All Time! 846 Posts
March 15, 2010
0

found this helpful
Elanasfree's idea to sew elastic on the corners (you can do by hand if you don't have a machine) seems the best until you can find new California King sheets on sale :-)
The difference in size is:
King 76"W x 80"L
California King 72" W x 84"L
What a sales racket to have the same overall inch size bed except one is longer ;-)
IMHO if you or wife aren't close to seven feet tall just stick with the regular King ;-)

March 16, 2010
0

found this helpful
Thank you for all your help. We did reconsider and will be staying with the king size mattress. I appreciate all your ideas and advice.

March 17, 2010
0

found this helpful
I probably would not choose the Cal King. That's what I have too. And it is very hard to find affordable sheets. You are so limited because it's not a common size.
I to tried those straps you are talking about I guess they might work ok if you don't move around in your bed.

August 15, 2011
0

found this helpful
I went to JoAnne's (a fabric/craft/silk flower store) and bought huge safety pins to pin our sheets to the mattress. They are really big ones. I forget if they had a special name, but I think they were bigger than ones used on kilts and they worked ok for us. I needed them to hold our blankets in place, because, unfortunately, my dear husband has sleep apnea and would practically unmake our bed every night by his tossing and turning! He won't use his CPAP machine, no matter how much I beg him! He will usually do anything I beg him to do, but won't budge on this one! Any ideas, besides telling him how much he's risking his life and how much I love him? Good luck with the pins to anyone who needs the answer to this and thanks to anyone who can give me a way to convince my husband to use his CPAP machine!

March 22, 2013
0

found this helpful
Using the King Flat sheet may work fine. I have CalKing Waterbed and found very reasonable sheets when I Googled for CalKing Sheets. Even found one set for $8.00! The mattress is a bit longer and I love it! ~ Tess
Answer

this Question