Michawn
Bronze Feedback Medal for All Time! 188 Feedbacks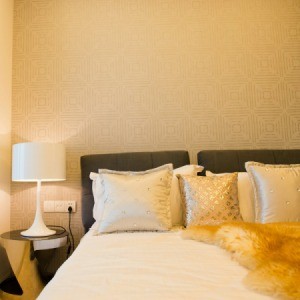 Need a big king size blanket that won't fall short of keeping you and your husband warm? While looking for an affordable (less than $90) king sized electric blanket, I was in a quandary. "How do I find one before Christmas?" Problem is, we have an Eastern King, in a California king state. Our bed is wide. Unless I spend a gajillion dollars on some fancy schmancy sheets or blankets (which I might only gain a few inches on each side), I'm in trouble.
But then, while wandering through Wally World, I came upon twin size electric blankets. Ping! (that's the light bulb going off.) Buy 2 and tack them together, silly! I get separate controls still and instead of the standard 108 inch (or so) on a king size electric blanket, the twins are 62 inches each so 124 inches. Not only that, but for 2, I paid $50 and I didn't have to order them and wait for them to come after Christmas! I tried to give them a long running stitch on my machine last night, but it wasn't happy with the fabric. So a few tacks with some heavy duty thread and we were set to go! It hangs over nicely on both sides and we were both content.
Now, I can do the same with other blankets, I am forever hunting for blankets that are wide enough. I've already told him this year I am buying a few twin sheets at Wally World (the thread count doesn't matter since they won't be on skin) and sewing some "tucking" strips onto our sheets, then there won't be the "I have nothing on my side" fight! Why not take a pretty twin quilt or bedspread (almost always cheaper to buy 2 of those than 1 King, not to mention some stores don't even carry king, let alone CA king), sew it down the middle and add a nice ribbon or detail on top of the seam (if it shows). Why didn't I think of that earlier!
By Michawn from Morgan Hill, CA
Read More

Comments

I don't have a sewing machine and I have carpal tunnel in both wrists. I have a king size bed and I cannot find a blanket that is reasonably priced that will fit the bed. So my question is this: how can I attach two blankets together with a ribbon or blanket edging over the seam where they connect? Will an adhesive work or a tacky glue? Should I go over it by hand still? Any ideas?
I do not want a tie quilt or blanket. My idea is to take two twin size blankets and attach them together and then I was going to buy like a blanket edging to go over the seam. I'm afraid that's too much sewing and I'm not real good at it, so my thought was maybe an adhesive would work or help. Does anyone know?
Answers

April 18, 2016
1

found this helpful
Hey, Nicole. You can of course try fabric glue but maybe stop by your local fabric shop and ask about their fusable material and if it might be strong enough? This is something you'd activate by ironing (placing a strip between two layers of fabric and using the heat of the iron to fuse or glue the two together). You might want to pin it all in place to make sure of getting the edges even (don't use pins with plastic heads), and once it's all ironed and the join is reasonably secure, take your time hand-stitching the edges?
The fusable stuff will work fine but blankets sometimes take a beating if you're restless in the night and a hand-sewn seam will just make it more durable. Too, if you're feeling creative, investigate embroidery stitches instead of just plain hand-stitching?

Louise B.
Silver Feedback Medal for All Time! 337 Feedbacks
April 27, 2016
1

found this helpful
This is actually a pretty simple sewing job -- one or two quick seams on a machine. Could you find a friend who has a machine that might run this up for you? I'm not much of a sewer, but I know I could sew two blankets together in about 20 minutes. You could treat your friend to lunch or something in return.

July 8, 2020
1

found this helpful
I joined two blankets with 2 inch big buttons so I can take apart to wash easily

April 5, 2022
0

found this helpful
This is funny cuz I came up with the same idea when I put my twin brand new sheets that I've been saving to do something with I had gotten rid of my twin beds and had these beautiful Laura Ashley flowery yellow with roses twin sheets and purple bedspreads they're just gorgeous and I thought there's got to be a way to do this so I was able to lay him on the bed and then I have to now I'll figure out how to stitch them together so I think maybe something in the middle like you said to put the seam together might work. I wish there was a way that you could post your finished product on here I would love to see your blankets done so if I can figure this out I will I'm just starting to work on this but I will bookmark this and try to post a picture I'm glad there's like mines out there good luck great ideas though great ideas oh that I see uploaded image it's showing how to do that well I'd like you to see it ahead of time and then finish too so I think I'll go in and out of my sewing room here and go in and the bedroom and take a picture of the sheet and then the bed spread and then post it
Answer

this Question