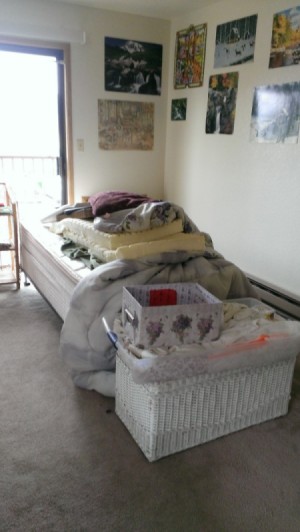 I recently moved into my own place after 28 months of home sharing. The apartment is tiny, so I gave up my bedroom for my "Croffice" or 'craft room/office'. I found I enjoy sleeping in the living room. I can stay up a bit and not disturb the lady below me.
It took just about $15.00 and 2 hours of work for the conversion.
The first step was to move the bed as close to the baseboard heaters as I could. I use a radiant heater so the baseboards are shut off. That left a gap to fill in; which I did with some foam I found at my donation station in my complex's clubhouse.
I then bought 8 pillows and a dust ruffle, and a piece of memory foam that was a gift with the bed.
I took off the mattress, put on the dust ruffle, then put the memory foam on the mattress, then the flannel sheet. Next was the comforter, centered just right.
Then, the pillows were inserted into their shams/cases. Some of the matching shams were king sized, so I was able to fit two throw pillows in each, side by side.
Arranging them to coordinate but not "match" was easy enough. Then, to 'stage' it a bit I used a table top tray and an old afghan with a matching cup.
The only thing missing was a plate of cookies!
I have been told this looks like something out of Better Homes and Gardens, but since it was my daughter she might be a bit biased!
N-JOY!!