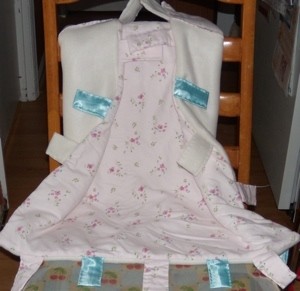 Sometimes the perfect gift is right in your own home. I re-purposed the best parts of a flannel nightgown, a fleece throw, and a satin pillowcase (all of which I already had) to create this "taggie" blanket for an upcoming baby shower. Pretty, useful, and completely free. My machine was broken so I had to hand sew and it only took me a few nights in front of the TV to finish it.
Source: Necessity, the mother of all inventions.
By Chris Richman from Williamstown, NJ
Comments
July 10, 2009
0

found this helpful
So what is a taggy blanket?
July 15, 2009
0

found this helpful
It's a soft blanket with "tags" (usually pieces of different textured ribbon) hanging off of it. Babies and little kids love them.
they are usually small and you can buy them in a store for around $20 (makes making them all the more reasonable) now they even have blankets and pillows and all sorts of baby toys. Hope this helps!
July 16, 2009
0

found this helpful
I am confused. Why do babies like the taggy blankets? Do they hold onto the tags or what
July 19, 2009
0

found this helpful
Great economical idea! I'm impressed that you used everything you already had. I may be able to do this as well now that you've shared your genius idea. I just became grandma of the second baby yesterday and would love to have something homemade for her. Thanks.
Read More Comments