Chocolate Labrador Retriever Photos
Photos
Share on ThriftyFunCheck out these photos. Click at right to share your own photo in this guide.
Naya is a 10 week old chocolate Lab. We had the pick of the litter and we chose her. We visited her weekly, she was the runt of the litter. When the other puppies eyes opened, hers did not. She went to the vet, was given a prescription of eye drops, and they were told to massage the eyes. Her eyes still didn't open, and it was beginning to look like maybe they weren't fully developed. We had already fallen in love with her, and decided to adopt her anyway.
She went to our vet after we brought her home, and she is blind. What "eye" she does have, there isn't much there. But, other than that she is a healthy, beautiful chocolate Lab! At 10 weeks, she knows the commands "sit", "come", "down" and "stop". She also know the command "careful" means she is going to run into to something. She is learning "No bite"! We have scented our back door, and she is pretty much housetrained. She has "mapped out" our house now, and doesn't bump into things, unless you have moved something!
She knows where her bowls are, where all her toys are, and how to find and torment her older sister "Bella", a 5 year old black Lab! She has been an absolute joy and we are so thankful she came into our lives!
She loves to go to the field, where big sister "Bella" plays Frisbee. She has lots of room to run safely. She runs right to us when we tell her "Come Naya!" When she gets close to us, running all out, we give the command "Stop". She stops immediately, and sits or lays down. She is such an intelligent girl!
Her favorite indoor play is her ball that has a bell in it. She always finds it somehow, and brings it back to me to throw it again. She sleeps and constantly plays with her new fluffy, soft stuffed dog "Puppy". Her favorite stuffed toy that is the same size as her. Big toys are easier for her to find!
By Connie from Kane, PA

Obie was our chocolate Lab who lived to be 5. My son bought Obie for a Christmas present. He loved water, family, walks, biscuits and snow. My grandson would call him and he would run and then slowly approach him and lick him on his face. He was such a wonderful pet, as well as family member. He is missed and loved.
By sally mazgaj from Buffalo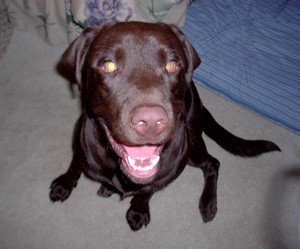 September 12, 2008
0

found this helpful
Oliver is a 2 and a half year old chocolate Lab. My husband surprised me with Oliver in May of 2006.

He likes to swim in a pool, go for walks, play hide and seek, and loves going for car rides. He is the warden and my husband and I are the prisoners. He tells us when to wake up, eat, walk, play, and go to bed.
By Dee from Stuart, FL

June 16, 2010
6

found this helpful
Gaven is a 6 year old chocolate Lab. We got our baby boy when he was 6 weeks old from the APL. He was sitting in the back of the cage being the most quiet little baby boy. He loves to play Frisbee, play ball and go for car rides.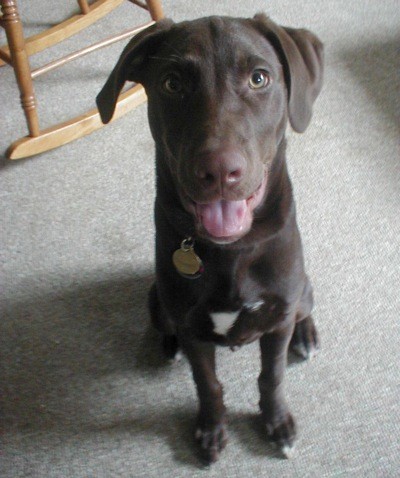 Read More...
Cocoa Cady is a 2 years old Chocolate Lab that my son brought home for me to house break for him at 5 weeks old. I have had him ever since.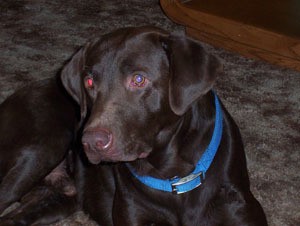 Read More...
Coco is our 17 month old chocolate Lab, we got her in April, 2005. She likes to aggravate my other dogs and cats. This is a picture of Coco right after I got her. She can sleep anywhere.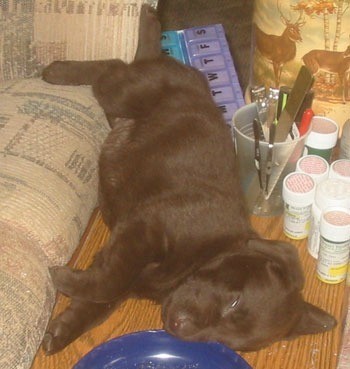 Read More...
Coco is our 1 year, 1 month old chocolate Lab. I got Coco from a friend that raised Labs. She was born March 24, 2005 and I got her April 21, 2005.
I know it was early for her to leave her mother, but my friend had run into financial problems.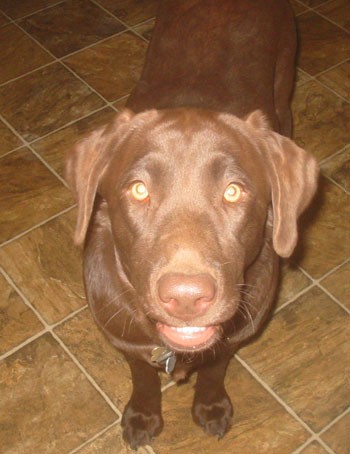 Read More...
Coco will be 2 years old March 24th, 2007. She is a Chocolate Lab and I got her from a friend in April 2005. She likes to eat ice cubes and play with our other Black Lab and 2 mixed beagles.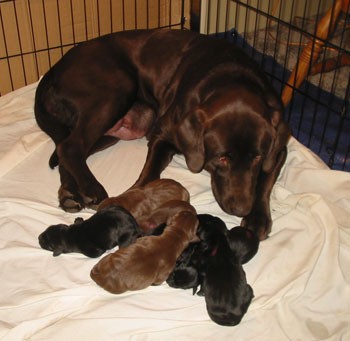 Read More...
Gunner is a 4 1/2 year old Chocolate Lab. He's my sons dog, he raised him from a puppy.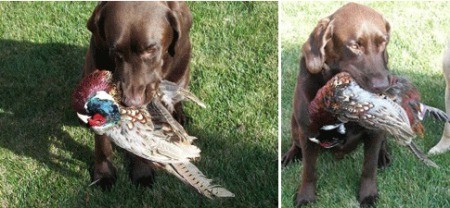 Read More...
Related Content