Yellow Labrador Breed Information and Photos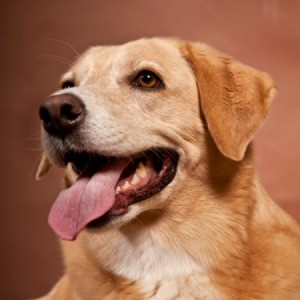 Labrador Retrievers are a very popular dog breed known of their goodnatured personality and intelligence. They make great pets and also are favored as service dogs. The Labrador has three dominate coat colors: black, yellow, and chocolate. This is a guide about
yellow Labrador breed information and photos.
Photos
Share on ThriftyFunCheck out these photos. Click at right to share your own photo in this guide.
Earnhardt is a 4 and a 1/2 year old Yellow Lab. Earnhardt's mother was a foster pup we took in, after moving into a house where she had been left by previous owners of the house.
Quite a sad story actually, but after weeks of working with Earnhardt's mom, she eventually became a very devoted pet. She blessed us with 7 beautiful lab puppies. We kept one from the litter...Earnhardt!
He's quite a ham really, typical lab. He likes to take socks off your feet. He's very gentle, and will not bite toes. He just thinks its funny. To us, he's truly an amazing dog. Very well behaved in public and here at home.
He's been subjected to many foster pups,and more recently to a blind Himalayan kitten we took in. He loves her big time. Her name is Bumper
By Michele
Tina is 14 years old and a Yellow Labrador Retriever. We drove 20 miles in a snowstorm one night to look at a litter of yellow lab puppies. One of them came right up to us, wagging her tail and falling over herself trying to climb out of the puppy pen. It was love at first sight and we gave our deposit to hold her until she was weaned. We loved Tina's face and nature from the minute we saw her.
I took this photo of her one day while she was enjoying the sunshine on our front lawn. I loved how she was surrounded with the misty atmosphere and the dark green foliage behind her.
Tina passed away a few years ago, but when she was alive, her favorite thing was stealing hats, shoes or just about anything she could get in her mouth. One time, she brought home a neighbor's winter hat on one side of us, and another neighbor's shoe on the other side.
She was a huge loveable brat.
One Thanksgiving evening, she stole and ate a whole cooked turkey. We only found one bone that she left behind. My father-in-law had made the mistake of putting the turkey out on his deck on a table to keep cool (covered in a roasting pan). I called the vet and he told me to give her 2 tablespoons of Vaseline to help the turkey bones go through her system. Boy oh boy, did they go through! She was fine by the end of the next day and lived a healthy long life until she was 14 years old.
We still love to tell that story about Tina and the turkey when we talk about our dogs and various pets that we have loved and lost.
By ann from Goulais River, Ontario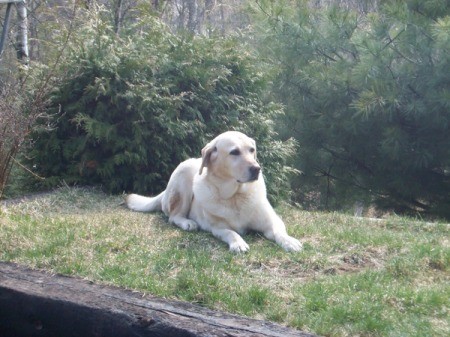 This is Taffy. We named her because of the colour of her coat. Taffy lived to be 15 years old. She passed away about 6 years ago. She was a yellow lab.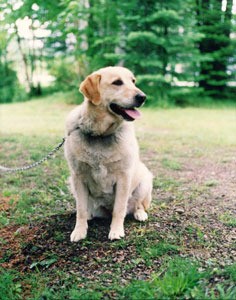 Read More...
Buddy, our yellow Lab, lets us have fun and dress him all the time. He's such a good sport!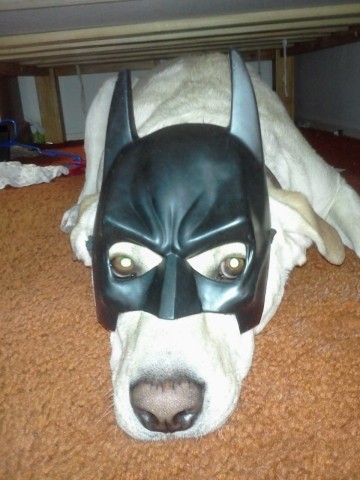 Read More...
I got Tanner after my previous Lab passed due to unknown causes at only 1 1/2 years old. I have had Tanner for 7 months.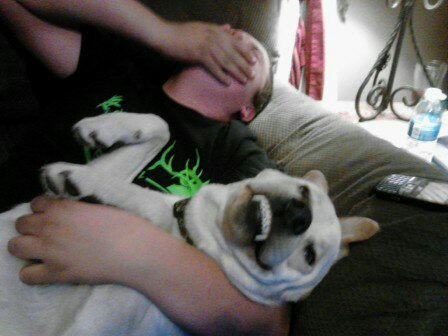 Read More...
I got him from a breeder at 6 weeks old. He likes to annoy me, eat, and run around like the clown he is. He's my 110lb Labradork.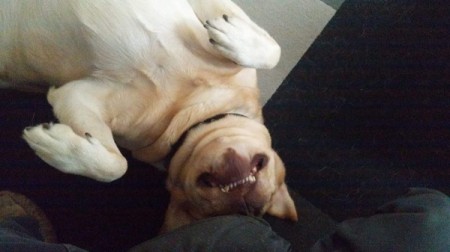 Read More...
Related Content