August 22, 2008
0

found this helpful
Awe...Taffy was a special dog. Labs and goldens just have that sweet tender disposition. My golden is just as sweet natured a dog as you will ever meet. She has a way of looking up at you with those little puppy dog eyes with the crecent whites of her eyes that just make you melt!
By guest (Guest Post)
August 22, 2008
0

found this helpful
At this point six labs have blessed my life. Judy Friendly a friends pet from childhood so friendly her tail, broken hitting the door saying hello had to be docked. Sabrina a college friends seeing eye dog. Bart our first black lbd Buddywho lived to age 14, Sandy my first dog of my own a yellow who lived to be 6 and Bunky and Buster my current yellow buddies ages 6 and 2. Thanks for sharing.
By guest (Guest Post)
August 22, 2008
0

found this helpful
I bet she was a great dog. We lost our beloved Jack Russell on Feb 7th of this year. He got diabetes about 18 months ago & he had to have insulin shots & his sugar monitored. He was like our child & it was so painful to watch him suffer with it. I finally had to take him in & have him put down and it was the hardest thing I ever had to do but he had been in the hospital & he couldn't keep anything down & he was so weak. They basically told me there was nothing else they could do. I don't know if I can get another dog anytime soon but I have to find comfort in that I gave him excellent care & love for the time he got to be here. I really miss him terribly and find myself making sure I am not stepping on him when I get up etc.
By guest (Guest Post)
August 22, 2008
0

found this helpful
The love you had for Taffy comes through in your writing. Taffy was fortunate to have such a loving family and you were blessed as well to have her. Our animals do become such a large part of our family and it is heartbreaking when we lose them.
By guest (Guest Post)
August 23, 2008
0

found this helpful
Hello. What a wonderful furbaby you had. I know she is sadly missed. Hugs to you. She was certainly a true loyal member of your family. We lost our "Woobie" boy in April and I still cry sometimes.
August 23, 2008
0

found this helpful
What a beautiful baby you had!! She'll be waiting for you when it's your turn to go Home too, you'd best believe it!! Along with all your other babies you've had durning your lifetime! All waiting to smother you with kisses! I still miss each one of mine. I have 2 Chihuahuas now, one is already 9 yrs old and will be 10 Nov. 26th. The other just turned 6. These will be the last babies, as saying goodbye to them breaks my heart and I don't think I can stand any more heart breaks like that! I'm almost 60 now and since no one knows how many days our Lord gave to us, it wouldn't be right for me to have another one anyway.
God bless you for posting this sweet page in tribute to your little girl and sharing her with all of us.
Sincerly,
Sherry Jones.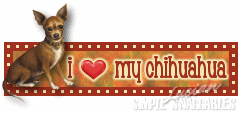 August 23, 2008
0

found this helpful
What a sweetheart of a girl! She sounds like she was in the "best dog in the world" category! She may be gone, but she will ALWAYS be with you in your heart. Your story brought tears to my eyes.
Our beautiful GSD, Maggie , lost her fight with liver disease 6 years ago at the age of 8. She nearly died when she was 3 of an unknown origin, but a wonderful vet and a whole lotta love, determination and caring pulled her through. No one (except the "Mags" and me) believed she had a chance to pull through. I believe she defied the odds because she had an important mission to carry out for the next 5 yrs. though. We moved to a city and near a nursing home where she became all of the residents' "special dog". We made the rounds of all the patients' rooms every Wednesday for "Pet Visits with Maggie." She was even on their advertising brochure! She brought so much joy to many people. I was devastated when she died 5 yrs later, a result of the toll the meds took on her liver. However, after a hiatus of being dogless for about a year, I found another dog, Kato, who needed a home and the love we had to share. He now holds the title of "the world's best BOY doggie"!!
Thank you for sharing Taffy's story. It evoked many wonderful memories of my girl. I know how much you must miss her. I hope you can share the love you gave to her with another pet who needs you. Taffy will NEVER be "replaced", but you can find happiness again in a different way.
Grandma Jan & Kato the Wonder Dog.
By guest (Guest Post)
August 23, 2008
0

found this helpful
I can feel your broken heart. Taffy looks like the sweetest girl. How lucky you have been to have her. 15 years thats lovely. A tribute to your love and good care you have given her. She shall always be with you always dearly missed and much LOVED.
By guest (Guest Post)
August 24, 2008
0

found this helpful
Taffy looks like a wonderful dog, we lost our yellow lab a few years ago, he was such a huge part of our family. It took us a long time to get another dog, but we finally did two years ago, we got a black lab this time and Jack sounds so much like Taffy, he carries socks around in his mouth. I hope your memories of Taffy can be locked away in your heart, I know I'll never forget our other lab. Thanks for telling your story!
By guest (Guest Post)
August 26, 2008
0

found this helpful
Your new pup will kinda fill the gap of the loss of Taffy. She will make you laugh with the antics of puppyhood. Taffy sure was a beautiful friend and member of your family. I am a dog lover also and we lost our Rags 13 years ago, gone, but not forgotten.
September 2, 2008
0

found this helpful
What a little sweetie your Taffy was. How truly
blessed you and Taffy to have each other.
I have always had pets but years ago when my
cat AllieMae got sick and Vet could not save her
I was devastated. I soon was adopted by a neglected and scared Jack Russell doggie, then a
gifted Yorkie then my shihpoo so I have become
a owned by a dog. I have been truly blessed with
lots of furbaby love and laughs.
I hope one day you will be able to bring another
needy little furbaby to help your days be brighter.
September 6, 2008
0

found this helpful
I am overwhelmed by the responses I have received by the readers. Thank you so very much from everyone. Taffy was truly a member of our family that gave us a lot of joy.
Best wishes to all from
Sheila