Coco will be 2 years old March 24th, 2007. She is a chocolate Lab and I got her from a friend in April 2005.
She likes to eat ice cubes and play with our other black Lab and 2 mixed Beagles.
She just had her first litter Jan. 18, 2007. Her puppies are Trixie, Katie, Eliza Jane, Rusty, Mattie (deceased), Hooch, and Max. In these pictures they are 6 days old. They like to eat, sleep and whine. They are just adorable!
By Penny from Ipava, IL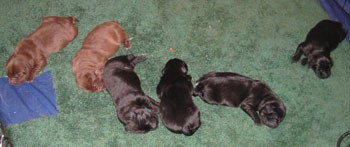 Here are some other entries with Coco