Dog Not Feeding Her Puppies?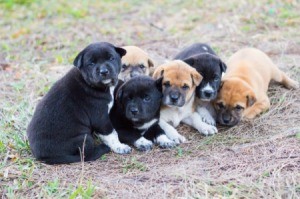 If a female dog stops feeding her puppies, first check to make sure she does not have an issue with her nipples. Then depending on the age of the pups, you can help them out by feeding liquid puppy formula or goat's milk for older pups. This is a page about a
dog not feeding her puppies
.
4 Questions
Ask a QuestionHere are the questions asked by community members. Read on to see the answers provided by the ThriftyFun community or ask a new question.

My Chihuahua's puppies are 6 weeks & 2 days old now (as of 6/21/20). She is still producing milk like crazy, but she's not been letting the puppies suckle on her since they were like 5 weeks old. Her boobs are really big and hard as rocks, it looks very uncomfortable.
I'm just wondering what I should do? She won't let the puppies feed off her. So do I just leave it alone? Do I need to try to milk her myself? What do I do?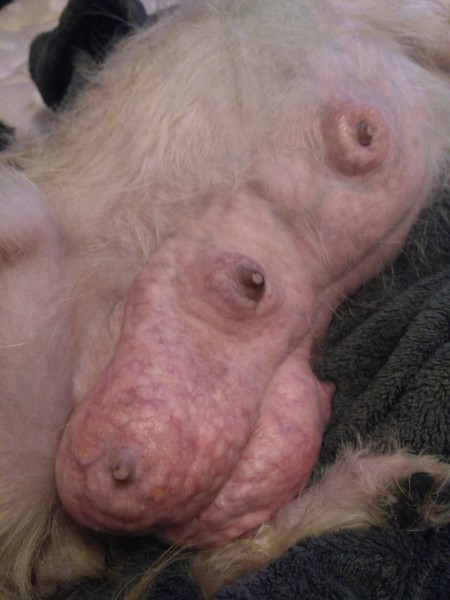 Thanks in advance.
Answers

poehere
Bronze Post Medal for All Time! 105 Posts
June 22, 2020
0

found this helpful
Best Answer
There could be another reason she is not allowing the puppies to feed from her. My dog had puppies and like you I had no idea about any of this because it was my first and last time I did this one. There could be another issue why the mom is not allowing the babies to feed off of her. My female developed an infection and it hurt her so bad to allow the dogs to feed off her.
I am lucky I caught this one really early and it saved her life. After her operation she was still producing milk but would not allow the puppies to feed off her again. I had to go back to the vet and get some pills to stop her milk from producing. If you do not take care of this one soon it could harm the mom and this is not good at all.

Lizzyanny
Bronze Feedback Medal for All Time! 226 Feedbacks
June 22, 2020
0

found this helpful
Best Answer
Your dog may have mastitis. It is a bacterial infection in the teet. It is very painful. Your dog needs to see a Vet to see what bacteria she has and which antibiotic to use to stop it.

June 23, 2020
1

found this helpful
Best Answer
She definitely needs to get on an antibiotic. She has what looks like clogged milk ducts which can lead to a nasty infection and extreme discomfort and pain. Please don't hesitate. Most vets accept some form of payment plan like care credit or scratch pay, if money is a problem.
Answer

this Question

My beautiful Pit Bull had 7 healthy pups 3 weeks ago today. She has been a great new mother. However yesterday one of boobies has started to swell up. She seemed fine. But today I got home from work and it's very large, hard, and she seems in much pain and won't feed the pups.
I applied a warm wet cloth to it and got her comfy. But she still won't feed them. She isn't wanting to eat as much, but will eat some and drink water still. Should I start bottle feeding the pups asap?
Answers

DCA
Bronze Answer Medal for All Time! 220 Answers
December 8, 2015
0

found this helpful
Best Answer
Call your vet immediately for help for the mother and her babies. If the mother has an infection (most probably), she needs treatment immediately and she will not improve without medical help.

December 10, 2015
0

found this helpful
Best Answer
Mastitis is an extremely dangerous condition where the nipple becomes infected. The dog will need antibiotics. You will probably also be required to apply hot compresses to the area.
Answer

this Question

My Pit mom isn't wanting to feed her pups anymore and I can't afford the replacement milk what can I do?
Answers

Pixiedust7
Gold Feedback Medal for All Time! 679 Feedbacks
April 4, 2016
0

found this helpful
Best Answer
Are the puppies old enough to eat solid food? If not, you should try to find out if there is a food bank or other group that helps with pet supplies, as the puppies really should receive Esbilac, or a similar brand of puppy milk replacer. Some areas do have food banks that supply pet foods, too. Perhaps a pet rescue group in your area can help. Otherwise, ask a vet for a recipe for a home made formula appropriate for the pups.
You'll also have to help the puppies to move their bowels and bladders by stroking their lower bellies very, very gently if the mom neglects to do this. Have some toilet paper or tissues handy for the cleanup. This is what the moms are doing when they lick their puppies. Good luck!
Answer

this Question

My dog won't nurse her almost 4 week old puppies unless I make her and I have to lay down next to her and pet her during the process. This all started about a week ago when my parents came to visit and brought their dog with them. They have been gone now for a few days, but she still won't nurse them without my help and the 2am feedings are getting old. Help please. Can they eat puppy food and water and be fine?
Answers

February 11, 2015
0

found this helpful
Best Answer
If mom won't feed any longer, there are milk replacement supplements and feeding bottles at Pet supply stores such as Petsmart, feed stores, etc. There is also a powdered goats milk which can be supplemented for most animals, including dogs and cats.
Soft foods can be introduced at 4 weeks. I have also soaked a little dry puppy food in milk supplement in the past when fostering litters. You should check with your vet to see what best suits your situation.
Answer

this Question
Published by ThriftyFun.
© 1997-2022 by Cumuli, Inc. All Rights Reserved.
https://www.thriftyfun.com/Dog-Not-Feeding-Her-Puppies-2.html