I just wanted to comment on painting kitchen cupboard laminate doors. We'd bought a 2nd hand kitchen a few years ago and the doors were a horrible and a bland pale blue colour, but the carcasses were in excellent condition and much better than some budget units that we could have bought new.
Anyway, finally we decided to give it a facelift until we could afford to replace the doors. I removed the doors, took off all hinges and handles. Then I lightly sanded them and applied a coat of Laminate Primer, then added 2 coats of Laminate Paint which I had tinted to the colours I wanted. The kitchen looks totally different, I wish I'd taken a 'before' photo.
I also bought cheap cream tiles and sheets of mosaic tiling (15 across x 15 down) for under $5 a sheet! We cut these into strips 2 high and used them as a border in the splashback. The whole project, including tile adhesive, cost approximately $250 (Aus). Much cheaper than replacing the doors and I'll be more than happy with this look for a while :)
I just have to patch up a few spots on the walls where we'd redone the tiling! I'd definitely give the laminate paint a thumbs up, just be careful when cleaning it and don't use anything abrasive. I just try to make sure I clean up splashes straight away.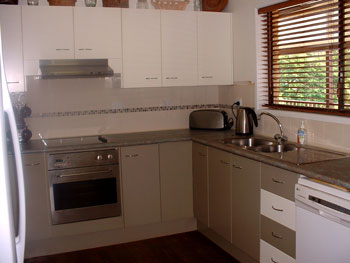 By jojo from Aus