Olivia is approximately 14 weeks old now, she is younger in this picture. She is already in her new home, but I still think the picture is a treasure. I call it "sweet innocence"
She is one of a litter, but I love love this picture and wanted to see what others thought of her. I am too emotionally involved to be objective. The litter is all gone now.
Coton de Tulear is a rare breed of dog from Madagascar. I have her parent and have for about 3 years or so.
She liked to play, cuddle, more cuddle, sleep, bathroom, eat, snuggle, cuddle, and kisses. No she loves to run and play, loves easy squeaky toys!
They are a rare breed and I wanted to show her because they are just so cute, but not often seen.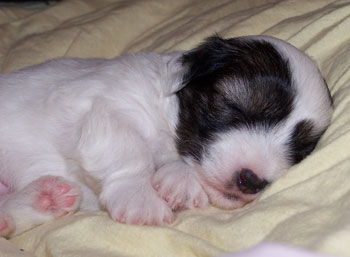 By Cadia from Midcoast Maine