October 14, 2008
0

found this helpful
I used to sell Pampered Chef and made $80-$100/night. If you would do 5 shows a month, you'd be set. I did it for 5 years when the twins were babies. You are in control of your own schedule, plus they offer incentive trips. I earned 2 trips that we otherwise would not have been able to afford. Good luck!

October 14, 2008
0

found this helpful
If you find the answer let me know!

Judi
Bronze Feedback Medal for All Time! 239 Feedbacks
October 14, 2008
0

found this helpful
Wouldn't we all like to know the answer to that question!?
By Linda (Guest Post)
October 15, 2008
0

found this helpful
I sell Pampered Chef and love it. I work only 3 nights per week and make more than $100 per night. Great income on a part time basis. I have been with them for 11 years.

susan
Silver Feedback Medal for All Time! 472 Feedbacks
October 17, 2008
0

found this helpful
Have you considered driving a school bus? Many districts will allow you to drive every morning or afternon only (part time), or hire people for subs. Schools also hire only a few hours a day for cafeteria workers.

October 17, 2008
0

found this helpful
I do this. I buy nice craft supplies, jewelry, and teddy bears at thrift shops. I then resell them on Craigslist. The photo was a cat I purchased at a yard sale for .75 and resold him for 5.00. It's not a guarantee to sell them, and you sometimes need some space to keep things, and you need a good digital camera, but you get cash and people come to you. If you live in an area of town that people can get to easily, consider having a yard sale once a month if you don't want to deal with computer people who say they will be right over and then don't show up.
If you know others in the same boat, see if one of them can host a sale indoors to sell crafts or just second hand things. If you know a lot of people, who can divvy up the cost, you might consider renting a multipurpose room at the local church or community center and have a nice big sale. You could offer free coffee and cookies, and call it "second hand rows" (tables for each vendor)or "encore and more".
If you love to work on the computer, you can often edit manuscripts, transcribe for doctors and lawyers, or type term papers for busy students. Find your passion and think of ways to put that passion to work for you. Good Luck!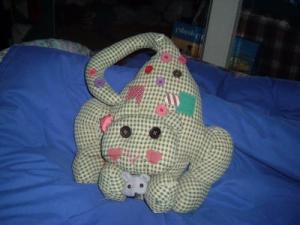 By Travis in Ohio (Guest Post)
October 17, 2008
0

found this helpful
Many security companies need part time or on call help and the jobs are usually not to strenuous and they can really work within your hours. As for gifts I assume you are good with a computer, I made a disk of all the pictures that I had of my grandchildren and godchildren and bought an inexpensive album for each.
I then decorated them and put the disk inside so they could chose the pics they wanted for the album. They said they liked them. If you don't have any pics. then get busy with a camera and plan for next year.

October 17, 2008
0

found this helpful
I'm in a similar situation. However, I started selling lia sophia jewelry. It is a hot commodity since we women are always looking to keep up with fashion. Plus the prices are (very) good. I earn an average of $200 a show which only takes me 2 1/2 hours for set up, schpeal , taking orders and pack up. You only need 1 show to stay active once every 3 months and The Company is very generous to its advisors, 30% profit w/ jewelry credit for every $250. Piece of cake. I don't always wear jewelry, but I love selling it. ( liasophia.com/rosemary )

badwater
Silver Post Medal for All Time! 263 Posts
October 19, 2008
0

found this helpful
Are you good at baking? Does your town have a Farmer's Market on specific days? Set up and sell your homemade goodies.

October 19, 2008
0

found this helpful
I am a candle distributor for gourmet veggie wax and burns nearly 99% soot free. I was really scared to try this because I tried just about everything out there and lost a good 1,000 to 2,000. Really sucks when I am a single mom trying to make ends meet.
Anyways I was searching ways to make candles and came across my sponsors web page and checked it out, after 2 months of being really cautious and reading all the emails that are there for training before you even sign up i decided to go for it. I know am so happy. I am in the middle of doing a fundraiser, and a craft show at the start of next week and then I have a home party next weekend. This home business is great and has helped me out of debt whole.
Please feel free to check out the website the products the information that is there for you and then e-mail if you would like more information. I will not push you into anything that you do, simply here to help you. Hope to talk to everyone soon. Have a great day.
www.jackieperkins.scent-team.com
cleancandleinspirations AT gmail.com
By Kathleen W. (Guest Post)
November 24, 2008
0

found this helpful
I use to do sewing for the public. Just put a small sign in front of your place or on mail box, "I sew", call the fabric stores, ask if they need help with sewing. You'll have more work than you can do even mending clothes, hemming pants & etc.
I also baked cakes, made candy, breads, you name it. Even did baby sitting, and took in laundry from friends. Just let people know you want to work. Good luck, Kathleen.

October 23, 2011
0

found this helpful
Have you thought about becoming an Avon representative? Very low investment,$10.00 to start, and the earning potential is endless & totally up to you and how much time you want to invest. There is tons of free training online for you too. You can continue to do what you currently are doing now and earn money at the same time.