Does anyone have a suggestion how to keep the moths, etc. from flying around my screen door? In order to let my dogs in or out, I have to have kept the light off in that room and the outside patio light off for at least a half hour or there will be tons of flying insects battling to get in! I have the same problem with the front and side doors.

By Cricket from Parkton, NC

Answers:
Keeping Moths Away from House
I used to have the same problem then I went to the store and purchased the bug light bulbs. They are yellow and I never have bugs around my outside lighting any more. See photo. (05/04/2009)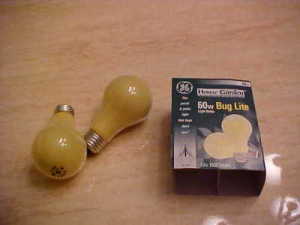 Keeping Moths Away from House
Yes I have tried the yellow bug lights. I don't know what it is. Maybe my moths are stubborn but they actually like the yellow bug lights. And yes, the lights I bought are Bug lights and not just yellow lights.
I did come up with a solution though. I am going to install a motion sensored solar powered light at the bottom (so that it's low enough to be set off my my short-legged dogs) of the post by the top step coming off the deck. It's close enough that it'll come on as they come out the door, but far enough away as to draw the bugs away from the door. (05/04/2009)

By Cricket
Keeping Moths Away from House
How about a bug zapper nearby with a big bucket under it? (05/04/2009)