I'm looking for the Kim Anderson wallpaper border too, did someone find it? Could you help me out?
Mackenzie
Answers:
Kim Anderson Wall paper
I need Kim Anderson wall borders. My daughter is doing her nursery. Please help me; e-mail me at walkerfarm AT leaco.net (remove spaces) (02/08/2006)
By Lynnette
Kim Anderson Wallpaper Border Boy Meets Girl HAVE IT
I found 3 rolls available of Boy Meets Girl Kim Anderson wallpaper and have them linked up at: http://kimanderson.org (03/17/2007)

By Andrea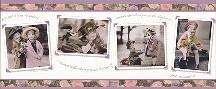 Kim Anderson Wall paper
I need 3 rolls of border. Do you know where I can get some?
SnapshotzPhotography AT comcast.net (06/16/2007)

By Karen
Boy Meets Girl wallpaper border
I am looking for at least 2 rolls of the Boy Meets Girl wallpaper border and have not been able to find it. Does anyone know where I could look? (08/31/2007)

By Cindi
Kim Anderson Wall paper
If anyone still needs this, I have 4 rolls I am looking to sell. E-mail me at kristi2002 AT alumni.nmu.edu if you are interested! (02/09/2008)

By kristinmu22