Charlie is 3 years old, we aren't sure what breed he is. We got Charlie when he was a little pup, about when he was 4 months old. We went to a puppy store to get him and they had so many to choose from and then right before we were going to leave I noticed him in his cage and he was by himself. So I called my husband over and we both just fell in love with him. So they let us go in the room with him to see how he was with our children and he was wonderful.
Charlie likes to go swimming on the hot summer days, along with wrestling with my golden retriever, Busta. But when Charlie is ready for bed, be prepared for him to take up the whole bed and not move for the whole night. He is a big baby.

By Jeannine from Colorado

Answers:
Charlie The Dog
Black dogs are so beautiful. His coat just shines and shows all those cute little wrinkles and fold in his skin. Gorgeous fellow! (08/28/2009)

By Little Suzy
Charlie The Dog
Thank you so much, Charlie is my little baby, Well, my big baby, sometimes he thinks he is a lap dog. We are still trying to figure out what kind of dog he is. If any one has any suggestions please let me know. (08/28/2009)

By Jeannine
Charlie The Dog
What a gorgeous dog!! I believe your dog could have at the least a percentage of american pit bull terrier. You can check out www.napbta.com for more information on them. Please don't let my belief frighten you! We have a 9 yr old and a 6 week old pit. As you have already determined, he is a lover--as most pit bulls are. They get such a bad rap in the media. They are just like our children--if you love on them, they will love you back.
Living in Colorado, I do suggest you contact an area chapter or your vet to determine more specific breed. There are some areas in Colorado that run Breed Specific Legislation; this means there are certain things you must do to keep any varietal breed of a pit bull terrier, if you are able to keep the dog at all. You can find more information on that here: www.stopbsl.com
The site is loaded with information. This article may help you as well: http://stopbsl.com/bsloverview/impossibleid/
(08/30/2009)
By michelle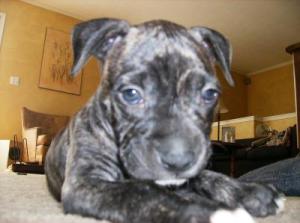 Charlie The Dog
Charlie looks like a lab mix to me. Maybe even a pure bred lab. If you bought him from a pet store, I'm surprised they didn't know - esp if they were "selling" him!? Anyway, thank you for choosing a black dog. Do you know that black dogs have the hardest time find homes? There is actually something called the Big Black Dog Syndrome because black dogs don't show well, they blend in to the back of their cages and people are afraid of black dogs.
Sounds ridiculous I know but google it and you'll see that it is an actual thing.
Charlie is a handsome, handsome guy! (08/30/2009)
Charlie The Dog
Black dogs rock! Charlie is a handsome dude!
Grandma Jan and Kato the Wonder Dog (a black longhaired GSD) (08/30/2009)

By jan king