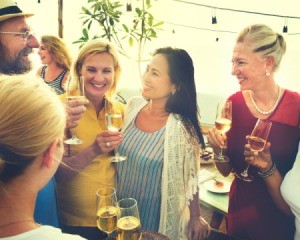 I graduated with 27 classmates and it is time for a 20 year class reunion. Does anyone have ideas to make a small town class reunion fun? There are only 4 of us that do not live within a 25 mile radius of our high school. So, most people know each other and keep in touch.
I was thinking we could do it at the high school's homecoming, be in the parade and watch the game on Friday. Saturday we could have a pot luck lunch at the community center (which is free and nice). Saturday night we could have an optional dinner at a restaurant in a local town that does larger groups. It has a nice buffet and a full bar. I am thinking the football game and potluck would be family-oriented while the Sat. night dinner would be for classmates and spouses only.
We did the pot luck and dinner out at our 10 year reunion. Does anyone have good ideas for things the kids could do before, during and after the potluck to keep them busy? I do not have children and am at kind of a loss. Also, would it be too much to have the class get together for dinner Friday night before the game AND Saturday night as well? Or should Friday night just be an optional thing, mainly for those coming from out of town or families who do not want to cook at home before the game. Let me know!
By Amy Jo Bellis from St. Paul, MN
Answers

May 18, 2009
0

found this helpful
Best Answer
I have been doing my reunion since the 10th and now we're having our 50th. I would send out pstcards(cheaper) and ask them to respond back. I would have the reunion at one of your old haunts. With feedback you will know how many will show and they can pay on their own. Get a website going and you can put that site on your postcard for all who have e mail.
Answer

this Question