September 18, 2010
0

found this helpful
Check out eBay; and get an inkling what prices go for; find a consignment shop and see if it's worth your time to put in there!
Christmas bazaar's will be here shortly; why not see about getting a booth or going in with someone to try and sell them there?
Give to Salvation Army if nothing else! They are FANTASTIC about giving items for FREE to whoever is in need!
September 18, 2010
0

found this helpful
If this is actual vintage jewelry, there are people who buy it for resale, because vintage clothing and jewelry are really popular right now.
September 18, 2010
0

found this helpful
My mother had a bunch of old jewelry (some of it broken), she had me give it to my 9 year old daughter who absolutely loved it.
September 20, 2010
0

found this helpful
If you have a nursing home nearby, they may love to have a donation of costume jewelry. The homes around my area give things like that out as prizes at bingo games and other activities. They also welcome small bottles of perfume, soaps, socks and such.
September 21, 2010
0

found this helpful
Hi Rita,
If you are into crafts at all, here is a great idea that I ran across in some craft magazine years ago. I always wanted to make one, but never got around to doing it. I didn't have the old jewelry to do it with either, but you do. If I could remember the source of this picture, I would gladly share it, but all I have is the picture. It's still one of my "dream things to do".
Good Luck to you,
Pookarina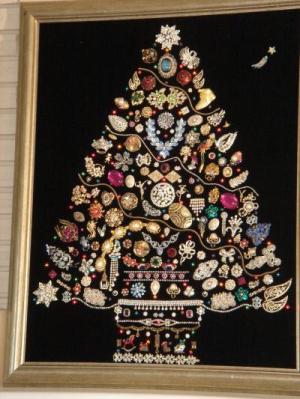 September 21, 2010
0

found this helpful
You could also donate it to your local Girl Scouts... In the phone book or internet under Girl Scouts - locate a council near you. The council will have a very local contact who would undoubtedly LOVE to relieve you of the unwanted jewelry to use in crafts projects!
September 22, 2010
1

found this helpful
One thing I have used them for is bingo gifts. I volunteer at shelters and church events.
The jewelry makes wonderful gifts for the moms and daughters. I even have had a few boys get jewelry when they won, to give to their moms! :)
February 18, 2011
0

found this helpful
Rita - I don't know if you've found somewhere to donate the jewelry you have but I started a project that collects, cleans, fixes, packages and re-donates jewelry to Women's Shelters in the Phoenix, AZ area. If you are interested in donating to this project let me know.
Becky
June 26, 2016
0

found this helpful
Hi Becky! I'm just seeing this response now. Are you still in need of jewelry for this project?
August 15, 2016
0

found this helpful
Hey Becky! would love to take it off your hands I do different projects for the church.
August 26, 2017
1

found this helpful
Becky I have some vintage jewelry from my mother's estate that I am looking for an organization that will put it to good use. If you are still doing this please let me know.
February 17, 2018
0

found this helpful
Hi Becky! I was just looking for ways to rid myself of all the costume jewelry I have that I no longer wear. If you want it, please send me your address and I will ship it off.
I also have 3 boxes of wired RIBBON mostly holiday (Christmas, Valentine's Day, Easter, Halloween,etc. If you, or someone you know is interested, let me know. Thank you! Jan
March 2, 2017
0

found this helpful
I make bracelets ankle bracelets, necklaces for disadvantaged children in my town Stockton, can any contribution would be honored
Yvonne
Elias08211962 AT gmail.com
June 11, 2017
0

found this helpful
Hi Elias , do u take broken and tangled necklaces as well ?
January 29, 2018
0

found this helpful
Hello, my name is Danika and I am a new designer that creates Nu life from a Brokyn past. I would love to speak with you in reference to your donations for costume jewelry. I create new designs from old costume jewelry, I repurpose it I make bracelets earrings necklaces and some otger interesting items. Please let me know if you can if you can assist me..
Thank you.
Danika
July 15, 2017
0

found this helpful
I had jewelry I no longer wanted so I took it to a local pawn shop and sold it for it's weight in silver and gold. I ended up with close to $300 for a small hand full of items. Even if you don't like the price they offer you, they will at least tell you what you could possibly get for some of the pieces.
August 27, 2017
0

found this helpful
Put an ad on Freecycle or Craigslist. You can also donate to a preschool, for dress up
January 29, 2018
0

found this helpful
Hello Rita... I would love to speak with you in about your items