How do I get rid of smell of a camel leather handbag and slippers I bought from Jaiselmir (India).
Answers
March 14, 2007
0

found this helpful
My husband came home wearing a stinky leather jacket he bought in India a few years ago. The only thing that got rid of the smell was some time outside for the jacket and a long shower for him.
March 14, 2007
0

found this helpful
Hi Ravi,
Many years ago my husband bought a leather belt that was brand new but made overseas. The smell was horrible, horrible, horrible to the point that I would not let him bring it into our house. He hung it outdoors every day except if it rained out. Then he put it into a plastic bag & left it in the garage. Eventually the odor was gone. But it took weeks & weeks. Never again will he purchase a belt unless it's made in the good old u.s.a.
March 30, 2007
0

found this helpful
I've no idea whether my bag is camel leather, but it came from a Marrakech souk and yes, it STINKS! What can I do - it's a great bag but may have to bin it if I can't solve the problem.
I'm not sure what an abattoir smells like but there's something very like it in my flat right now. Please help!
By new bag (Guest Post)
April 20, 2007
0

found this helpful
My husband who is deployed in Afghanistan sent me the most beautiful leather bag and wallet, but the odor is unbearable! I immediately put it outside hoping the smell would go away. No luck. What can I do to get that smell gone??? Help!
By (Guest Post)
April 28, 2007
0

found this helpful
My husband send our girls and I camel leather purses from Kuwait... the smell was awful when we opened the box they immediatly went to the back porch hope the smell leaves soon... i did try putting a fabric softener inside them
By Schweigenthaler (Guest Post)
May 15, 2007
0

found this helpful
Not from Morocco, but an expensive brand name bag from Nordstroms fills every room it occupies with the scent of very old fish mixed with locker room. PRetty bad at the price. Still waiting for an answer from the company on what they want to do with it.
I would say that the leather from Morocco, Iraq etc is not correctly cured and the smell is decomposing protein. Not much to be done, I fear.
By shauny (Guest Post)
October 2, 2007
0

found this helpful
I bought a massive leather camel bag and it too is now making the whole flat stink. I am going to try completley covering the inside with baking soda and then hoovering it. This may work, my friend suggested one of those fridge thingy's might suck the smell out of it.
By jack (Guest Post)
October 29, 2007
0

found this helpful
I've got the same problem with a leather bag bought in Fes. I've tried the leaving it in baking soda overnight, but without success. I've tried leaving it outside for a week and it didn't deaden the smell. Now i'm trying leather cleaner and polish along with Febreeze. I'll post a solution if I find one.
By Paul (Guest Post)
November 21, 2007
0

found this helpful
My wife bought a leather bag from Fes in October. It smellt like puke and stunk the house out. After reading this forum I doused it liberally in baking soda and left it sealed in a bag in the garage for 10 days. The smell was almost gone. I then vacumned it all out. Then I sprayed it inside and out strap and all with scothguard fabric protector- to try and seal the rest of the stink in. The bag now smells OK.
Paul Australia
By Hicham (Guest Post)
December 21, 2007
0

found this helpful
Hi All ,
I import a Camel leather from Morocco , and i believe that there is different ways to make the Camel leather. My wife has used a bag for almost 2 years now, and we never smell stink coming from the bags. Also the inside my house and my kidshave lot's of handbags and we never smell a bad thing out here. Please make sure the Camel leather is good, and that you know from where you guys buy it next time! Thanks for your Time.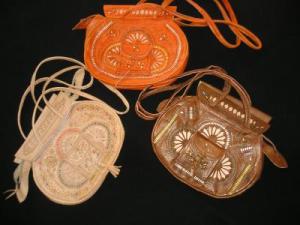 By Sina (Guest Post)
February 19, 2008
0

found this helpful
I just bought a leather bag from the souk in marrakesh and every single room smells. Someone suggested pouring coffee granules in the bag and leaving it for a few days...Has anyone tried it?
Perhaps I will try the baking soda solution. I can't use it when it smells so bad!
By Daniel (Guest Post)
March 1, 2008
0

found this helpful
I see it's been a year since this problem was first posted, but without any clear solution. I bought a camel leather from Fes. Really lovely bag---except for the stink! I think the guide books need to mention this because when you buy a bag in the medina you are surrounded by a lot of off smells and if you never encountered this problem before you wouldn't think of it. In fact when we were at the tanneries, there was a guy there from the Sunday Times taking pictures for a feature article.
Anyway, in my case several baking soda treatments have not worked. I'm trying to leave it outside when it's not raining--a real challenge in England. I'm looking forward to reading about the success (or lack thereof) of some of the treatments posted above. Also, if there is a leather expert out there who really knows something about this problem, please enlighten us! So far we've seen dung in the dye, incomplete curing, ... what's the truth? Are some cases without remedy?
Read More Answers
March 11, 2007
0

found this helpful
My new camel leather hand bag smells, how can I get rid of smell?

Rachel from UK

Answers:
Camel Leather Smell
Good leather has a 'fragrance'. As a horse person, the smell of good leather is heavenly to me - so earthy and rich. I suppose you could try Febreeze, but it (or anything else) will probably discolor the leather. (09/26/2006)

By Sadiejoy
Camel Leather Smell
We have just purchased a camel leather bag in Morocco only to have the bag start smelling once we arrived home! Someone suggested to us rubbing lemon onto the leather. We're still waiting to see if this works. Have you found any solution to the problem? (01/01/2007)

By Annette
Camel Leather Smell
I have the same problem as Annette... maybe we went to the same leather market in Marrakech! My bag stinks to high heaven. Can anyone suggest a way to lose the smell of dead camel? (01/11/2007)

By Andrew.
Camel Leather Smell
I normally like the smell of leather in a new bag, but my camel leather bag from Morocco just plain stinks. I hope someone will post a way to get rid of it, for all of us poor bagaholics who splurged in the Souk. (02/24/2007)

By Renate