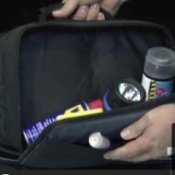 Road trip eating doesn't have to be expensive if you enjoy the great outdoors. We always pack a cooler with canned soft drinks (very economical when bought in 12 or 24 can packs) and take along sandwiches and snacks when we start out from home.
On subsequent days it is easy to pick up snacks, bread, and sandwich makings at local stores. This is especially good if you have children. Everyone gets to have some exercise time out of the car instead of being confined to a chair in a restaurant. We have found some beautiful sites to stop and eat and saved a lot of money because you can feed several people on what it would cost to feed one person in a restaurant.
Now that it's just my husband and I, we find we still enjoy this tradition.
By Beverly from Road Trip Picnic
Read More

Comments

While planning your road trip vacation, don't forget to check the rules of the road, especially out of your province or state. For example, in Canada, cell phone use is banned while driving in British Columbia, Ontario, Quebec, Nova Scotia, Newfoundland and Labrador.
Read More...
My children and I (boy 5, girl 4) will be traveling by car to South Padre Island, Tx in early June. We live about 8 hours away from the island. I'm a little bit nervous about traveling as a single parent with two small children thanks to some of my family members. I wasn't nervous at first but now I am. Anyway, I'm not letting that stop me because if it did, then we'd never go anywhere.
This is the only way that I can afford it, being newly divorced, with one income. I have read some great ideas on games, packing, and keeping the kids occupied on the way there on various websites, including this one. If anyone has any advice please post. Thanks a lot, and thanks to all who have posted such great ideas/advice on this site to help people like me.
Answers
By StephG (Guest Post)
March 13, 2004
0

found this helpful
My daughter, nieces and twin nephews are about this age and when taking them on long trips we have inexpensive surprise bags waiting in the car for them. We fill them with note pads, washable crayons, cards, books, hotwheels etc. Another thing we carry along is MagnaDoodles for each of them.
They come in 3 different sizes. (we have small for the little hands and medium for the older ones) It keeps them quiet for hours. You could also stop at a dollar store and get cheap disposable cameras to put in their bags and have them take pics along the way. Hope this helps!
By Betty (Guest Post)
March 16, 2004
0

found this helpful
When my daughter was little, she kept herself busy for hour after hour with the things you mentioned as well as books to read and coloring books to color in. We gave her an old briefcase to keep things in which worked well as a desk on her lap. She also slept a lot.
I've read and heard that a really good idea is to make sure you plan to stop for play time at rest areas. Have the kids chase each other or a ball. Tire them out!
By Suzette (Guest Post)
March 17, 2004
0

found this helpful
I took my niece and nephew on an 18 hour trip from Colorado to California when they were 5 and 7 years old. We drove in a small car, barely big enough in the back seat for the two of them, and a big Igloo cooler between them. The cooler was a great barrier to keep the two from poking each other, taking each other's toys or bothering each other, but it served as a table for snacks, coloring and games. I let the kids stay up late the night before we left, and we left very early in the morning -- around 3:00 AM, with the car already packed and ready to go.
The kids slept for the first 4 or 5 hours of the trip. We stopped every hour or two for rest breaks. Because the trip was so long, we spent the night in a motel, and I made sure there was a pool. The kids swam for hours, and were allowed to stay up late, and we did the whole thing again the next day. Eventually the kids did begin to fuss, but by then we were almost to our destination.
By Becki in Indiana (Guest Post)
March 24, 2004
0

found this helpful
When my son was very small we made some long road trips. To save money, we usually had picnic lunches from the cooler, I always tried to find roadside rest areas that had not only picnic tables, but also a playground so he could burn energy. He vividly remembers one roadside stop when there was no playground, just dozens of picnic tables, and we were the only people there. I challenged him to run as fast as he could and touch every single picnic table, then cheered and clapped while he did it -- all to make sure he burned some energy!! You could always stop at a McDonalds with a play area if the weather is bad -- even if all you buy there is a drink, the kids could use the play area.
Also -- if you have a rectangular baking pan with a snap-on lid (like you would use to take cupcakes to a carry-in), that makes a great laptop desk. The crayons, coloring books, etc can be stored inside the pan, then they can take out what they want, put the lid back on, and use the flat surface of the lid (or the bottom of the pan, as long as the lid is on tight!) as their writing/drawing surface.

March 29, 2004
0

found this helpful
If you take color books please be sure to use washable markers or colored pencils instead of crayons--- crayons melt in the sun!! Also make up some games such as letter bingo or shape bingo with what they can be watching out the window. A good source of toys might be the dollar stores or good will. Also be sure to save a few toys hidden so when you start the return trip you have something new.
Also blow up toys are good as they can be deflated and dont take up much room. If you have a cassete player in the car make some tapes of their favorite songs to sing along with. Good luck and safe driving
Answer

this Question