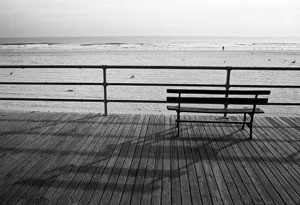 Destination
Atlantic City, New Jersey, USA
Free Things To Do
Besides casinos, Atlantic City is known for beautiful sandy beaches and a fun-filled boardwalk. Take a stroll down the boardwalk, window shop the fun stores, walk through the casinos, and lounge on the beach - plenty of fun, no cost!
During daylight hours, stroll through the streets of Atlantic City - remember playing Monopoly as a child? These are the streets Monopoly used to name properties!
The Atlantic City Free Public Library, located just a few blocks from the beach on Tennessee Avenue. Although non-Atlantic City residents are limited in membership opportunities, there are many free programs that run throughout the summer season including book clubs, movie nights and more. Of special interest, the ACFPL maintains a comprehensive holding of material related to the Miss America pageant, which called Atlantic City home until just recently.
Take a day trip to nearby Ocean City, New Jersey, located just 3 towns away from Atlantic City. This 8-mile long barrier island is nicknamed "America's Family Resort", and caters specifically to families with its calendar of summer events and with island ordinances against the sale of alcohol in any establishment. If you are looking to roam even further from Atlantic City, visit Wildwood and historic Cape May for full days of fun.
Low Cost Things To Do
Ripley's Believe It or Not in Atlantic City on the Boardwalk is a perpetual good time for the entire family. $13.95 admission for visitors age 13 and above; $10.95 with a student, military, or AAA ID; $9.95 for senior citizens; $7.95 for children age 5-12; children under age 5 admitted free. Contact 609-347-2001 for more information and seasonal hours of operation.
Travel to neighboring Margate for a tour of Lucy the Elephant. This amazing attraction, perfect for kids of all ages, was built in 1881 and originally used to draw attention to what was then South Atlantic City. Later used as a home, this 65-foot structure can be found on Atlantic Avenue only minutes from Atlantic City. $5.00 admission for visitors age 12 and above; $3.00 for children age 2-11; children under age 2 admitted free. Tours commence every 30 minutes during the summer season. Contact 609-823-6473 for more information, weather-related closings, and complete hours of operation.
Visit the historic Absecon Lighthouse, on Rhode Island Avenue in Atlantic City. This third tallest lighthouse in the United States, it is an officially designated Historic Site. $5.00 admission for visitors age 13 and above; $4.00 for senior citizens; $3.00 for children age 4-12; children under age 3 admitted free. Call 609-449-1360 for tour information and hours of operation.
Night Life
Atlantic City is known as the premier seaside casino resort in America. Because there are so many casinos on the beach and inland on the marina, there is never a lack of entertainment. Atlantic City experiences a constant stream of celebrities who come to perform - some for one night only, others for extended engagements. Casinos on the beach include the Atlantic City Hilton, Bally's Park Place and Bally's Wild Wild West, Caesars, Resorts, Sand's, Showboat, Tropicana, the Trump Plaza and the Trump Taj Mahal. Other casinos are located inland in the Marina District and include Borgata's, Harrah's, and Trump's Marina.
Just For Kids
No trip to Atlantic City would be complete without a visit to the Steel Pier, an amusement park located on the boardwalk across from the Trump Taj Mahal. Play midway games, eat at the International Food Court and enjoy more than 20 amusement rides. Guests of the Taj Mahal enjoy discounted rates, and daily admission is available by wristband or individual ride tickets. For more information, call 609-345-4893.
You can visit Storybook Land, just ten minutes away from the beaches of Atlantic City, for a full day of family fun. The theme park is designed especially for little children and includes theme characters who roam around to greet the children. Admission is $12.95 per person, which is valid for all-day admittance. For more information, call 609-641-7847.
Seasonal Information
Atlantic City is busiest during the summer months, experiencing a high season between Memorial Day and Labor Day. Off-season still sees a lot of tourists traveling from surrounding states to visit the many casinos. Atlantic City can be hit by harsh winter weather and is also affected by the occasional hurricane or tropical storm.
Inexpensive Lodging
Econo Lodge
609-652-3300
Rodeway Inn
609-646-3867
Travelodge
609-652-0904
Chamber of Commerce Contact Information
Atlantic City Chamber of Commerce
(609) 345-5600
1125 Atlantic Avenue
Atlantic City, NJ 08401