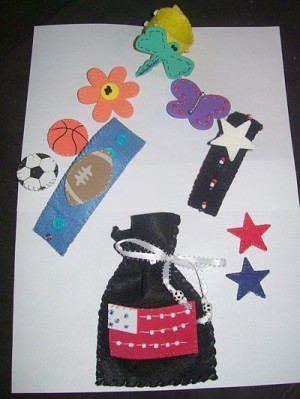 Having 5 grandchildren leaves this grandma's creative mind forever busy. This Easter I vowed to make them all baskets and only put one piece of candy inside. I gave myself the challenge to hand make a few toys and items for each child. I mixed my desire to recycle with my desire to create things kids would like and came up with this idea.
Approximate Time: 1 hour
Supplies:
plastic bottle - empty and clean
felt - your choice
decorative sew on items such as beads and buttons
2 pc. sewing snaps
pre-cut foam or felt pieces with sticky backing
needle and assorted colored thread
glue
Instructions:
You will need a plastic bottle. I used a bottle from dry coffee creamer, but others such as juice, soda, or liquid creamer will work fine.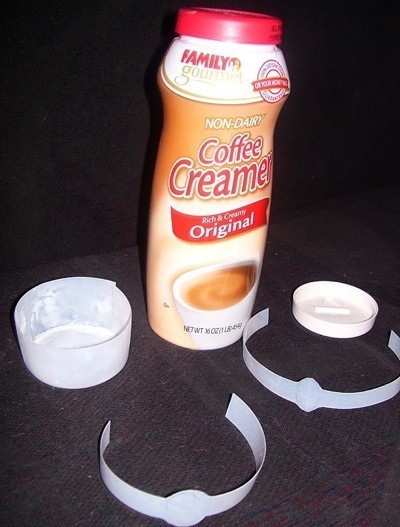 Clean bottle and cut off at neck. Going width wise, cut strips around bottle. You will need one strip per bracelet.

Tip: If plastic bottle is not available, you can use a thin piece of cardboard or cardstock. The plastic is more substantial and also once cut into strips, will have a natural curve.

Measure wrist and cut 2 strips from felt, making their width wider than plastic strip and the length 1 inch longer.

From this point, I will call the thicker half of the snap, "A" and the thinner half, "B".

Center plastic strip on one felt strip and find middle point. Lay an "A" snap on top of felt and stitch on, sewing right through the plastic. This will make the bracelet stronger.
Decorate this front piece by sewing on beads or whatever items you choose. You can either hold felt up and sew only through the felt or glue felt to plastic strip and sew right through as you did with snap.
Fold in one end of this piece and sew on a "B" snap right near the end.
On the other felt strip, fold one end in a 1/2 inch and sew on an "A" snap.
Put glue on other side of the plastic strip and lay the second felt strip on, making sure snap is at the opposite end as the snap on the top side. See pictures for placement.

Stitch around all four sides, folding in the two ends to meet one another as you go.
Choose the pre-cut shapes you want (I made 3 per bracelet). You will need 2 identical shapes for each snap on front. Be sure to leave paper backing on. This will act like the plastic strip inside the bracelet and make the fronts very durable and strong.
Decorate one side of the pre-cut shapes. One bracelet set I made has a flower, dragonfly, and butterfly. I chose to decorate them with beads and used a small spring from a pen for the body of the butterfly, sewing it on as I did the beads.

On the other matching shape sew on a "B" snap in center, sewing right through the paper backing.
Put glue on back and lay it's identical piece on top. You want the decorative front of each piece showing, top and bottom.
Stitch around entire piece and repeat process for others.
You're done! Just snap and go. Change the front to a new piece and you will have a different bracelet each time.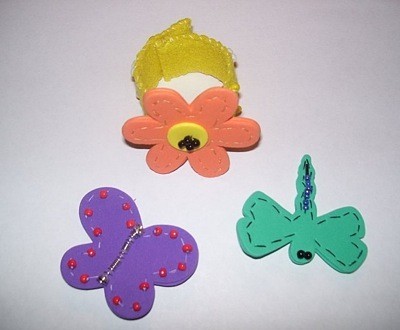 Drawstring Bag:
I also made little draw string bags to put each bracelet set in.
Cut 2 squares the same size.
Fold over 3/4 inch on the top and sew.
Cut small slits along the width of the casing.
Before sewing sides closed, you can sew on a decorative item on the front of the bag. For example, I made a flag from foam and beads for the star bracelet.
Sew up the 3 sides and thread ribbon through the slits. Add beads at ends and knot.
By Mary from Palm Coast, FL
Comments

March 27, 2011
0

found this helpful
Good job!

March 27, 2011
0

found this helpful
Thanks Suzy, they really are fun to make!

March 30, 2011
0

found this helpful
You my dear just blew my mind! These are the cats meow!

March 31, 2011
0

found this helpful
Thanks a bunch latrtatr!!! They take so little materials to make and they would be a great craft for kids to help make. You can even do them in school colors. Maybe a foam letter of the school or team?