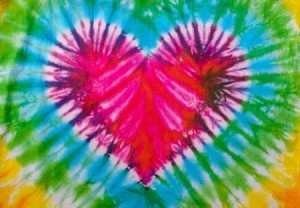 I am thinking about tie dyeing my dad a t-shirt for Fathers Day and would like to put World's Best Dad on the front of it in black lettering. I am at a loss of how to do this safely without wrecking it. Please people I need some serious help! Thank you in advance.
Lori from Marion, AR
Answers

Jess
Silver Post Medal for All Time! 267 Posts
May 30, 2007
0

found this helpful
Best Answer
This is a great idea for a present. Your dad will love it. I've done a lot of tie dye and I think it is very easy to do. I would not use Rit because it fades faster than other dyes. The one I had the best luck with was called Dylon (I think I got it at JoAnn's) and was a cold water dye. I just mixed up several colors in buckets in the backyard and went at it. You might want to buy a few t-shirts and then pick the one that turns out best.
For the lettering, there are several options. I liked the stencil idea best out of the ones posted. You could always just write it in block letters with black fabric paint. I think your dad would treasure your own handwriting just as much. Good luck.
Jess

Michawn
Bronze Feedback Medal for All Time! 188 Feedbacks
May 24, 2007
0

found this helpful
I think you have several options, you can tie dye then use an fabric marker (washproof). Or you can tie dye then iron on letters, Michael's carries a big line of ones like that.

May 25, 2007
0

found this helpful
You can use iron on transfers that you put through your ink jet printer - you can find them at office supply and craft stores. The background is clear - so you can print the letters - I would then cut out closer around the block of letters so you don't have lots of extra iron on.
Sounds like fun! Goodluck!

May 29, 2007
0

found this helpful
This makes me think of the days my dad put his label on feed sacks. He bought a set of letters and arranged to spell what he wanted and painted over with black paint. Guess it would be like doing a stensil. Am sure you can buy alphabet stensils, and can buy fabric paint.
By Lynda (Guest Post)
May 30, 2007
0

found this helpful
Tie dye is an ART, you know. It is terribly messy, and not so easy as you might think. You don't have much time, and I'd reconsider it so that he might appreciate/wear it more often. (Instead of the shirt, if you're sort of set on the 60's Hippy look, why not
make him a "flower Child" men's leather necklace out of 3 thin long rolled leather shoestrings you braid and three cool masculine handfinished ceramic or natural stone beads , from craft store for cheap? Or even a "compass" necklass, with a card that says, "Keeping you on track, Dad, you're the
best and I never want to lose you !" ? Another idea
is an athletic whistle if he walks in the neighborhood. It gives them a sense of security here.)
Go to the library if you're set on a tie-dye shirt, to look for complete craft instructions. Keep it simple and not too bright and in blues, so he'll accept it better. Also buy 100% cotton tee (a size too large to allow for shrinkage being cotton, because the poly-blend will not take dye well and the cotton will.)
There' more to it than you might think, and you'd better be prepared and do your homework to make the best informed decision.
Good luck, dear heart who thinks about her dad! God bless and help you. : )
By Lynda (Guest Post)
May 31, 2007
0

found this helpful
Oh, and be SURE to wear NEW long rubber gloves, so that there's no mini-holes in them, because whatever will dye cloth, will dye skin. God bless and help you. : )
Answer

this Question