Setting Dye on Clothing and Fabric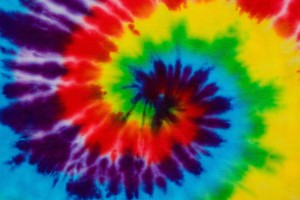 When you wash dark clothes for the first time - use cold water and put salt in the water. The salt helps set the color. When I want to brighten dark clothes after they have been washed several times, I repeat the procedure (salt in cold water when washing).
Lou
Comments
Read More

Comments
More Solutions
Share on ThriftyFunThis page contains the following solutions. Have something to add? Please share your solution!
Use 2 Tbsp. turpentine and 1 small handful of salt. Pour boiling water over this mixture. Put garment or cloth in and saturate. Let it soak until the water gets cold.
Read More...
26 Questions
Ask a QuestionHere are the questions asked by community members. Read on to see the answers provided by the ThriftyFun community or ask a new question.
Many people recommend either vinegar or salt, but no one ever says "how much" to put in a washer load or even in a big pot. Will some one please give us that information in a usable form? Do you put in a cup or a whole gallon bottle of vinegar or a whole box of salt?
By Karahana
Answers

September 16, 2014
3

found this helpful
Best Answer
I have always put one cup of salt in the water. I've never tried using vinegar, so I don't know how much of it to put in. Also, after I've dyed the fabric (using the clothes washer) I run them through another washing cycle using cold water before putting them in the dryer.
It seems to make the dye last longer. Good luck to you!

September 27, 2014
0

found this helpful
Best Answer
I had dyed two pairs of jeans using Rit dyes, one pair was purple and the other was turquois. Both bled badly as I began to wash them for the first time. So I tried washing each pair separately in cold water, using 1 TBSP of Woolite in a gallon of water, and then in the rinse I dissolved 1/2 Cup of Epsom Salt in a gallon or so of cold water and put a pair in it. There was no further bleeding!! I did a second rinse in cold water and there also was no bleeding. I think that the Epsom Salt rinse may have finally set the dyes!
Good luck.
May 20, 2016
1

found this helpful
Best Answer
My understanding is to use:
Salt for plant based fabrics like Cotton.
Vinegar for animal sourced fabrics like Wool or Silk.
and get this, Liquid Dish Soap for Synthetics like Spandex or Lycra.
As far as the amounts go you don't need to use a ton, but you do want to create a fairly strong solution in a large enough amount to saturate whatever you are dying. I guess ratio wise it would be about a tea spoon to a cup or so give or take. Sorry if that doesn't help much. It's been many many years since I dyed fabrics for costumes for stage performances.
Answer

this Question
I brought a pair of flannelette sheets, they have been washed twice.
When you sweat at night, the dye comes out on your skin. Any idea how to stop it?
By Val S from Deception Bay, Qld
Answers

Holly
Silver Post Medal for All Time! 364 Posts
June 13, 2013
0

found this helpful
Best Answer
Find the receipt and take back to the store. If you decide to keep the sheets, do not ever wash them with something else.
I have heard soaking in salted water or vinegar + water will help to set the dye, but I wouldn't trust this method.

June 13, 2013
0

found this helpful
Best Answer
Soak the sheets for several hours in vinegar and cold water.
Something else to consider is that your sweat may be unusually acidic. To correct that, eat more vegetables and drink lemon juice in water.
You can search the internet for "alkalinizing foods" to get a list.

June 13, 2013
0

found this helpful
Best Answer
In my experience: If you wash the sheets by themselves in hot water setting of your clothes washer and add a cup of vinager to the cycle. Dry them in the hottest dryer setting you have, then it will set the dye in the fabric. Please let us know if it works for you.

Louise B.
Silver Feedback Medal for All Time! 337 Feedbacks
June 14, 2013
0

found this helpful
Best Answer
There is no need to return the sheets. Do as others have suggested and wash them in hot water with vinegar. I would add several cups, because when people dye things, they use a ratio of at least one cup of vinegar to 8 cups of water.
You can also purchase products to set dye where you find fabric dyes. You may have to do the vinegar wash a couple of times.
Answer

this Question
Does anyone know how to stop color bleeding from clothes when washing them. Is there any way to stabilize the colored fabric so it will no longer run? Hoping someone has answer for me and thanks in advance if you do.
Dinnie from Tampa
Answers

January 31, 2005
1

found this helpful
If you put a cup of vinegar in your wash water it will reduce color runoff onto other fabrics. Just make sure that you do not add chlorine bleach, as it will cause a chemical reaction.
Wendy
By Susan from Hamilton (Guest Post)
January 31, 2005
1

found this helpful
I wash only with cold water, which means no running colours. If I have to use warm I add salt to the water. Susan from Hamilton
By Shari (Guest Post)
January 31, 2005
1

found this helpful
When i worked in a children's clothing store, we always told the customers to soak clothing that had the potential to run (like bright reds) in a solution of 1/2 cup vinegar per 1 gallon of water for 30 minutes before washing. Supposedly any dye that would come out should be taken care of by this, and the rest of the dye would be set - though I've never tried it personally, I never had any customers come back complaining.
By (Guest Post)
January 31, 2005
1

found this helpful
Saok clothes in heavely salted water before washing.
Read More

Answers

I've worn this black knit dress twice. Every time I wear it the dye rubs off, onto nail color, fingers, and skin. Help! It's awful. What can I wash this dress in to prevent this?
Answers

Lizzyanny
Bronze Feedback Medal for All Time! 226 Feedbacks
August 8, 2015
0

found this helpful
Best Answer
Try adding a cup of vinegar to the rinse water and then rinse it again. Vinegar will set some dyes. Good luck.

August 9, 2015
0

found this helpful
Best Answer
Table salt will also set some dyes. If vinegar doesn't work. Don't use both at the same time.
Answer

this Question

I recently bought a red cardigan and when I wore it, it transferred the red dye onto my white t-shirt. I have managed to remove the red dye from the t- shirt, but I am wondering is there a way I can stabilise the dye in the cardigan to prevent it transferring to my other clothing when worn together.
By yvie
Answers
April 16, 2013
0

found this helpful
Best Answer
Add 1 cup salt to a washer full of cold water, soak item by itself overnight, then wash by itself. Should not "bleed" color after that.
Answer

this Question

DeBushe
Bronze Feedback Medal for All Time! 179 Feedbacks
How do you set dye in a silk garment? I would like to use old thin silk blouses to make a quilt. Some of them just run and run every time I wash them. What kind of dye does the manufacturers use for these silks? I have tried white vinegar, but it didn't work. Will the dryer or ironing help set it?
By DeBushe from Gilroy, CA
Answers

PENNY K
Bronze Feedback Medal for All Time! 107 Feedbacks
July 20, 2009
0

found this helpful
Best Answer
When you use food coloring or cake decorating paste with white vinegar as fixative for protein fibers (wool, silk are protein fibers) you want the temp to get to 180 degrees plus or minus a few degrees. Not a simmer, below that. The color will 'strike' at that temp when you have about 2 Tablespoons of white vinegar per quart of water. By that it means the fiber will suck up/take up the color and water will be clear or close to it.Take off heat, let cool, rinse, hand wash gently with a little dish soap and rinse again. Keep rinsing until there is no color in water.
You don't want to simmer or boil silk; it can start to dissolve, but does take dye well.
Answer

this Question
Published by ThriftyFun.
© 1997-2022 by Cumuli, Inc. All Rights Reserved.
https://www.thriftyfun.com/tf86362132.tip.html