High School Reunion Party Favor Ideas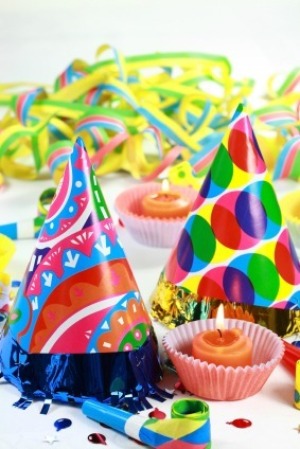 I'm planning our 30th HS Reunion, and am in charge of decorating the hall. Knowing that many people will be shy and bring spouses who won't know anyone, I've come up with a decorating idea that encourages interaction and laughter.
Down the center of each table, I'll run streamers, in our school colors. Then, I'll lay out packages of candy and toys, from our childhood, the 60's and 70's. For example, boxes of candy cigarettes, pkgs. of pop rock candy, wax lips, gold mine bubble gum bags, etc. Also, small wooden yo yo's, glow in the dark peace-sign necklaces. In the center of each table, will be a centerpiece, including more nostalgia items to bring up conversation and memories.
I know this will be a hit! Just mentioning "pop rocks" has made some of us recall trying to eat them in civics class....not knowing they'd make loud noises! And in the middle of all of this, I am laying strips of laminated pictures, from our yearbook. I was going to laminate pages of the yearbook as placemats, but think that smaller strips, along with the candy and toys, will fit better.
By Kathy B. from Tampa Area
Comments
Read More

Comments
12 Questions
Ask a QuestionHere are the questions asked by community members. Read on to see the answers provided by the ThriftyFun community or ask a new question.

I am planning a first time family reunion in Orlando, FL this August. I need ideas of where to write to, other than the local tourism bureau, for free fillers for attendee goodie bags.
Thanks.
By Linette from Houston, TX
Answers

Joan
Bronze Feedback Medal for All Time! 186 Feedbacks
March 11, 2011
1

found this helpful
Best Answer
If you know an Avon representative you might ask her/him if they could get you some demos of hand cream, body lotion, shower gel, etc. If you can't get them for free the rep. might give you a good deal on the stuff. Restaurants might have things like advertising magnets that they would give you. It might be a good idea to call the visitor's bureau and see if they have free maps of the area, with areas of interest marked on it. Check with a local girl scout group and see if they would make book markers for you, you might would have to furnish the supplies. I used to work for a non-profit and it was my job as fund raising approached to call different businesses and ask them to donate prizes various levels of competition. We found that the smaller locally owned businesses were much more eager to donate than the national chains. The national chains always gave us a phone number to call and we could never get hold of the person we had to speak to and they never called back.
Depending on how many people you expect, a gas station might be willing to donate $2.00-$5.00 gift cards, knowing that the people would probably have to spend more than that to fill up. Convenience stores might be willing to donate candy bars or individual bags of chips. Banks or credit unions might donate pens of pencils with their name on it. All you can do is call around and ask. It might be harder to get freebies for a family reunion than a non-profit fundraiser, because for these fundraisers there are usually big name golfers or whatever the occasion calls for present. You can get many various inexpensive favor type things, candy, etc. from orientaltradingcompany.com It is mainly trinkets, etc., but they would work. I would use the smallest size bags you can find.

March 12, 2011
1

found this helpful
Best Answer
Check with your Chamber of Commerce. Sometimes they have items or they may be able to point you in a helpful direction.
Answer

this Question

I would like ideas for a 40th class reunion favor.
By Carol Brooks

Answers

March 22, 2011
0

found this helpful
Best Answer
I think by the time people are old enough for a 40th reunion, they have enough "stuff". I would avoid trinkets at all costs. Something consumable either edible or that gets used up is more likely to be appreciated. Candy, miniature bottles of local wine, potted plants, seeds, fruit, little bottles of hand sanitizer, a candle in a cute decorated candle cup, and so on.
If you have someone who can do this, get people who have taken digital photographs at the reunion to share them, and burn them all to a CD that can be sent to folks after. Have people submit scanned photos of high school days and maybe some yearbook photos to mix in.

March 23, 2011
0

found this helpful
Best Answer
I've seen packs of Beeman's, Clove and Black Jack gum recently. Anything like that which was around "back in the day" would be fun. Research on line to see where they can be found.

March 24, 2011
0

found this helpful
Best Answer
I went to my 50th reunion recently, someone had taken the class composite and made place mats for us. Sure got the conversation and memories flowing. Have a ball. Donna
Answer

this Question

We are having a 20 yr. class reunion Slumber Party (Girls Only!) of course! I was wanting to put some party favors together for fun and was looking for some ideas!
Tonya from Texas
Answers

November 2, 2008
0

found this helpful
Best Answer
Hi, I think a slumber party sounds pretty cool. Most people think that stuff like that is just for kids but aren't we all just kids at heart! Anyway my suggestion for favors would be to make them personal. I don't know how many women you are expecting or how well you know them or your budget but if you know a little about the kind of life that they have now you could make up "diva bags" with items that describe things they did when you knew them years ago(careful with that...be tactful)and things that describe them now..
it will take some creativity and alot of thought but it can be done and I think your guests will appreciate it much more than some jordan almonds wrapped in tulle tied together by curly ribbon and stuffed inside of a miniature highheel shoe, although that's not too bad of an idea either. Hope this helps.
By Tonya (Guest Post)
November 3, 2008
0

found this helpful
Best Answer
I am probably putting too much thought/effort into it when something SIMPLE would do. I just don't want the girls going home BORED! I found these cute little "Sleep Over Diaries" thought those would be cute to put info. in!
Just not finding stuff in STORES and don't have time to order online and get it!
Doing mexican food too, what type of desserts should I lean towards?
By megan24 (Guest Post)
February 6, 2009
0

found this helpful
Best Answer
Sounds like a great way to reconnect with your girlfriends. Since it is a slumber party, I would do gift bags of nail polish and face masks, since those activities were always popular at sleepovers. Don't forget to plan lots of games and activities around the slumber party theme.
Hope this helps,
Megan
Answer

this Question
What would be a good gift for the tallest person?
By Nina

Answers

Grandma J
Silver Feedback Medal for All Time! 270 Feedbacks
June 6, 2011
0

found this helpful
Best Answer
A guy's tape measure, which is longer than the average 25 foot one. They have no metal exterior. Would like one myself!
Answer

this Question

I need ideas for party favors or gifts for our 35th Class Reunion. Preferably things that do not cost a lot.

Debbie from Auburn, WA

Answers
By (Guest Post)
November 14, 2008
0

found this helpful
Best Answer
Custom bumper stickers such as "I made it to my 35th reunion and survived" or "I went to my 35th reunion and all I got was this bumper sticker" or "35th Reunion or Bust". If you want something instead of that or in addition to it, a class photo transferred onto a felt pennant would be nice.

January 23, 2009
0

found this helpful
Best Answer
Back then you guys played records. What about mini picture frames that run about 50 cents? Paint them black and go to michael's crafts store or a hobby shop and buy mini records to hot glue on them.
Then on the bottom of the frame glue letters saying class of 1974 or whatever, or you could paint it your school colors. Just a thought.
Answer

this Question
Where can I buy favors for a class reunion in amounts under 100? Every site I've found only offers them in lots of 100 or more. My class only has 20 people, so I don't need 100 of anything.
By Glenn
Answers

May 10, 2011
1

found this helpful
Best Answer
Best favor I got at a reunion was a badge with my high school picture on it. Someone had a "Badge a Minit" kit, made photocopies of our senior pictures from the yearbook and put them on the badge (don't know how). We wore the badges as name tags and then took them home for a souvenir. I still have mine and it's been about 20 years since that reunion!
Answer

this Question
It's our 35th reunion of smalltown USA. The first night is at a local hotel/spa bar for meet and greet, where dinner is available. Also on the grounds is a local community fund raiser, that brings in lots of alumni. The second evening is in the city at a high end dance bar and lounge. I have everything together except for a memorial board and reunion gift bags. It has to be something nice, but not costly. We plan reunions like this to meet all budgets. There are no covered charges and classmates can spend what they can afford.
By Cheryl
Answer

this Question
Class reunions can be a challenge to get through for some people. Make your next reunion a little more enjoyable you and your friends, with this survival bag. This is a page about how to make a class reunion survival bag.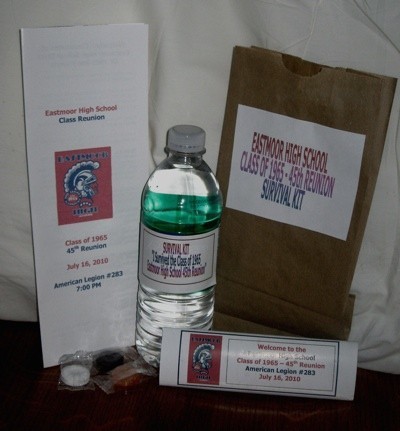 Archives
ThriftyFun is one of the longest running frugal living communities on the Internet. These are archives of older discussions.
I am looking for ideas for a "useful" party favor for my 25 year class reunion.
Read More...
I am looking for ideas for class reunions favors.
Read More...
I need ideas on inexpensive personalized party favors for our 20 year high school reunion in November. We have done mugs for our 10th year.
Read More...
Published by ThriftyFun.
© 1997-2022 by Cumuli, Inc. All Rights Reserved.
https://www.thriftyfun.com/tf913343.tip.html