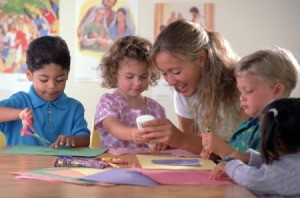 Does anyone have a new or different idea for a Sunday School class mother's day project? Inexpensive and either Christian based or could be made so. Thank you.
Jane from Ontario, Canada
Answers

March 7, 2009
0

found this helpful
Best Answer
Many years ago when I was in Sunday School, every year we would make single flowers out of kleenex. They were pink or white. When Mothers Day came, we pinned a flower on every woman - pink if their Mother was living and white if they were deceased. It was to honor their own Mother - because all women are not Mothers, but they all have a Mother. I think it was a beautiful thing to do.

March 7, 2009
0

found this helpful
Best Answer
Have you ever tried making duct tape rose buds? If you google it, there are bunches of sites with videos and directions. With duct tape coming in so many colors, you can make them by the dozens. All you will need is duct tape of whatever colors, green duct tape for the stem and sepals, and pipecleaner/chenile stems for the stems.
Scissors are optional. The older the kids making them, the easier it seems to go, but even 3rd and 4th graders can do it once you've shown them how.

March 7, 2009
0

found this helpful
Best Answer
Last year my 3 year old made a card in Sunday School. The teachers traced the child's hand and then cut out and glued to a piece of folded construction paper...inside wrote. "Thank you for your helping hands." Based on the age of the child determines how much they can do by themselves.
Another time they took 4 cut outs of his hand print and added a stem and leaves for a flower.
On Father's day (will work for Mother's day) They took a picture of the children the week before and then glued it on a sheet of 12 x 12 scrapbook paper and then wrote "I love you to pieces." Then the teacher dabbed a drop of glue on the paper and the children put a puzzle piece on the glue.
I, of course, had to get a 12 x 12 frame to hang it on our wall. Loved all the ideas!

March 10, 2009
0

found this helpful
Best Answer
Last year my Sunday school students turned their hands into flowers. We traced each students hands on several different colors of construction paper and poked a chenille stick through the center. We then gently "rounded" the hands up so they appeared almost like tulips. We put them in our vases of old toilet paper holders that we covered in construction paper with a note from the child and their favorite bible verse to share with mom.
Read More

Answers