When planning a celebration for a couple's 25th year of marriage, you want to create a meaningful occasion. This guide contains 25th anniversary party ideas.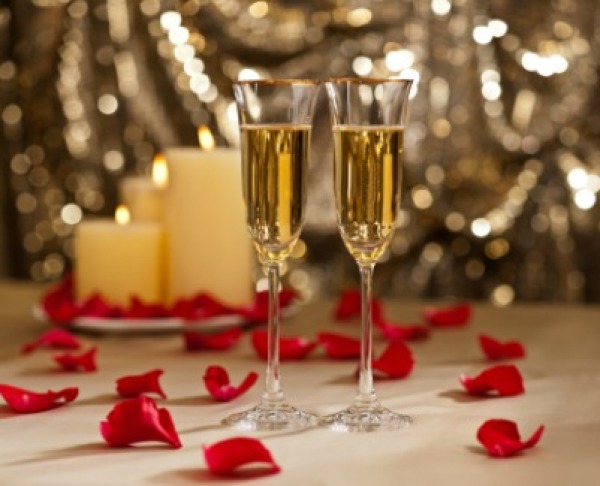 Filter

: All Articles
Sort

: Relevance
I'm having a 25th wedding anniversary and I don't have the slightest idea what happens at an anniversary party. I am not sure if games are played, or first dance, or skits? Please give me ideas. Is there a list of what to do from start to beginning?
By rtarin
Answer
Was this helpful?
Helpful?
Yes
The Anniversary Parties I have attended have all been "come and go" parties, where guests drop in between certain hours, as stated on the invitations, and stay for as long as they want, partaking of a buffet of foods and beverages. The foods are usually fancy sandwiches, salads, cheeses, pickles, and dainties. The beverages are usually non-alcoholic punches, coffee, and tea.
The best parties have lots of photos of the Anniversary couple and their children, starting with the couple's wedding photos, and continuing throughout the years. These can be laid out on tables and covered with plastic, to prevent spills, or posted on easels. It's best NOT to have photo albums, as they get dropped, and the pictures fall out. A slide show is great, if you have the technology.
Reply
Was this helpful?
Helpful?
Yes
Read More Answers...
I'm trying to plan my 25th wedding anniversary. We will have a church renewal with a reception. My colors will be silver and black. I need ideas with finding a silver wedding gown, finding an inexpensive reception hall. Anybody who is planning or just had a 25th renewal? All ideas are welcome!
By Sharon from Goose Creek, SC
Answer
Was this helpful?
Helpful?
Yes
Hi, I 'm planning my 25th anniversary Renewal of Vows for 7/2011. Our colors are going to be pewter gray,purple,and black. My dress will be a strapless bridesmaids dress from J Crew in gray. I hope this helps.
Reply
Was this helpful?
Helpful?
Yes
Read More Answers...
We will be renewing our wedding vows at our 25th wedding anniversary. We have 9 adult children between us, and 36 grandchildren. The youngest is 1, next youngest are 3-4 year olds. I figure about 1/2 will be in attendance, how can we use them all in the ceremony ?
By Randa Wagner from San Marcos, TX
Answer
Was this helpful?
Helpful?
Yes
First of all congratulations! I have studied many things wedding planing being one of them,but it was in attendance at the church where I witness the most precious thing of all. It seems as they it was two blended families however very close. The ages seem quite similar also, even the little ones want to do something special.The older ones I'm sure you have ideal duties from the register book, leading guest, witnesses etc. It's the young ones that need special attention even if they don't remember they will see video and have a special remembrance forever. I suggest the oldest of course could hold rings, flowers.
What I witnessed was remarkable.They had several grand children old enough to sing, instead of singing they read a poem that best suited their grandparents,the smaller ones said one word to describe "nana and papa". So precious the tears flowed and how cute.So depending on the ages of the others songs are great,words to describe you both down to maybe one word love! Enjoy the day and God bless.
Reply
Was this helpful?
Helpful?
Yes
How far in advance do I start planning for my 25th wedding anniversary?
By Hope
Answer
Was this helpful?
Helpful?
Yes
My 25th anniversary is in July of this year. I have been planning since January 02 this year but founded out I should have started June last year because the dates I want in July are already booked. So start as soon as you can.
Reply
Was this helpful?
Helpful?
Yes
We are planning our 25th anniversary party for the end of October. It will be for about 80 people, and will cost about $100. Our church will allow us to use the basement for the celebration. I plan to have quilt squares cut out for our guests to sign, and later I will make them into a quilt.

Our decorating theme is Fiesta. A friend lent me her serape to hang up. The dollar store had some cute Mexican-style piggy banks in sunny colors; they also had honeycomb paper pineapples and toucans. I bought some streamers in complimentary colors to make flowers from. I will also make some miniature (ornamental only) burro pinatas to add to the table centerpieces.

For food, I am taking advantage of our apple tree to make and freeze apple pies ahead of time. Since we raise our own beef, there will be beef tamales. I will also make a shrimp and tomato salad, hot rolls and butter, and whatever else sounds good. Fruit punch from our apple trees and some frozen juice concentrate will be the drink. We will feed about 40 at the meal, and then invite everyone else to the reception, since I don't think our budget will feed all 80. I am printing the invitations on some neat pre-printed paper I found at the dollar store. They can be folded, addressed and mailed without an envelope. Still need some games, though.

By Coreen from Rupert, ID
My friend has requested that I help with the arrangements for her 25th wedding anniversary. She is expecting 300 guests and wants a sophisticated party. I want to make this a memorable event for her. Even though I have done this type of event before I am at a loss with regards to decorations, etc. Please help me asap.

Jumi
Answer
Was this helpful?
Helpful?
Yes
By guest (Guest Post)
Flag
I could really use some help! My parents 25th is coming up in about a month & I have no idea what to do. The thing is they've been talking about getting a divorce for about 6 months now. Nothing final yet but, it looks like they will. I'm pretty sure it won't happen for at least another 6 months. So I don't know if I should go ahead & throw them an Anniversary party or not.
My Dad wants one but, he's always hated parties & Mom don't really want one & she's the one who likes parties somewhat. So any ideas on what I should do?
Reply
Was this helpful?
Helpful?
Yes
Read More Answers...
I need inexpensive ideas to celebrate a 25th anniversary, gifts, food, and decor.
By Marcia C. from Chicago, IL
Answer
Was this helpful?
Helpful?
Yes
You don't need a lot of decorations. Balloons, special paper plates and napkins, maybe one floral centerpiece. For food, sandwiches, cake, coffee, and punch would be enough. Unless you are having the party at somebody's home, you will also have to rent a place to have the event.
It seems like the last few years people think they need tons of decorations for events. When we had my parents 50th anniversary after we rented the hall, we didn't do any decorating, we did have paper plates, and napkins, a guest book, etc.
For food we had sandwiches that we made, our Mother even helped with that, cake, punch, coffee, and tea. The party itself was the gift us three kids, gave our parents. Things don't have to be expensive. For the sandwiches, we ground up bologna, and added mayo, diced onion, celery, and whatever seasonings we needed. The cake and the small buns were from the bakery, otherwise, we made the filling for the buns, and the coffee and punch.
Reply
Was this helpful?
Helpful?
Yes
My husband and I will be renewing our wedding vows next year. It will be our 25th wedding anniversary and I don't know where to start first. Our colors are silver and white. If anyone has suggestions on decorations, I would love to hear them. I was also wondering if anyone knows how the ceremony is supposed to be? Thanks.
By Redena from NY
Answer
Was this helpful?
Helpful?
Yes
It can be whatever you want! In the coolest renewal ceremony I attended, the bridesmaids walked down the aisle, then the bride came down with no bouquet. The younger children (nieces, nephews, grandchildren) each bringing one flower came down gave the flower to the bride and sat on the floor. Each flower made up her bouquet. When everyone was in place, the minister asked the congregation to stand and he announced, "Behold the bridegroom cometh!" It gave me goosebumps, was such an awesome ceremony, she gave such honor to her husband.
Reply
Was this helpful?
Helpful?
Yes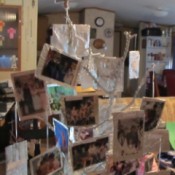 For a 25th anniversary party, I made a memory tree. To make it, I took a few branches from a limb my husband cut, attached them together with Elmer's and hot glue, then wrapped the bottom with white ribbon. I painted the smaller branches with white paint. I then wrapped it all in sliver twirling ribbon.
I finally affixed white ribbons to all of the branch ends, and from these I attached photos from engagement and all the fun times the family has shared in the past 25 years. These were attached to silver covered card stock, and then hung from the white ribbons. I made a 25 from plastic canvas and attached it to the very tip. My first photo is work in progress, the other is finished tree.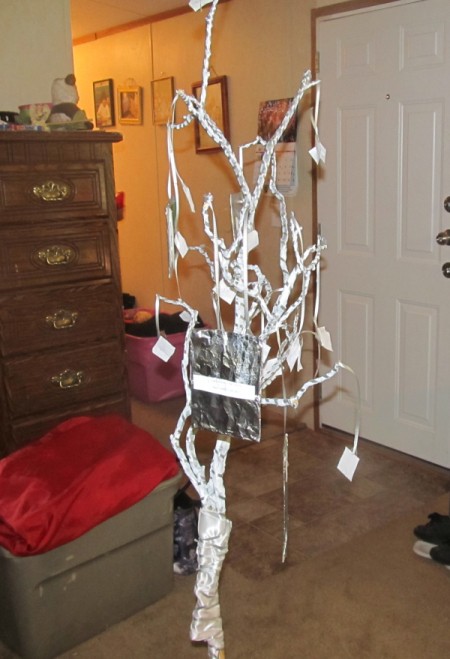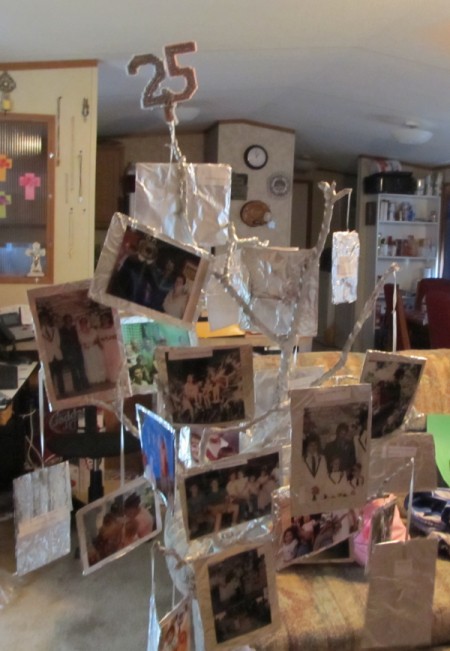 By Randa W. from San Marcos TX
Comment
Was this helpful?
Helpful?
Yes
We want an anniversary party with a tight budget. Our anniversary is March 8, 2005. We are still very much in love. Even more than ever. I would like at least one slow dance with Alan Jackson's song "Remember When". Is there any suggestions you could give us without this getting out of our financial range? I look forward to your reply.

Marie

Editor's Note: This was posted as feedback on a request for 25th anniversary ideas so I assume Marie is also looking for ideas for their 25th.
Answer
Was this helpful?
Helpful?
Yes
By guest (Guest Post)
Flag
I hosted both my parents and my in-laws 30th wedding anniversary parties. We were very low on funds. Here is what we did for them:
In-Laws:
Had a set number of invitations (it was 50 I believe) We made the invitations on the computer, used a single piece of paper and then "tri-fold" and used the back of the paper as an envelope.
Had a sheetcake made by two of the sisters and I made one to feed the guests, I made a "fake cake" out of styrofoam circles and Laundry detergent flakes, using the original topper and that was the centerpiece.
I made a bouteneer (sp?) for FIL and a Coursage for MIL. Other than that, the decorations were their wedding pictures and her dress/veil, as well as the fake cake.
The only thing we splurged on was napkins that had their names on them, and the years. With the hall we rented, invites, stamps, decorations, and napkins, it all only came to about $125.
With my folks:
Invitations were the pkg ones from WalMart, that were elegant but plain. I just made a couple sheet cakes that said Congrats and had the years on them, their original topper and wedding photo was the centerpiece for that table. We served coffee and tea for drinks. For the rest of the tables, I got a fluted "fish bowl" from the craft section at WalMart. I put on in the middle of every table, with "confetti" underneath. The bowl was decorated w/ribbons/pearls and a floating rose candle in the middle. We went ahead and again, splurged on the napkins that had their names and years. This one cost about $75 for us.
I forgot to mention that these were come and go affairs, like from 2 pm - 4 pm. I would think that you could still implement many of these things in a more formal setting with a dance. I hope that some of these suggestions help and that you have a wonderful anniversary!
Reply
Was this helpful?
Helpful?
Yes