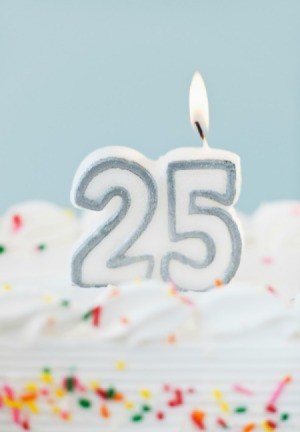 A quarter of a century old is quite a landmark in life, but you still feel like a kid and want to have lots of fun. This guide is about 25th birthday party ideas.
Ad
---
Questions
Here are questions related to 25th Birthday Party Ideas.
What can I gift my lover on his 25th birthday? I want to surprise him and want the gift to be something completely different.
By sweeny from LA
AnswerWas this interesting? Yes No
Ad
---
---
Most Recent Answer
By anjalisatraboina 1 06/23/20130 people found this helpful
Alphabetical order is an excellent idea i.e., A to Z gifts..like G for Greeting
I for Invitation for anything like dinner
J for Jeans.... like this
---
My son is turning 25 and still a kid at heart. I need fun party ideas. The food isn't a problem, just fun ideas.
By Kim from Canada
AnswerWas this interesting? Yes No
Ad
---
---
Most Recent Answer
By Beth 25 1,120 05/03/20100 people found this helpful
If he's a kid at heart you will need lots of games. Check out that TV show, Minute to Win It. It has lots of easy games that can be easily replicated for home because they all use ordinary items.
---
My husband's 25th birthday is next month and I would like to do something special for him. He has never had a birthday party, even when he was a kid so I would like to give him a surprise birthday party.

My problem is that I have no idea what to do at the party. I would like to have some kind of activities to do. I do not want it to be childish or too old either.

Someone mentioned to me to have it at a restaurant but I would not know how to invite people and expect them to pay their own way (I could not pay for everyone). If anyone has any ideas, they would be greatly appreciated.

Thanks,
Rachel from TN
AnswerWas this interesting? Yes No
---
Most Recent Answer
By michaelahussey 1 01/12/20140 people found this helpful
You could hold a small gathering at your home? Look into having some 'in' and fun music on in the background. Set up a small bar with a selection of drinks and cocktails pre made in jugs. The party might seem boring but once he starts chatting to everyone and the drink gets flowing it will have a lovely atmosphere! You could look into getting little canapé selection (I don't know where you live but marks and Spencer's do really good ones!)
I am a female and I will be 25 next year in March. I want to throw a party at my place, but I want to do something different, crazy, and fun. Any suggestions? I am from a township.
By Comfort
My boyfriend is having his 25th birthday on June 8th. I want to do something very exciting, different, and very romantic for him, but not so expensive. Please suggest something.
Solutions: 25th Birthday Party Ideas
Do you have knowledge about this guide topic? Feel free to share a solution!