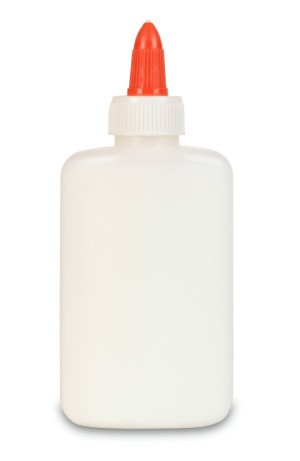 A handy paper and wood glue that can be useful for other personal and household applications. This guide contains alternative uses for Elmer's glue.
Ad
---
Solutions: Alternative Uses for Elmer's Glue
Read and rate the best solutions below by giving them a "thumbs up".
You're going to think I'm crazy, but this idea really works for beautiful skin! Take plain Elmer's glue (you can buy it at Walmart) and rub it all over your face. Keep away from eyes and mouth. Let dry completely. Gently pull off all of the glue OR use a warm wash cloth and gently scrub it free from your skin. Your skin will feel so soft. Do once or twice a week.
By Jaci from SW MO
A quick easy beauty tip. Paint Elmer's Glue on your face, after it dries peel it off and it removes dead skin.

By Linda from Oceanside, CA
When crafting with fabric, there may be times when you need to stiffen your project after you create it; such as when you make a witch hat, or perhaps a fabric basket. There are many craft fabric stiffeners on the market, but some can be expensive or hard to find.

One great cheap, easy alternative is to use a mixture of Elmer's glue (or other white glue) and water, and simply paint it onto your project. It will dry clear and stiff; and you can apply more than one coat depending on how stiff you'd like your fabric.

For a different and even easier option, try Krylon clear acrylic spray paint. Start with a small amount and test it on a scrap piece of fabric first. The Krylon will not discolor your fabric.

If you want to stiffen your fabric before making your item, use regular fabric starch that you find in the clothes washing aisle. The powder or liquid works great!

By Karen from SW FL
This is for folks who do puzzles and glue them when they're done. I use regular Elmers white school glue and it does a nice job and it's a lot cheaper then the special puzzle glue you have to buy.

By Joe from Inver Grove Heights, MN
Elmer's Glue is great for removing splinters and blackheads around your nose! Just put the glue on thick without diluting it. When it's dry, just peel it off. Out comes the splinter, and out comes the blackheads. Much cheaper than those 'Biore' strips!

By Jackie S.
Give a "thumbs up" to the solution that worked the best! Do you have a better solution? Click here to share it!
Questions
Here are questions related to Alternative Uses for Elmer's Glue.
What is the procedure to get a crackle effect on paint using Elmer's glue, or what type of glue do you use?
By Roger G.
AnswerWas this interesting? Yes No
Ad
---
---
Most Recent Answer
By noisemybday 04/14/20140 people found this helpful
1) Coat of glue
2) Coat of paint
3) Final coat of glue
4) After crackle effect happens, coat with krylon paint
I'm sure that I read somewhere that if you mix Elmer's and water you can use it as a sealer for chipboard to seal in smells. It sounds like it would do the job, but I can't remember the mixture (glue to water ratio). Have you heard of this and if so could you give the mixture?
By Kathy W.
AnswerWas this interesting? Yes No
Ad
---
---
Most Recent Answer
By Frugal Sunnie [11] 02/04/20120 people found this helpful
I've used Elmer's Glue at a half-half solution to prime small pieces of luan wood cut-outs for painting (holiday decorations), and three parts glue to 1 part water to put a glaze on the finished cut-outs.

You may have to experiment with the type of wood product you're asking about here, but I would try the 3-1 ratio first if all you are doing is sealing the wood to prevent the smell from permeating whatever space you're using it in.

If you are planning on painting, start with the 1-1 mix. That doesn't leave a shiny surface that repels paint applied over the top.

If it is a piece bigger than a foot square, you might want to consider buying a commercially available primer-sealer like Kilz, though. Even cheap Elmer's Glue can be pricey for a large project.