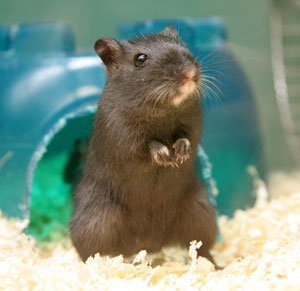 Description:
Gerbils are friendly and inquisitive. They make lively, active pets that are easy and relatively inexpensive to keep and interesting to watch. Most domesticated gerbils are Mongolian gerbils. They have large middle ears, which gives them the ability to detect the soft beat of bird wings, their natural predators in the wild, and they have a long tail that acts like a stabilizer when jumping. Gerbils have large dark eyes and come in many colors or combinations of colors.
Size: Gerbils weigh between 2.5 and 3.5 oz. The males are slightly heavier than the females.
Compatibility: Gerbils should be kept in groups as they are highly social animals. They are prolific reproducers and should be kept in groups of the same sex unless you want LOTS of babies.
Appeal: Gerbils are lively, friendly, and relatively clean and odor-free. They are low maintenance and inexpensive to keep. They make better pets than cats and dogs for people with allergies. They are active during the day and evening and rarely bite.
Drawbacks: They are not as keen as some rodents are about being handled and can be hard to catch. They are delicate and can be seriously injured if not handled properly. If not properly housed they can scatter bedding and make a mess. They are also escape artists and will try to chew or gnaw their way out of enclosures.
Diet: Gerbils should be fed a seed mix or pellets that are designed for gerbils. They should not be fed oily seeds like sunflower seeds in large quantities.
Problems & Health Issues: Gerbils are susceptible to epileptic seizures. If given an improper diet, they can suffer from digestive upsets. The tips of their tails are fragile and easily damaged.
Lifespan: Healthy Gerbils can live an average of 4-5 years.
Interesting Facts: Gerbils are prolific breeders and can produce three litters a year of up to 12 young.
What happens if a gerbil turns gray by the time you have had it not even a year?
By Leeanna
Most Recent Answer
By Cricket 205 895 Flag
January 30, 2012
Daisey is right. Your gerbil may have been more than a few months old when you got it, so if you've had it a year, then yes it's getting old. Like people and other animals, many mammals do turn grey with age.
I have 2 dachshunds. One will be 12 years old ths April. She barely has any of her red coloring left on her. It started turning grey a couple of years ago and now her whole face and all four paws are grey.
My other dog will be 9 this March and he's beginning to turn too around his lips.
So don't worry, just make his life as easy and as happy as you can for the time you have left with him.
Is it OK to have gerbils even if you have cats?
By JC from Greenvillie, SC
Most Recent Answer
December 21, 2010
Ditto to mrs.flowerpot! Even when you are diligent, and especially if you have children, the gerbils and hamsters seem to escape their cages once in a while. Some house cats may not intend to kill them, but they could easily "play" them to death, by accident. :-(
By megan 1
Can mice and gerbils live together in the same cage?

Megan
Most Recent Answer
June 29, 2010
Actually--we've had both and found the gerbils to be less messy as far as concentrating their "potty spot" to one place.
The problem you would probably have is that gerbils generally have stronger teeth than the mice and can be more aggressive--even with their own species.
I'd keep them apart.
By Mitch 1
I had 2 female gerbils of about 6 months old. One of them died suddenly today, with no obvious signs of illness, in fact, she was fine just yesterday evening. I had to move them to a friend's for a couple of days as my heating broke down and I didn't want them to freeze. So I was wondering if the trauma of moving could have been a reason?
The remaining one seems fine. She is the bigger and more dominant of the pair. Will she be OK on her own, or should I try to introduce a companion for her? I have read that females can be very territorial, but if she needs a "friend" I am aware of the split cage method.
Would be grateful of any advice.
By Mitch from UK
Most Recent Answer
December 9, 2010
I'm sorry your pet gerbil died, Mitch. I know nothing about gerbils but if it is in your surviving gerbils best interest I would certainly get another one. Have you talked to the pet store where you got the girls to ask what they recommend? I've always had pets in pairs, just 'cuz I'm a softy and feel sorry for them if they are alone. Again, I've never had gerbils, but if it's okay for your surviving pet I'd say go for it and find her a roommate! :-)