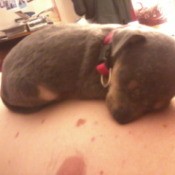 I was given a Min Chi pin a few days ago. He is 5 weeks old, and I didn't know he was suppose to be with his mom until 8 weeks. Can someone give me advice on the best way to care and train my dog?
By AnDria R
Answers
November 13, 2011
0

found this helpful
Best Answer
I would go to petsmart and let them know your situation, and I would bottle feed him for a couple weeks. They should have some type of formula/milk type stuff for you to give it.

November 13, 2011
1

found this helpful
Best Answer
You should consider taking him back for a couple of weeks. They need the pack and mom to show them how to socialize. Also mom stimulates their bottom to improve feeding and make their bowels move (sorry, but its true). If it's not an option go to a good pet store they have milk similar to moms and can help with advice. Be sure to socialize him to as many different things as you can to help him become a well adjusted puppy, good luck.

November 14, 2011
1

found this helpful
Best Answer
I gave young puppies Purina Puppy Chow with a little slightly warm water over it and they did great. They lap the water with dissolved food and in a few days they are eating the softened food. Then on to dry puppy chow Also, as soon as they are old enough to be given a small puppy treat, I put in on "their rug" (small throw rug or pad).
If they moved it to the floor or carpet, I picked it up, put it back on the rug, with the instructions "on the rug" or "on the bed" and soon they would take their snack/treat and go directly to their rug/pad to enjoy. Our dog will lay the treat down if her rug/bed is not down for her to place it on.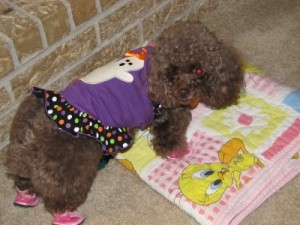 November 14, 2011
0

found this helpful
Best Answer
Note that it is okay to socialize him with people who are gentle, but be careful taking him around other dogs until he has had his shots. A friend of mine introduced a five-week-old puppy to some other dogs and the puppy got distemper and died.

November 14, 2011
1

found this helpful
Best Answer
Be sure and see your Vet soon to see what puppy shots are needed. You need to be on schedule to avoid Parvo and distemper.
Answer

this Question

How do I get my 5wk old puppy to sleep through the night and drink water?
Answers

February 2, 2018
0

found this helpful
Best Answer
You can put a clock in a towel. The ticking will remind the puppy of its mother.

February 5, 2018
0

found this helpful
Best Answer
You have a really young puppy. 5 weeks is really too soon to take a puppy from the mother. He will need extra care for a few weeks. You can check with your Vet. (Get those Parvo shots soon) I have a friend who does rescue and she uses a "Smart Pet Love Snuggle Puppy".
They cost around 30 bucks. I believe Amazon sells them. They mimic a mothers heartbeat and calm the puppy.
Answer

this Question

I just got a puppy, she's about 5 weeks old. She eats very little maybe 1 piece of dry puppy food. I tried to give her wet food. I took her to the vet and they said that she will have problems and that she weighed 1.6 lbs.
What can I do to help her? Do I need to get a baby bottle and feed her milk food?
Answers

October 7, 2018
0

found this helpful
The vet should give better instructions. Perhaps her jaw isnt strong enough to handle dry food. Call the vet back.

Pghgirl40
Bronze Feedback Medal for All Time! 196 Feedbacks
October 7, 2018
0

found this helpful
Perhaps the vet can clarify the instructions. The pup was taken from it's mom earlier than usual. If you worked with a breeder, perhaps the have additional insights. I would treat as if it is abandoned from it's mom and ask vet if the milk replacement they discuss is appropriate for your baby:
vcahospitals.com/.../feeding-orphaned-puppies
Prayers for the pup. And for you! Let me know what the vet's says.
October 9, 2018
0

found this helpful
I've always been taught that pups and kittens should be at least 6wks old, and preferably 8 wks old before being taken from the mother. This pup probably needs to be fed special formula from a little bottle for a week or so. Walmart carries puppy formula and also bottles. Good luck with your precious furbaby!
Read More

Answers

I received 2, 5 week old, Pit Bull puppies yesterday (brother and sister). The living conditions were unbelievably sad. The mom was kept from her babies. The puppies are very skinny and tiny for their breed. I took them to the vet. Parvo test is negative and I'm awaiting further test results.
Any information on how to raise them would be greatly appreciated. I know how to make gruel and bottle feed. I have experience with the breed as I used to have a Pit Bull terrier that passed away. I didn't get him till he was older though so the baby/puppy phase is new to me!
Answers

July 26, 2019
0

found this helpful
It is good the siblings are together. After they eat would be a good time to take them outside and see if they can relieve themselves. They are still babies, so go slowly.

July 31, 2019
0

found this helpful
Good for you for taking on these puppies. It is a lot of work. Here is a link that gives the basics of puppies this young. You made the most important move in getting them to your Vet for medication and an exam.
Dont forget to schedule vaccinations before too long.
www.petcoach.co/.../
Answer

this Question

I have had a five week old Poodle puppy put into my house. I am at a total loss as to how to deal with this. I have never had one that young. Help.
By joy
Answers

March 6, 2011
0

found this helpful
I have a poodle mix that is turning 4yrs old and I've had him since he was five weeks old as well. What I did since he was so young I made sure to still feed him milk. I found in the pet area at Walmart the little milk carton looks like a little juice box very small. I also bought puppy food and made sure to grind it. The first week I gave him more milk and then slowly and the ground food to the milk. He was so small that I had to put my finger sometimes in his little bowl and then touch his mouth with so he would get the idea.
Also, I went to the vet and payed for a puppy packaged that included all his shots (cheaper as a package). The milk was like $3.50 per carton so I made sure not to be wasteful. I stayed there and fed him to make sure he was eating. Seriously, I think this doggy of mine thinks I'm his mother lol. Good luck. :)
Answer

this Question
I have a 5 week old puppy. My mother's dog is the mum, she hasn't got much milk left, so I decided to try and nurse him on puppy milk, but he won't lap. When I take him to visit my mum he will lap for her. What am I doing wrong? Please help, I am so worried.
Read More...