I have a 6 week old puppy. His name is Coffee; he is a Pit Bull mixed with Chihuahua. I just got him yesterday and they said he was 6 weeks old. They said he eats hard dog food (a puppy one), but he isn't eating. I've tried milk, hard puppy food, and soft.
He isn't eating anything. I'm starting to get worried. He also has fleas. I showered him with Dawn and killed some, but am not sure if he still has some. What can I do to help him eat?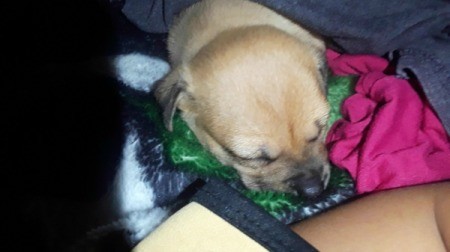 December 19, 2017
1

found this helpful
Best Answer
First off the puppy is so young and many people will say they eat dry dog food. You can check for his teeth. I think he is just getting them in and they aren't all the way in yet. Here's what you need to do to feed him for 2 more weeks:
Buy this: 1 can Carnation condensed milk unsweetened, 2 egg yolks, 2 tablespoons mayonnaise, 1 3/4 hot water, boiled and then cooled + 1 yogurt natural.
Mix these ingredients together in a pitcher. Now feed the dog with this milk. This is a formula for mother's milk. Dog's and cat's cat have human milk it is not good for them at all. You need to feed this to the dog for the next two weeks or so. But when you feed it to the dog it should be warmed.
You will also use this milk to soften his dry dog food. After he starts to drink this milk you'll feed him every 3 to 4 hours. Then you'll start to add his dry food to this formula.
As for fleas the Dawn dish soap is good for his showers, but you will also need to add vinegar to the water for this one. The vinegar will kill the fleas and the eggs the fleas have laid on the dog. It took me 2 weeks to get rid of fleas on a puppy my boyfriend brought home once. You can add the vinegar to his back and allow it to stay there 20 minutes, then comb him with a flea comb. Now rinse him off. You shouldn't bathing him with Dawn soap every time you clean him with vinegar it is hard on his skin and can cause him a rash.
Last, get him to the vet and start his shots. He needs to start his series of puppy shots to protect him. At 6 weeks old they will start the series and give him shots for the next 8 weeks. He should have shots every two weeks for the next 8 weeks to protect him from Parvo and other sicknesses.