November 13, 2011
0

found this helpful
I would go to petsmart and let them know your situation, and I would bottle feed him for a couple weeks. They should have some type of formula/milk type stuff for you to give it.
November 13, 2011
0

found this helpful
You should consider taking him back for a couple of weeks. They need the pack and mom to show them how to socialize. Also mom stimulates their bottom to improve feeding and make their bowels move (sorry, but its true). If it's not an option go to a good pet store they have milk similar to moms and can help with advice. Be sure to socialize him to as many different things as you can to help him become a well adjusted puppy, good luck.
November 14, 2011
0

found this helpful
I gave young puppies Purina Puppy Chow with a little slightly warm water over it and they did great. They lap the water with dissolved food and in a few days they are eating the softened food. Then on to dry puppy chow Also, as soon as they are old enough to be given a small puppy treat, I put in on "their rug" (small throw rug or pad). If they moved it to the floor or carpet, I picked it up, put it back on the rug, with the instructions "on the rug" or "on the bed" and soon they would take their snack/treat and go directly to their rug/pad to enjoy. Our dog will lay the treat down if her rug/bed is not down for her to place it on.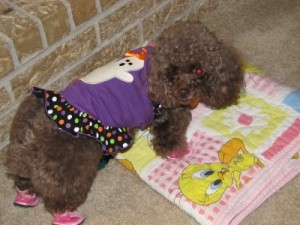 November 14, 2011
0

found this helpful
This best thing would be to take him back to be with his mom for another month.
November 14, 2011
0

found this helpful
Tell the person that gave you the puppy they can not leave their Mother until eight weeks of age and it's mandatory (they can not be sold or given away) unless microchipped and ideally have first vaccinate needle. For God's sake in the best interest of this helpless little creature take it back to ( I can only guess) yet another "back-yard" breeder.
November 14, 2011
0

found this helpful
A five week old pet can eat wet dog food. I went out of town to get my dog when he was 5 weeks old. I agree that it's best if they stay with their Mom longer but my dog is now 4 and he's healthy, happy, and sociable. He ate wet canned food when I brought him home and shortly after was eating kibble.
November 14, 2011
0

found this helpful
Note that it is okay to socialize him with people who are gentle, but be careful taking him around other dogs until he has had his shots. A friend of mine introduced a five-week-old puppy to some other dogs and the puppy got distemper and died.
November 14, 2011
0

found this helpful
Be sure and see your Vet soon to see what puppy shots are needed. You need to be on schedule to avoid Parvo and distemper.