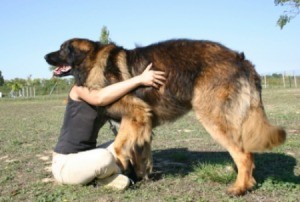 A dog can be miserable with this hip problem. This guide is about caring for a dog with hip dysplasia.
Ad
---
Solutions: Caring for a Dog With Hip Dysplasia
Read and rate the best solutions below by giving them a "thumbs up".
As a puppy, my Golden Retriever had very loose hips, as is common with Retrievers. I read several articles that suggested high doses of vitamin C and others that recommended glucosomine and condroitin.
I started my dog with 2000 mg of Ester-C for 3 days , then 1000 mg for 3 days, and then 500 mg a day. I also give her an omega-3 fish oil gelcap, and 500 mg of glucosomine sulfate daily.
My vet was amazed at the improvement. My dog is 7 years old now, and has strong hip joints.
This has worked for me and my dog. You should research yourself and check with your vet before starting any such program.
Source: This is just one article in my research:
By vin from AZ
Give a "thumbs up" to the solution that worked the best! Do you have a better solution? Click here to share it!
Questions
Here are questions related to Caring for a Dog With Hip Dysplasia.
I have a 9 year old dog with what we think is hip dysplasia and a small growth on her behind. Are there any medications I could give her for the pain besides glucosamine?
By Jackie from Ontario
AnswerWas this interesting? Yes No
Ad
---
---
Most Recent Answer
By Sherri [10] 03/31/20110 people found this helpful
You need to have hip X-Rays taken to actually diagnose what is wrong with her hips and you should certainly have that growth looked at by a Veterinarian. She is probably in some pain so I would take her ASAP. Good luck.
Archives
Thrifty Fun has been around so long that many of our pages have been reset several times. Archives are older versions of the page and the comments that were provided then.
My border collie has severe hip dysplasia. The recommended surgery is excision (they cut the ball from the top of the femur). Has anyone out there had a similar procedure done on their larger dog?
Toro from Perth, WA
---
RE: Treating a Dog's Hip Dysplasia
My Bull Mastiff has hip dysplasia and instead of going very drastic we changed the dog food to one that has a lot of fish oil and protein. He now does very well and only once in a while is bothered by the hip. It is worth a try before you do surgery. Do your research on the internet before surgery because once it is done you can't go back. (02/26/2009)
By cats4me
RE: Treating a Dog's Hip Dysplasia
My father had this done to his favorite hunting dog years ago. It's expensive and you must be diligent on exercising the pet afterward. Be prepared for a bill for major surgery and the care and recuperation of a patient. My dad's dag came out wonderfully. He was able to run and track/hunt for years afterward, but that's not always the case. Unfortunately, surgery can carry risks. I'd try all other options, then talk to the vet about the possible effects the surgery might have on your pet. Good luck on you decision. (02/26/2009)
By susanmajp
RE: Treating a Dog's Hip Dysplasia
The surgery is not pretty, but no orthopedic surgery is. Depending on the age of your dog, it may be your only option at this point. The other option being a total hip replacement, or triple pelvic osteotomy, though that surgery is only done if they are under a year of age. What will happen after they remove the head of the femur, there will be a pseudo-joint that forms. I would suggest taking your dog to see an orthopedic surgeon. They are specialists and can tell you what the best course of action will be for your dog. Good luck! (02/26/2009)
RE: Treating a Dog's Hip Dysplasia
Boy do I have experience with this! My dog was hit by a car that destroyed her femur and knocked the other hip out damaging the ball in the hip socket. They removed the ball (or trimmed it or something) just like they would for hip dysplasia. They told me that was a relatively easy surgery with good results. You do have to confine the dog and take them on very short frequent walks. Take your dog to a reputable surgeon and bring both checkbooks. (03/01/2009)
By Paula