Making clothing for small dogs is a fun creative pastime. There are many sources for the patterns to make your pup a stylish wardrobe. This is a guide about Chihuahua clothing patterns.
I have a small Chihuahua and I need patterns to make coats, clothes, maybe some booties. He's cold all the time. Are there some websites that have free ones? I've checked some. Any help would be great.

Thanks!
Morningloryrose from North Carolina
January 6, 2010
1

found this helpful
Hello, check on ebay under used dog clothes sz xxs or xs they have clothes by the lots and cute ones, too. For the girls there are dresses, jacket, shirts and pretty cheap also. Best buy
January 6, 2010
1

found this helpful
Check ebay for used dog clothes sz xxs . They have clothes by the lots people sell and they are cheap. Some lots you will get jackets, coats, shirts, skirts, etc. Also if you want little boots look under dog boots or used dog boots, great selection, but measure first so your baby is comfortable. The tie on shoes are a pain, but the velcro closures are good. Look at the stiffness of the shoe, rubber sole on bottom and when measuring their foot include toenails.
February 16, 2011
1

found this helpful
I have a chihuahua/pom mix. She looks like a long haired chihuahua. However she "luvs" dressing up. I go to the local thrift stores & buy 0 to 3 month infant sweaters and alter the. I shorten the arms and if there is a button or zipper, I remove them & then sew the seam that will go on her belly. For boys I cut & hem sew most of the fit it around their chest so when they pee they don't get the clothes wet. My little Sabrins even has "a little black dress" lol.
Read More Answers...
I need some instructions for sewing my own dog clothing. I have just recently adopted (well was given as a birthday present!) a 7 week old tea cup Chihuahua puppy. Now what I'm looking for is some directions for a jacket (I have extra denim from old pants) and a hoodie (I have old sweats i don't use any more ) some shirts and some sweat shirts. Any thing at all! Thanks!
Marisa from Santa Maria, CA
June 15, 2008
1

found this helpful
This is so adorable. I have a wee chi as well, and she loves her sweatshirt hoodie.Sshe also loves her jammies.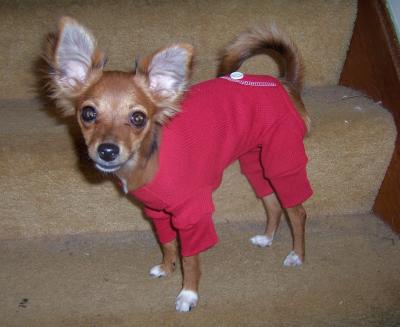 By guest (Guest Post)
Flag
August 4, 2008
0

found this helpful
How did you do that? Very cute! I have a little black chi also, and I need to make some clothes for her as well to prepare for winter. The problem is, I don't know how to sew. Please contact me at: baby-popcorn AT hotmail.com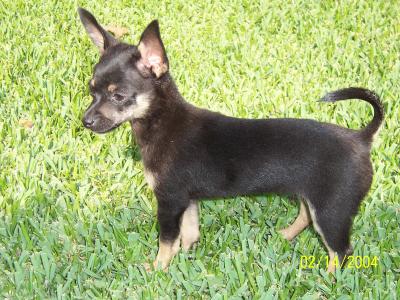 By guest (Guest Post)
Flag
October 8, 2008
1

found this helpful
Maria in Santa Fe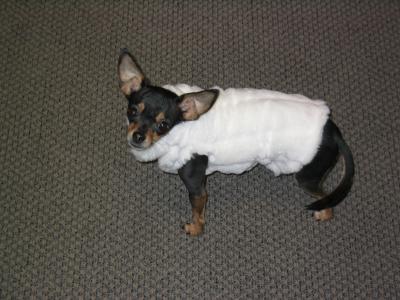 Read More Answers...