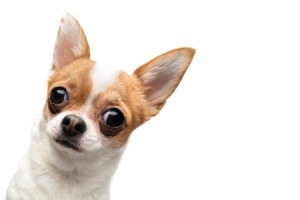 My Chihuahua who I have had for almost 3 years recently stopped eating. I have her on the B.A.R.F. diet (for those of you who don't know it's Bones And Real Food, basically home cooking for your dog) - She has been on this diet her entire life and the only change has been a new addition to our family; a little Chihuahua boy. She started wanting to eat his food (kibble) and I worried since it wasn't something she was used to. Out of desperation to get her to eat, I let her have some.
Now I'm stuck with her not wanting kibble or her normal diet. I worry because with her being such a small dog, her blood sugar can get very low very quickly. - I know she doesn't have some sort of blockage, cause she definitely can eat her treats (which I have also stopped giving in hopes of her wanting to eat her food) - I've owned dogs all my life and am still confused on what is wrong with her. Can anyone help?
Lish from Scottsdale, AZ
Answers
By (Guest Post)
January 5, 2007
0

found this helpful
Best Answer
When you have a dog quit eating like that, the first thing to do is ask yourself if there have been any changes in the dog's life/routine. A new family member, a family member leaves, or someone is ill. Moving to a new home.... In the case of the Chihuahua- it would be the new 'family' member. This is a big adjustment-there's bound to be jealousy and competition for attention. You need to give the 3 year old time with you w/o the pup. The more attention you give the pup, the more stressed and depressed the older dog will become. Don't make the older dog share her dishes, her bed, her favorite chair. You must respect her pack seniority. Don't give the pup attention in her presence. Feed the 2 dogs in different rooms, and make sure they have their own dishes. Feed at the same time morning and nite every day- put her food down for 10 minutes. If she doesn't eat it, pick it up and don't give her anything else until her next scheduled meal. She'll get hungry and eat.
It's very important that you respect their "pack-order". The dogs will tell you who is the 'pack-leader' and who is lower in the 'pecking order'. If you keep swooning over the puppy, you are challenging their natural pack order and it will cause them to compete with each other - in that case I would totally expect the 3 year old to attack the pup. It would be natural dog behavior.
In the case of the dog that got relocated from a house/yard to an apartment- this has completely upset his world. He needs lots of extra attention- lots of exercise. This is not the kind of dog that will ever be content being cooped up. Same scenario with the feeding- set am/pm feeding times. Leave the bowl down for 10 minutes- then pick it up and don't give him anything else til the next regular feeding time. He'll get hungry and eat. Stay with his regular food now, during this stressful time. The biggest issue here will be giving him enuff exercise.
By Jill (Guest Post)
January 5, 2007
1

found this helpful
Best Answer
This happened recently with one of our rescue dogs. He is very tiny and we were so worried that if he continued to refuse to eat, his blood sugar would drop like you said, and he can't afford to have that happen or to lose any more weight, either.
Since we feed dry food, I decided to try a bit of low sodium, low fat canned chicken broth drizzled over his food. Eureka! He loved it and has been happily eating his food ever since with no more refusal.
He only gets 1/4 C of food at each of his two feedings, and all it takes is about 2 tablespoons of broth. Whenever I need to open a new can, I pour the broth into a squeeze bottle and keep it in the fridge, then squeeze out just a bit over the dry food in each feeding dish at mealtime. So simple!
We discovered this little trick also keeps our other rescue dog from choking on her food from eating too fast. Now we have two very happy little dogs, and it's not an expensive fix at all.
I hope your little one perks up soon!
By Sandra (Guest Post)
June 22, 2007
1

found this helpful
Best Answer
A jar of baby food, preferable chicken or beef usually gets them going enough to start eating again. The trick is to smash some on the roof of their mouth and then put just a spoonful on a plate in front of them. If they gobble it all up, wait a few minutes until they are really begging for more. Then when you get them started eating it regularly, start mixing it with their reg food.
until you don't have to use it anymore. In the meantime you can purchase Energel from the vet to put in their mouth to help with blood sugar and to stimulate their eating. Often what happens is they don't eat, blood sugar starts to drop, then they really don't want to eat cuz they don't feel good, and it becomes a vicious cycle.

January 4, 2010
0

found this helpful
Best Answer
Ask your vet for help.

March 6, 2014
0

found this helpful
Best Answer
I have a 3 year old Chihuahua who all her life hasn't eaten a lot and was getting skinnier and losing weight. The vet couldn't find anything wrong with her. Recently I started feeding her one a day dog vitamins (Head to Tail Vitamin +), and adding a raw egg to her food every couple of days and she has started filling out and eating lots just in a few days.
I can't say this is a solution for your dog, but since Chihuahuas are very picky, that seems to be a supplement that helps in this case. :)
Read More

Answers