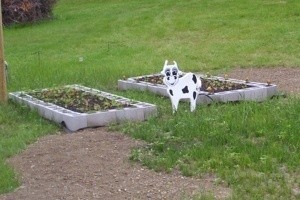 My husband and I planted marigolds and herbs (dill, parsley and basil) in the 2 holes of each cinder block surrounding our small garden plots. This would be especially good for peppermint and catnip that tend to spread all over.
By Ellen from Ware, MA
March 11, 2010
0

found this helpful
Wow - there's somebody else like me out there! I do the exact same thing. Check out my gardens.
March 11, 2010
0

found this helpful
I also do the same with my raised bed garden & plant onions in the holes in the blocks. I planted sweet potatoes in the holes last year, guess what? They got so large I had a hard time digging them out of the hole. I will not do that again! I will also plant cabbage & lettuce in the holes, good luck.
March 12, 2010
0

found this helpful
I put in a garden last year with two levels of cinderblocks. I live in a rocky area of Central Texas. This garden was so productive and I loved planting herbs and flowers in the small "containers" around the outside.
Another benefit for this type of garden - no tilling so in this extra wet spring, my garden has already been planted with the early crops. Love it.
This picture was taken the last week of April.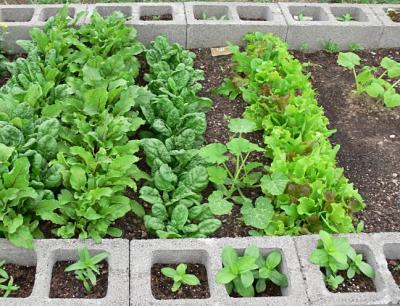 March 13, 2010
0

found this helpful
This is great, I might do this along the fence to keep the weeds down, they seem to grow there and we can plant little flowers in the holes...great idea!
I put a bunch of these cinderblocks in a circle and put an old metal tray in the middle and then surrounded it with rocks, since I like rocks, and then put an old oven grate or rack over it, so now it is a fire pit.
Robyn
May 14, 2012
0

found this helpful
I have done this off and on for years. My dog loves garlic, and he can't dig up the garlic or other plants that I plant this way. He can get his mouth in the block, but can't open it to pull the plant out! It stops evasive herbs from spreading!
I have surrounded some of my wood raised beds with blocks and it gives extra support to those beds if they are trying to pull apart - helping them to last several years longer.
You do need to water them more often however, as the concrete is porous and absorbs the water.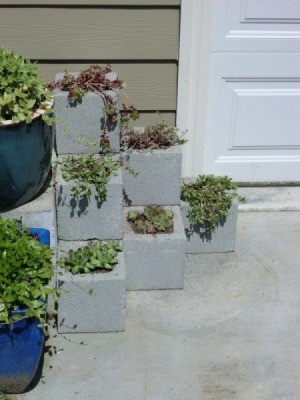 This planter would work great for succulents, grasses, flowers, or strawberries. I chose to use succulents of the Sedum variety but there are a lot of different options.
To have success planting in cinder blocks you will want to use alkaline loving plants. Your also want to plant in a nice flat area. A concrete driveway or deck works well.
Supplies:
20 half-cinder blocks
potting soil
gravel
alkaline loving plants
liquid nails
Directions:
Find a nice flat spot to layout your cinder blocks. The half cinder blocks work great for this type of project.
If you plan on stacking higher than 3 high, you will want to run some rebar so that it doesn't topple over if someone bumps it. Even with a shorter version like mine, I would recommend using a little liquid nails to attach the 2nd and 3rd row of blocks.

Once you have your layout set up, put gravel in the bottom of all the planters. Make sure to leave room for 6 inches of soil.

Fill the blocks the rest of the way with soil.

Then put in your favorite alkaline loving plants.
I like to refer to this as our Qbert planter, since it reminds of the old video games (see below).