This easy recycled planter would be a great summer craft for kids but is also a very effective way to keep your houseplants from drying out.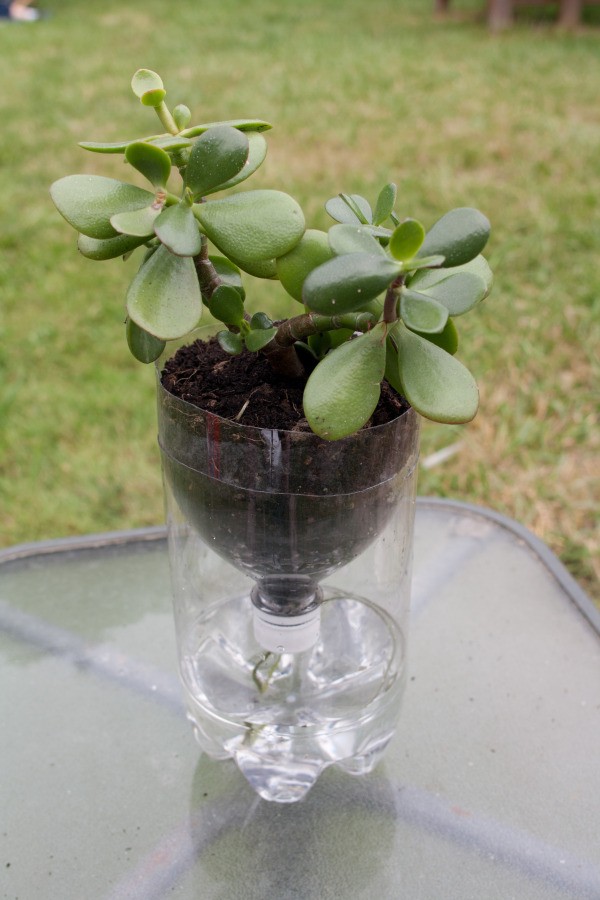 Materials:
2 liter bottle
string
drill
knife and/or scissors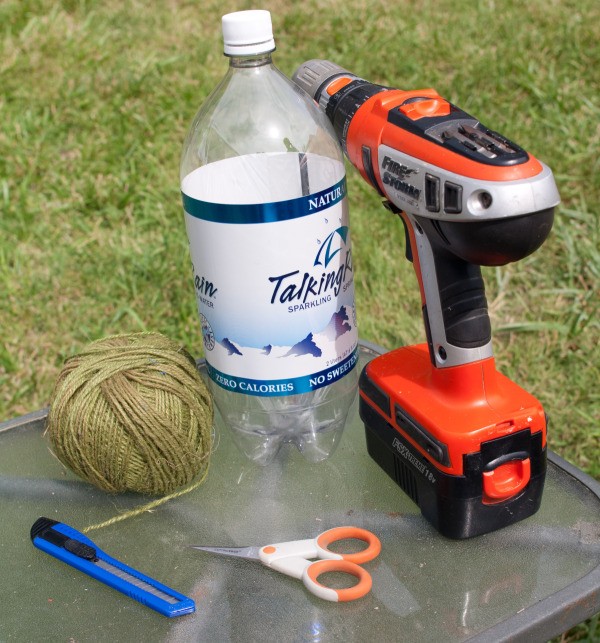 Instructions:
Cut the top off a 2 liter bottle, a little over halfway up.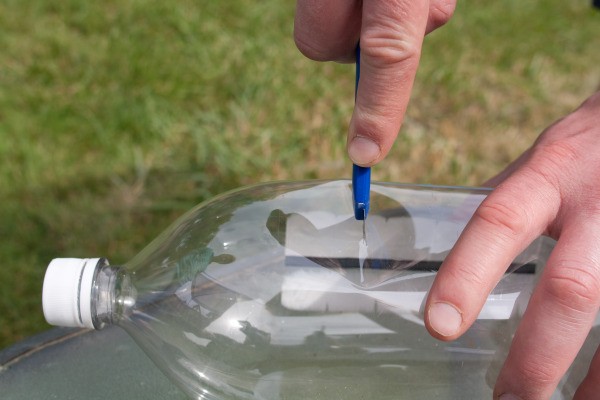 Drill a small hole in the cap, large enough to thread some twine through.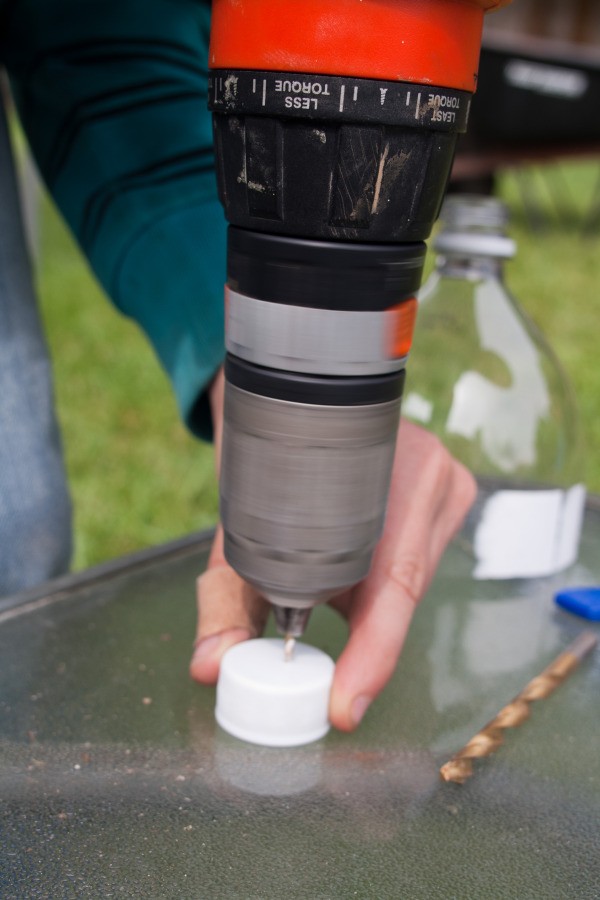 Thread twine through cap and tie a knot on the inside to prevent it from slipping through. Cut the twine off with several inches on each end.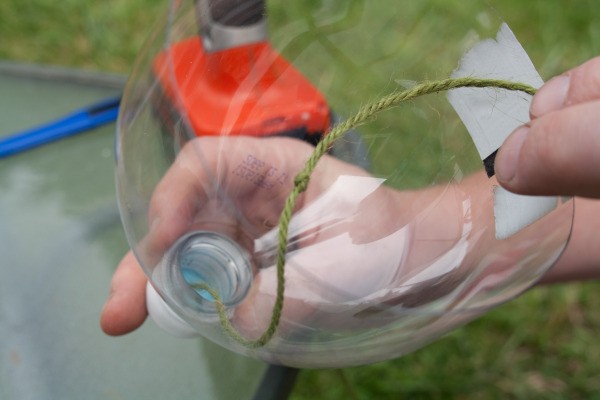 Fill the top of the bottle with potting soil and fill the bottom with clean water. Dip the string into the water to submerge it and set the top in place.
This self watering container is great for indoor plants that don't have a large root structure, or for starting seeds. I use this planter for a jade but I think it would work really well for an African violet also. When the roots reach the edge, I will trim them back and add soil around them so the light doesn't damage the roots.
By Jess from Hillsboro, OR
Read More Comments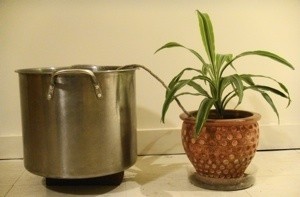 From the simple to the extravagant, the garden marketplace is full of products that can feed and water your container plants for you. But if you prefer to spend your money on plants, rather than "systems," you may want to consider a simple and inexpensive method using wicks. If you're leaving home on vacation for a week or two, or you simply don't have the time to water dozens of containers every day, wick watering can be an efficient, do-it-yourself solution to keeping your container plants happy.
How It Works
The theory behind wick watering is a simple one. A wick is run from the top of the pot down through a drainage hole and into a reservoir holding water. As soil in the pot dries out, capillary action from the wick draws water in from the reservoir and re-hydrates the plants. When the soil reaches it's moisture bearing capacity, the wick stops drawing water.
Method #1 (For Multiple Containers)
Materials:
Wicking cord
5 gallon bucket (reservoir) or several plastic milk jugs
The best way to insert water wicks into your container plants is to "plant" the wick in the pot at the same time you're planting the container. The wick(s) should be long enough to reach from your water reservoir to the bottom of the pots. Excess cord can be coiled around the sides of the pot and hidden beneath the plant's foliage when you're not using it.
When calculating the length of the wicking material, keep in mind that the reservoir should be elevated slightly above your pots (a block or stool works well). If your pots are already planted, just use a pencil or screwdriver to gently insert the wicking material down into the potting soil--disturbing the plant's roots as little as possible.
Arrange your pots closely around the water reservoir. Make sure your plants are watered normally (from the top) before starting the process. As the soil dries, water will be drawn into the pots through the wick.
Method #2 (The African Violet Method)
Materials:
Wicking cord
Water reservoir that fits underneath pot.
A tray with a hole in the center, that allows the pot to rest of top of the reservoir.
This method works well for small, individual pots. It is commonly used to water small African violets. A shorter cord is placed in the bottom few inches of the container and run out the drainage hole. The pot is then set on top of a reservoir and the cord is allowed to dangle into the water and draw up the water as needed. If needed, fertilizer can also be added to the reservoir. This method works best for smaller plants because water will only travel about 4" up the wick.
Testing for Success
Don't set off on your summer vacation before testing out the bugs in your wick watering system. Wicks can fail for several reasons:
The soil in the pot is too moist or too dry to draw in water.
A wick is too small in diameter to draw up enough water for a large plant.
There are not enough wicks in the pot.
The soil is too heavy or too compact.
The pot is sitting on top of the wick and the wick is getting pinched.
Most gardeners find this system reliable for a week or more, but if you're leaving town, perform a trial run for at least as long as you're going to be gone.
When to Change the Wick
Over time, wicking material will slowly get clogged with soil particles, algae, minerals, or fertilizer salts. Expect to change them every 6-8 months, which is also a good time to freshen up the soil in your containers.
Wick Watering Tips:
Plastic or ceramic pots are recommended for wick watering. Terra-cotta and wooden planters tend to lose moisture through the sides of the pot and will wick water away from your plants.
The right soil mix is important for wick watering. Soilless mixes or light "potting soils" work best. If using a regular soil, it should contain at least 50% vermiculite or perlite.
A thirsty plant in a 6" pot can drink up to a quart of water per day. Bigger pots and plants with large root systems will need more than one wick per pot. Just how many depends partly on much water the soil will hold. A 3" pot will only need one wick. A 6" pot may need two, etc. Experiment.
Nylon parachute cord works well ( 7/32"-3/8" diameter ) to make wicks. This is readily available at big box home centers, hardware stores, or outdoor stores. Acrylic, nylon, or polyester materials work best, because unlike natural fibers such as cotton, they don't rot or promote fungi growth. Wicks designed especially for this method are also available at many garden supply stores.
Thank you for the detailed explanation on using wicks for watering plants when away. I live the the United Kingdom and I have had a lot of frustration trying to get a suitable material to use as a wick with my used/saved milk jugs which I intend to use as my water reservoir.
Please could you be kind to recommend where I can get these or alternative materials and how to use them.
Thank you.
Answers
June 28, 2018
0

found this helpful
A length of thick cotton string would work well.
June 28, 2018
0

found this helpful
They sell wicks online like on Amazon:
www.amazon.com/.../B005KL3OCK (Affiliate Link)
This site has homemade solutions, which was my go to as I don't like to buy new when I have something I can give a second or third or fourth life to.
homeguides.sfgate.com/homemade-wick-watering-system-potted...
It worked, but I stopped using it I thought it gave off a musty/mildewey smell from the wet shirts. Perhaps I was doing something wrong. For me, I just went back to a regular watering...which works for me.
Hope you find a system that works for you!
June 28, 2018
0

found this helpful
I do not know how elaborate a self-watering system you plan to make and that in itself, may determine the type of wick material you will need.
In the past, I have used a simple wick system when I was going to be a away for a few days and had some houseplants that needed attention but mine was never intended for long term use.
I just used a bucket of water (placed a little higher than plants) in the center of my shower and placed potted plants close by and ran weighted (I used heavy nuts/bolts to weigh down one end) thick white shoe laces to each plant.
The nut/bolt held down the string in the water and I just used anything handy to make the string stay in the potted plant.
If I was away longer than expected, my son would replace the water in the bucket (or turn on the shower) and it worked for me.
I expect you plan to use this for a longer period of time so you will need more wick material.
One thing to remember; Cotton is a commonly recommended wicking material, but some warn that natural materials, like cotton, may rot or contract fungus easily. Wicking materials less likely to encounter this problem include nylon and acrylic.
The very best thing that I found was clothes line. You can purchase it almost anywhere (I feel sure they have clothes line in the UK) or order it online from several different sources. You may have to do a little searching but you can buy clothes line rope in cotton, nylon or polyester. Cotton or nylon are good but not so sure about polyester as it may not soak up the water as well as other material.
Here is an ad for wicking on Amazon.
The following may work okay but it does not have good reviews.
When I was younger we used whatever was available and since we had kerosene heaters we always had wicks available and after some thought, I found a link for even this (and it is thick and may be even better).
Note: Plants that require excellent drainage, like orchids, succulents and cacti, may not be appropriate for this type of watering.
Answer

this Question

...