Cleaning a Memory Foam Mattress
Any kind of mattress can be a challenge to clean. This guide is about cleaning a memory foam mattress.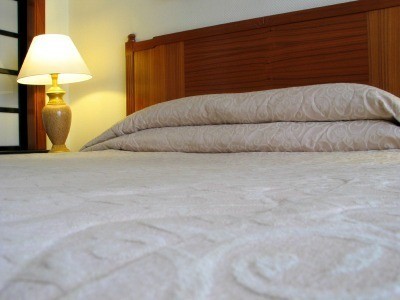 Filter

: All Articles
Sort

: Relevance
How do you clean memory foam mattress pads?

Kathleen from Houston
June 19, 2008
0

found this helpful
You can try a home carpet cleaning machine. Spread a clean tarp outside, Have an assistant to hold pad down while you go over it. I would leave the protective cover on during this process. You can try adding some disinfectant to your detergent (Clorox or Lysol) Even some fabric softener for a fresh fragrance. Dry in the sun on some saw horses. Cover each horse with a clean towel to protect your clean pad. Turn occasionally to ensure even drying. Good Luck!
""
January 17, 2009
0

found this helpful
I found a really easy way to clean the memory foam mattress pad. Go to pets mart or another major pet store and purchase SIMPLE SOLUTION - STAIN & ODOR REMOVER, an awesome product to have in the house with pets anyway. Take your memory foam topper and lay it out in your basement or garage. Spray the soiled area until it soaks through. Let it stand for the time quoted on the bottle. The key is getting it dry.
Memory foam is just a giant sponge, so what I did is take my shop vac and placed the wide floor cleaning attachment on the hose and placed it on the wet area. I placed a towel on the underside so that the vac could draw air from under the mattress pad. Move it occasionally around the wet area until you think its pretty dry. I then placed a dry towel on the top and the bottom of the mattress pad and placed a weight on top and let it sit overnight. Worked like a charm, with a little of the stain visible but the odor was gone.
February 28, 2009
0

found this helpful
I suggest to use ammonia to clean most things, good luck.
April 28, 2016
0

found this helpful
Dog smell not pee
Read More Answers...
If your mattress is very wet (having been dunked in a bath or used a hose on it), cover with towels and walk up and down on it until the excess is soaked up. If the mattress is only slightly damp (spot cleaned), do either same as previous or use a Wet Vac to soak up excess.
Finally stand mattress on side next to radiator and rotate as necessary. It will dry within the day. This has worked with single mattresses raging from 5 - 12 inches thick.
Milk was spilled on my seat, which has memory foam in it. I wanted to know if I am going to have to replace the foam in order to get the milk smell out. Is there anything else I can try? Please help me. Thanks.

Sheryl from Oklahoma City
February 27, 2009
0

found this helpful
OdoBan took lingering odor from vomit out of my car seat, and it removed skunk odor from towels used to clean up our dog. It can be found at Wal-Mart in a ready-mixed spray bottle, or you can buy it by the gallon at Sam's Club. It works great for many household uses. Good luck!
March 1, 2009
0

found this helpful
I use Febreze for those really tough odors. I bought a small size bottle years ago and I only use it on impossible odors. It really does work.
March 2, 2009
0

found this helpful
I have taken mine outside on a warm/hot day and draped it across 2 or 3 lawn chairs. I spray the soiled spot with simple green and leave an hours or so. I then use the hose to rinse thoroughly and leave in the sun to dry. It may take 2 or 3 days and require turing over but it will be clean.
March 2, 2009
0

found this helpful
Go to your local pet store and buy Natures Miracle. It is guaranteed so no worries, and it works on any odor, on any fabric safely. It's an enzyme that will even remove skunk odors. I have used it for so many things, I would never be without it!
Read More Answers...
How do I clean and deodorize my Sealy Posturepedic mattress? It smells like sweat!
By Mary M
September 6, 2013
0

found this helpful
I totally believe in white vinegar. I would think on a sunny or dry day you should try to spray it on the exposed mattress (wash the cover with white vinegar in place of bleach and in place of softner)... cheap try!
July 4, 2016
0

found this helpful
I have a 2005 heavy foam mattress and need to be safely cleaned.
My heavy 2005 queen size mattress has a sweaty smell and it may have bedbugs.
It has been in a 5th wheel RV in the sun.
The mattress needs to be cleaned inside due to the small size of the RV doors.
Please advise on treatment options.
Thank you,
I
How do I get the urine smell and stain out of a memory foam mattress?
By Judy from Lincoln, NE
December 13, 2010
0

found this helpful
I used natures mirical on my daughters new mattres when my cat peed on it. I poured it right from the bottle. It worked. No smell at all. great stuff for every thing. Got it in the pet store.
November 30, 2014
0

found this helpful
Use waterproof sheets as well as waterproof mattress cover, this should help eleviate some of the problem and maybe use waterproof pants for your son.
October 20, 2015
0

found this helpful
Question said nothing about the source of urine. What's up with this assumption that it must have been a boy who caused urine smell and the suggestion to essentially wrap him up in plastic?! Please check your biases.
My house caught on fire, but we were able to save my newly purchased bed. It is a memory foam bed and smells badly like smoke. How do I remove the smell without damaging the mattress?
By hopesanddreams42 from City, PA
August 28, 2010
1

found this helpful
I would try a no vaccum foam carpet cleaner & get some hair refresher spray by tresseme fresh start. It gets smoke smell out of your hair without shampooing. Maybe even a catalytic oil lamp & use to clean purify & refresh room. A carpet cleaning company can maybe do cleaning for you.
My son is still a bed-wetter and he and his brother sleep in bunkbeds with the "memory foam" type mattresses. About 3 times a week he wakes up in the morning to a wet bed. I've tried putting several towels under his sheets, a waterproof mattress cover, and a sleeping bag, but no matter what I do his urine soaks all the way through to his mattress. (I don't let him drink any liquids whatsoever after 6 pm and I make him use the bathroom at least 3 times before bed.) He's just a pee-pee factory! Anyhow, I don't know exactly how to get the damp urine stains out of his mattress (it's no ordinary mattress, it's absorbent).

Does anyone have any helpful ideas at all?

Help me please! ARRRRRGH!

Jo

My son is still a bed-wetter and he and his brother sleep in bunk-beds with the "memory foam" type mattresses. I don't know exactly how to get the damp urine stains out of his mattress. Does anyone have any helpful ideas at all?
Related
© 1997-2016 by Cumuli, Inc. All Rights Reserved. Published by
ThriftyFun
.
Page
generated on August 25, 2016 at 6:08:38 PM on 10.0.2.162 in 4 seconds. Use of this web site constitutes acceptance of ThriftyFun's
Disclaimer
and
Privacy Policy
. If you have any problems or suggestions feel free to
Contact Us
.