Compost Bucket Ideas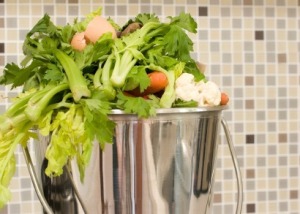 You can buy or use a recycled container to compost kitchen scraps and other compostable household waste. This is a guide about
compost bucket ideas.
Solutions
Share on ThriftyFunThis guide contains the following solutions. Have something to add? Please share your solution!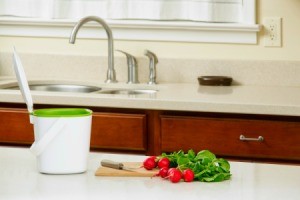 I have started a compost pile. Since it is far from the house, I have an ice cream bucket that I use for my daily scraps. To keep it from getting so messy when I empty it, I line it with newspapers or paper ads from the mail. The paper absorbs the liquids and everything comes out of the bucket when it is emptied.
By dizzee from Woodstock, IL
January 14, 2011
0

found this helpful
This seems like such a good idea. I'm going to try it immediately. Nothing is messier than kitchen compost that won't come out of the pail! Thanks for the tip.
Read More Comments
I always wanted to compost so a kitchen composter was easiest to start with but expensive. I noticed our kitty litter container (hard plastic) was a purrrfect size and has a lid and handle. It fits under the sink and has been working great.
By krisanthemum from Pataskala, OH
June 4, 2011
0

found this helpful
I use the litter buckets to grow my tomatoes. I drilled holes in the bottom, covered the inside bottom with coffee filters to keep the soil in, and planted patio tomatoes in them. Easy to carry around to follow the sun, bigger pot= bigger tomato crop. I also use the buckets for compost and also for when I buy topsoil from the local nursery. They know how many shovels full is a bushel, and they fill the buckets for me to that amount. Easier for me to carry the soil to where I want it.
Read More Comments
Composting is always great. It recycles plant wastes and makes great soil. We have a composting unit in the back yard under a tree. When I worked in the kitchen, it was hard to save things for composting and I was always debating if it was worth the time to take the little I had out or if I should just throw it out. This was especially true at night or if I was not feeling well.
Now I have a stainless steel container with a lid right by my sink (it is about 1 gallon size). Since it is not see-through and closes securely it is neither an eye-sour or a smell problem. I put the banana peel in after breakfast. The ends of carrots, onion and potato peelings, salad wastes, etc. from lunch and supper. I also put in tea bags (minus the staple and string. Coffee grinds are great too. When this can is full, I empty it into the composter. We also layer the leaves and grass clippings into this composter. Having the steel canister in the kitchen saves me time and I end up with great soil for my garden.
By Harriet from Lakewood, CA
August 13, 2012
0

found this helpful
Also you can get one of those small plastic drawers that you buy at walmart and put it in your refrigerator. That way you don't have to empty as often cause there is no odor or deterioration.
Anne in North Carolina
Read More Comments
I save my veggie scraps, coffee grounds, filters, tea bags, etc. in a plastic kitty litter bucket under the kitchen sink. If you add shredded paper or substitute sugar packets in there too, it kills the odor.
Read More...
Related Content