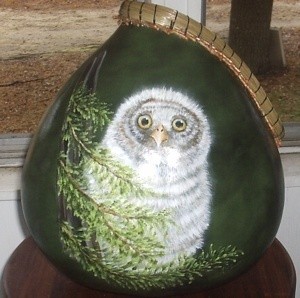 One of the many gourds I have done. This features a large kettle gourd, cut open. The opening has been coiled with long SC pine needles. The process is actually a weaving technique, and adds a nice touch to many gourds.
The gourd has been hand painted with a snowy owl on the front. This is one of my signature pieces. All are numbered and dated.
By ilovegourds from Cheraw, SC
June 11, 2009
0

found this helpful
Gorgeous owl...you're very talented! I too would love to purchase one of these from you. Please let me know if you are selling them and the price. Gigi
June 13, 2009
0

found this helpful
Thank you. Gosh ya'll are so nice to comment on Peek-A-Boo! He is one of my signature pieces, and I have 3 in private collections that folks have purchased from me. Yes I do sell most of any gourds. I love to coil,carve, I do chip carved pieces. My specialty is Gourd Purses. Prices of my purses start at 70.00,and go from there. Any purse that is carved,burned (pyroengraved)inlay work,they are more expensive. Gourds are a real time issue, and all of my pieces are labor intensive. But it is what makes them so unique, I feel any how.
I will take some time here and post other pieces I have done.Some of ya'll have asked about purchasing a Peek-A-Boo,selling price of Peek-A-Boo is 75.00.I will be leaving to go to NY on vacation the first part of July,will be gone until July 14th,and will be home (SC).
If you are interested in seeing more picture,please email me privately to:
handcraftedgourds AT yahoo.com That way I can reply and attach pictures to you in the email. This gourd that is pictures, is just a fun piece,purely decorative. It's titled "Penny Rug Welcome". Showing this will give ya'll an idea of my range of work, I've painted hundreds of gourds. Many Blessings
Michele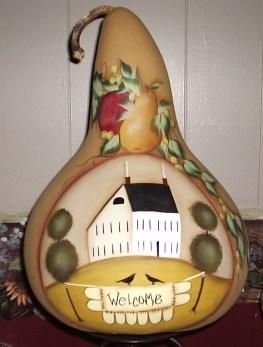 These painted gourds are just lovely. You are a talented painter and I hope you are selling your work! I envy you. I can't paint worth a darn and even have trouble with stencils! Put em out, people will buy. Go to a flea market or craft sales, and consignment shops. Good Luck! : D
Oh, see! I just read the other people who wrote in. They want to buy them. You've got your own business yet? If not, there you go! Again, good luck to you. : D
May 19, 2014
0

found this helpful
Ho..Ho..Ho! Santa Gourd. He is just the cutest gourd I have ever painted for the holidays. He makes a great centerpiece for a holiday table. Enjoy!
By ilovegourds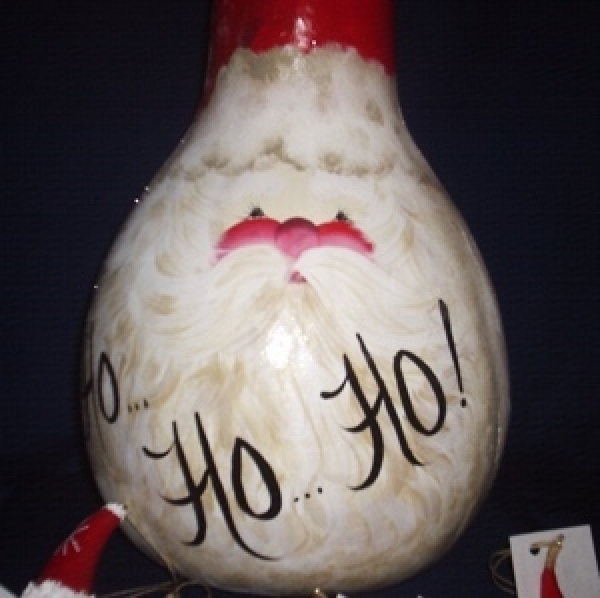 August 6, 2009
0

found this helpful
You're a great painter! You should sell those at Christmas. Thanks for sharing it with us and God bless you.
August 19, 2009
0

found this helpful
Where do you get the gourd to do this project?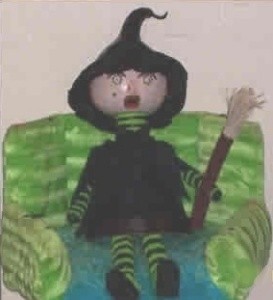 Things you will need are a small, medium, or large gourd, depending on how big you want her to be. Make sure you wash the gourd with warm soapy water and rinse clean. Let set and dry at least 30 - 45 minutes.
Do all of your painting and let dry before you put your witch together.
While you are waiting get together your materials you will be using.
Materials
black acrylic paint, green acrylic paint, and skin tone or light beige paint
black, red rubber paper (tongue and hat rim (top of the hat is the stem part of the gourd)
black fabric for cape
You can paint your own eyes, or use stick on eyes and rubber paper.
scissors, wire cutter, and craft knife
tub and tile adhesive clear caulking
Use it like glue when attaching the neck to the head and body.
white Styrofoam (broom handle, neck, arms, and legs)
1 6 inch terra cotta clay plant pot (whitewash with white paint thinned with water)
If you are using a really big gourd, you might need to use a bigger pot.
1 wire clothes hanger (to hold the arms and legs on)
pair of pliers to bend the wire
ruler
Instructions
Paint the pot and face on the gourd. Let dry
Cut the Styrofoam for the arms to match the size of the pot and head. You don't want it to look out of proportion (lol), and the same with the her legs and feet which is all one piece, then paint.
Cut the black material for her cape (make a small band at the top of it and thread a black string through it and tie it on the neck.
Connect the legs to the pot, attach a piece of wire hanger across the hole in the bottom of the pot, then bend the leg wire in half over the cross wire. Now attach the legs to the wire by putting a little adhesive on the top of the legs where you are going to push the wire into the middle of the length of the legs.
Enjoy your crafty witch.
By Crafty Billie from Stockton, CA
July 2, 2008
0

found this helpful
She is just to cute, looks like a lot of time went into her..
November 4, 2010
0

found this helpful
This is too cute. I'll make this next year. Thanks!
I am looking for images to paint on gourds for the flower bed. Does anyone have some ideas? Some of the shapes I have are bottle gourds, warty gourds, and swans. Thank you.
By pg
Have you considered hollowing at least 1 out of the bottleneck ones and putting flowers in them and hanging on a railing, fence or low tree branch? You have to put water in it just like a regular vase. These are very nice and I saw it in one of the magazines online. Just thought I'd throw that one out there. If you don't want to paint them all, you could also put little leaf, acorn, pumpkin and flower stickers on them. They have all kinds plastic, paper and felt ones at most craft stores and Dollar Tree too. Check out BHG.com for painting and craft ideas. Anyway, have fun crafting and Happy Autumn! : D
This is a half gourd, and painted in a primitive scene I call "Penny Rug Welcome". This particular design has been painted on many sizes of gourds, as it is one of a very popular request of folks. The piece measures approximately 9 inches across.
Enjoy!
By ilovegourds from Cheraw, SC