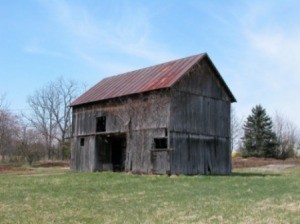 The rustic character of barn wood can be incorporated in a variety of crafts. This guide contains crafts using old barn wood.
Ad
---
Solutions: Crafts Using Old Barn Wood
Read and rate the best solutions below by giving them a "thumbs up".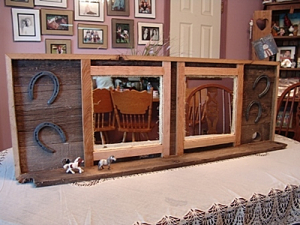 There are a lot of different projects that one can make out of old weathered barn boards. Now I may be a little behind times here, I don't know if decorating with old barn boards is still in style and frankly I don't care. I love working with the old weather boards, each board has it's own personalty.
There are really two main kinds of boards, most old barns were sided in pine, these boards come in 12 inches widths, and are usually 12 feet long or longer. Then there is fence boards which are mostly cedar and are 6 inches wide and vary in length from 6 to 8 feet long, They both make wonderful material to create one of a kind projects. Now you might be asking where in the world do I find old boards? Old fence boards are more common as most of the old barns have collapsed or have been torn down. The best way to find old boards is to place a wanted ad on Craigslist or call your local fence company and tell them that you would like some old cedar fence boards.
I have made several projects out old fence boards, outside planters, framed mirrors with a western theme, and an old bench that my wife has in the catchall room. I even have an uncle that made all of his kitchen cabinets out old weathered barn wood. In my first house, I created a design on one wall with old boards. The possibilities are endless if you let your imagination run wild.
By John from Haysville, KS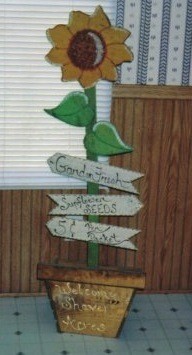 This is how I've used old wood from a blown down barn. The old wood is given to me by friends. I made the sunflower sign and make children's chairs of them and sell them. Now some adults buy them to put on walls and use as shelves.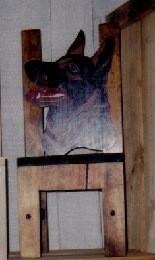 Give a "thumbs up" to the solution that worked the best! Do you have a better solution? Click here to share it!
Questions
Here are questions related to Crafts Using Old Barn Wood.
I make barn wood picture frames and when I cut the wood, I have raw natural wood showing. What can I do to turn the wood to a matching color so it isn't so noticeable? I have heard of using vinegar and something else? I haven't had any luck with stains. Thanks for any help you can give me.
By Duane from Rapid City SD
AnswerWas this interesting? Yes No
Ad
---
---
Most Recent Answer
By Pam 20 18 08/07/20120 people found this helpful
I took an old wooden pallet and made a birdhouse, but I also had parts of the wood I had to cut and it didn't match the rest of the wood. Here's what I did and it turned out really well. I took a handful of potting soil and rubbed it into the section that was cut, it aged and matched it up to the rest of the wood.

Hope this idea helped.

PAM
---
Where can I get these items? I am willing to take an old barn and or picket fence down if needed. I will pick it up if I just knew where to go!
Thank you.
By James
AnswerWas this interesting? Yes No
Ad
---
---
Most Recent Answer
By redhatterb 1 673 02/14/20120 people found this helpful
Basically you are either going to have to advertise for what you want or by word of mouth. However, it wouldn't hurt to drive around in areas that are being renovated, and out in the country looking for things that might be ready to be demolished. If you find something that looks promising you will have to ask around to find out if you can have the wood in exchange for tearing it down.
Archives
Thrifty Fun has been around so long that many of our pages have been reset several times. Archives are older versions of the page and the comments that were provided then.
I want to make picture frames and things from old barn (pine?) wood. I have collected the wood, and with age, it's obviously very dilapidated. How do I prepare it to use it?
Thanks,
Lily from Virginia.
---
RE: Recycling Old Barn Wood For Crafts
Hi. Some farmer was going to tear down a barn that had been hit by a tornado and I asked for the wood. My husband wanted to make me a TV cabinet and a trash cabinet. All we did was clean the wood with some soap and water with one of those sprayers you hook onto the hose. Let it bake in the hot sun for a couple of days to get rid of the water and the little creatures, and then make whatever you want.
Good Luck. (05/09/2005)
By Michele
RE: Recycling Old Barn Wood For Crafts
If your barn wood has been painted, it may contain lead. A neighbor had a dilapidated barn torn down by a friend and his friend's kid started acting funny. He took him to the doctor and he had lead poisoning from the sawdust when his dad cut the wood. Just be careful. (05/10/2005)
By Kathy in Illinois
RE: Recycling Old Barn Wood For Crafts
The key to salvaging any kind of old wood is moisture. Water in wood will cause it to rot, or insects to get into it. A good piece of wood needs to be dry and hard. If you've been keeping this wood in a dry spot for several months and there is no sign of rot, you should be good to go.
Any wood that has not been used for a long time will get very hard. If you nail into it, it will split very easily. Therefore I would recommend pre-drilling for connectors (nails or screws), when you put together the picture frame. Use a drill bit that is slightly smaller than the width of the connector. Screws are better to use because you can take them out, and there is less trauma to the old wood when screwing vs. hammering.
Also, as mentioned by someone else, be very suspect of any old paint, as it may contain lead. There was a lawsuit recently against several large pigment/paint manufacturers because they continued to put lead in pigment after it was banned. So be careful. I would suggest sealing any old paint so that it can't continue to flake off. (03/27/2006)
By Rolfe
***
*** Our neighbors wood fence blew down in a storm. I eyed the mess for a day or so, then offered to clean it up for them, if I could have the boards. They were happy and so was I! Made a total of 25 benches from the wood, sold them for $40.00 each. Kept 3 for my yard :0)
By Maggie from Bloomington, MN
---
RE: Recycled Benches From Fence Wood
What a great idea - and it paid off as well! (11/13/2007)
By Marie
RE: Recycled Benches From Fence Wood
That was a very clever idea. Good for you! Those would make great planters also, hold dog dishes etc. just put holes into the seat part of the bench. Dee (11/13/2007)
By Diamondee
RE: Recycled Benches From Fence Wood
VERY smart idea indeed! And they are soooo cute too! (11/13/2007)
By Jawga
RE: Recycled Benches From Fence Wood
Way to go, Maggie! You really 'cleaned up' on that one. Great job and smart thinking! (11/13/2007)
By hugmehugs
RE: Recycled Benches From Fence Wood
Hello Maggie- why can't I find inventive neighbours like you in Australia? Brilliant! Regards, Good Neighbour (03/29/2009)