Did They Have Plastic Bags in WW II?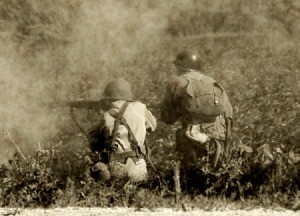 There are apparently some accounts of ammunition during WWII being wrapped in plastic bags. Similarly, there are varying opinions as to where there were in fact plastic bags in production at that time. This is a guide about
"Did they have plastic bags in WW II?.
Questions
Ask a QuestionHere are the questions asked by community members. Read on to see the answers provided by the ThriftyFun community or ask a new question.
I just read a book on the Channel Islands in WWII, which mentions things being kept in a plastic sack. I know Bakelite was around then but was soft plastic? The guy with the sack was a doctor (if that has any relevance). The Channel Islands were occupied and they were short of all the basic stuff. Perhaps the Germans had plastic sacks and he liberated one? This is really bugging me and Google has been no help. Deeli, where are you? Help!
October 7, 2011
0

found this helpful
Thanks to everyone for the very helpful replies. The 'mind-slip' is on the back burner. The book was written by the doctor himself but not until the '80s so it's still a possibility. The sack was being used to carry equipment for maternity cases so that rucksack with all the pockets would be ideal, Deeli., but he was an Islander, I don't think the occupying power would be too happy! I think you're right, some kind of weatherproofed bag -not plastic as we know it but yes, at least I can imagine it now. Thanks Deeli and all.
Marg
October 7, 2011
0

found this helpful
It's not my day, is it?
Marg.
April 18, 2017
0

found this helpful
Home was London in WW2 and I'm sure there were no plastic bags. Shopping bags and baskets, or string bags had to be taken to the shops or what would you do with apples or potatoes etc. no worries about oranges or bananas, there weren't any. No peanut butter or nylon stockings until the "Yanks" came. But we did have dried eggs! I could go on at great length. We did have wonderful bread bakeries in London, every family had its favourite, it wasn't rationed until 1948, such irony as the Marshall plan didn't include us. Stop me please......
April 18, 2017
0

found this helpful
I had no idea I was replying to something from October 2011.
Chagrined.
Read More Answers
Related Content