If everyone procrastinates in cleaning out old files of utility bills, bank statements, etc., like I do, it becomes a huge job. The container that comes with your paper shredder is so inadequate at this stage, that I put a clean trash bag in my kitchen trash basket, and shred away. You don't have to worry about emptying it every 5 minutes. When the bag is full just fasten the top and drop in the trash or the incinerator. The original container makes a neat wastebasket for the bathroom.

Harlean from Arkansas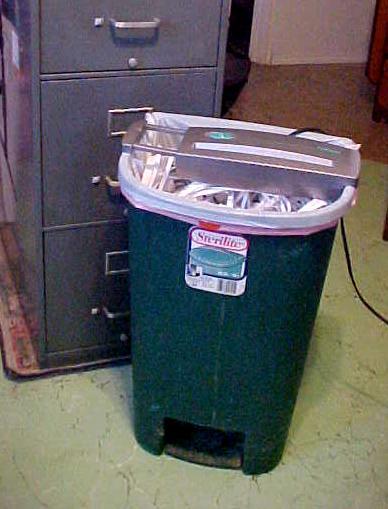 March 18, 2013
0

found this helpful
It's a good tip but I would donate the paper to the local pet shelter, or recycle it. You can also use it to fill gift baskets, start a wood stove fire, or check out the thousands of uses in a google search.
March 20, 2013
0

found this helpful
Because of safety measures, shredders are being made to fit only the container sold with it. A shut off switch engages when the top is lifted.
I used to do as the poster suggested, and was always having jams, read consumer report of injuries happening clearing jams. Yes, we use our fingers, paring knifes, crochet hooks, etc.
Lawsuits demanded safer shredders. SO I set a large trash bag inside my laundry basket or large trash container and catch it the same way. It goes to the recycle bin and they have alternate uses for paper.
I get sick of shredding so sometimes I put papers in the sink with hot soapy water and let them soak while I do other things. When I come back to them, they are easy to tear and mix into tight balls. When dry, these balls will be impossible to break apart for any information.

March 21, 2015
1

found this helpful
Great idea! I am sure the paper balls could be used in other ways.... i.e. in the bottom of flower pots for drainage.
March 24, 2015
1

found this helpful
Yep. They can be used for campfire starters, too.
March 24, 2015
0

found this helpful
What a wonderful frugal way to rid myself of reams of "important paperwork". Have been considering taking those papers to Staples to shred, they charge by the pound, so this is a better idea. TY
April 17, 2015
0

found this helpful
Just thought of another use for the dried paper balls. Use them in your fire place or outside barbecue pit for kindling or fire starters.
April 22, 2015
0

found this helpful
I soak mine in a bucket of clorox and sometimes toss the wet paper down the toilet that had my social on it. I get tired of them sending mail with my social on it. I now will use a bucket o hot soapy water and just discard the ball. Thanks.
For those who still have diaper duty at home and shred their sensitive documents. Throw some of that shredded paper in the diaper before you wrap it up and toss it out. No one will be willing to try and piece that info back together.
Source: Just thinking of uses for shredded paper after my daughter and I had a blast throwing it at each other after shredding 2009's old documents.
By Kris from Bladenboro, NC
June 19, 2010
0

found this helpful
ROFL! Makes me wish I still had the pitter-patter of tiny feet around the house so I could use this one.
Wonder if throwing the shreds in my doggie doo bags may have the same effect.
Great tip.
June 19, 2010
0

found this helpful
Good tip! Mixing in with used kitty litter will work too. ;-)
June 19, 2010
0

found this helpful
I'm a kitty litter mixer, too!
June 21, 2010
0

found this helpful
In MN, esp our county of Swift, these special delivery components are composted. If you shred your own paper, it can go into the compost as well for break down. They don't go to landfill. Back in the early 90's P&G set forth to see what would happen with their diapers and how to keep them out of the landfills. Our county was chosen for the project. We have sorted garbage since, and most goes to recycling or compost. So it does not matter if you are rural and take it to the trash barrel to burn, to the garbage pickup, etc. But if it is put into the garbage, not shredded, in the diaper, people with gloves on will sort it. That is what recycling centers are able. Most labor comes from sentence to serve prisoners working off their jail-bail or crime-time.
One of my husband's uses is to put in worm bedding for fishing, in the spring and fall it can be dug down in the garden as compost.
June 24, 2010
0

found this helpful
Very funny! I was a kitty litter mixer, too back in the days when I used the clay stuff. When I used to cut up credit cards and sensitive information, I would half the cut up piles and throw half in my home garbage (in the used litter), and take half to work (in a different town and county) where I threw it in the kitchen trash with the coffee grounds! Thank goodness we now have slicer dicer shredders!
June 26, 2010
0

found this helpful
Since I raise both rabbits and chickens I use the shredded paper in the rabbit and chicken nest boxes, and when it's duty is done there, into my raised garden boxes it goes. Even the plastic cards get chopped up, granted we try not to use them in the rabbit boxes because the rabbit does love to chew on things, but the shredded paper sure does make gathering eggs a lot easier and the egg stays a lot cleaner since we have started this. We used to use hay, straw, pine shavings, nothing seemed to work, but the paper is working so far.
I do not have a paper shredder but I have found a very effective, inexpensive way to protect my identity. I just tear anything with personal data on it once and then put in with the household garbage. I gets so messy, no one would be able to retrieve it!
By Mildred from Daytona Beach, FL
September 11, 2009
0

found this helpful
I do the same. I take the scissors and cut up the paper and put it in with my food scraps which I collect in a plastic grocery bag inside a one gallon ice cream bucket with a lid on it. It also helps absorb some of the moisture.. I don't think anyone would want to go through that mess and read anything.
September 11, 2009
0

found this helpful
I rip stuff up and then empty the litter box on top of it, guaranteed no one is going to get it! lol You can also compost the paper shredded or not.
September 13, 2009
0

found this helpful
Sometimes people forget what others used to do before it was decided that households "need" electric shredders! Good tip!
September 14, 2009
0

found this helpful
I am somewhat overly cautious perhaps, but it makes me feel better. I do the same things as posted above. I tear it up it to many pieces, then a put a few pieces in each waste basket around the house; bathroom, kitchen, bedroom, etc. and that way no one can put the pieces together like a puzzle to view my name, address, etc. etc. Maybe a bit overboard, but it's what I do.
September 14, 2009
0

found this helpful
The people that do this also have been known to dumpster dive so I doubt anything like a little garbage deters them. If one gets into those stinky dumpsters what won't they put up with?
If putting your info into the garbage makes you feel good I'd also dump some water or other liquid on it.
September 14, 2009
0

found this helpful
Sorry, but for the thousands of dollars an identity thief can make off your identity, going through a garbage bag is no big deal -- neither is it hard to reconstruct a document that has merely been ripped in half. Furthermore, you are throwing away material which could just as easily be recycled and kept out of the landfills.
Shredders can often be found at very cheap prices at thrift stores and garage sales. Or, you may consider joining "Freecycle.org" and simply asking for for one. Sooner or later a freecycler with an extra one laying around will be happy to give you one. Good luck.
March 25, 2008
0

found this helpful
When shredding paper you only have to shred the parts with your personal info. Recycle the rest or use the blank side as scrap paper.
By Patti from Oak Ridge, TN
By guest (Guest Post)
April 22, 2008
0

found this helpful
I shred any junk paper that isn't shiny or doesn't have lot's of ink, then I use the shredded paper in my compost bin, or mix it with shredded leaves and grow potatoes in it, or use as mulch that can be tilled into the garden at the end of the season. Hey, waste not...and it's really good compost!
July 30, 2012
0

found this helpful
I don't even trash anything with my name, I shred it. And one needs to be very careful with documents from financial institutions. Some of the stuff is generic/copies sent to everyone but whenever looking at all the pages you may find account number, SS number, etc.
I know we all need to try to protect our personal info from information theft. But, I've just had it with my 3rd paper shredder. They're noisy, they jam, they take too much energy and time to use and maintain, and the result isn't commercially recyclable. What are some good alternatives to shredding paper?
By nhe from Denton, TX
June 6, 2010
0

found this helpful
I've soaked important documents and papers that needed to be destroyed in a sink with a bit of warm water until they fall apart when taken out of the sink. I just keep pulling the soaked papers apart until they are unreadable or the ink runs completely, then ball the pieces into a ball or several small individual balls and dispose of them in the trash.
For credit cards I've used heavy duty scissors, cutting across the numbers and name crosswise several times, then cut those pieces into slivers the opposite way, making sure no full name or numbers are present before disposing of the pieces. Should you throw these into the garbage, it would be a good idea to only throw a few pieces away at a time.
Anything can be burnt in a fire if you are allowed to have a fire where you live.
June 6, 2010
0

found this helpful
I have a wood stove. Not as much fun in the summer but a daily ritual in the winter.
Cut up the cards as theroadrunnerla mentioned.
June 6, 2010
0

found this helpful
I soak mine also and then pull them to piece after the ink is all unreadable. I soak them with the cardboard I tear up to use less trash bags!
June 7, 2010
0

found this helpful
I ask my kids to shred them for me. We have a shredding party. I put them in a box, and let them shred them up and put them in 2 different trash cans. After they are done I just go through to make sure every thing is torn pretty small. They have a blast doing it and I don't spend of my time doing it. They feel proud to have helped me.
June 8, 2010
0

found this helpful
I just use a permanent marker to block out name, address and any account or code numbers appearing on sensitive paperwork, rip 'em in quarters and put them into the recycling bin.
Also agree with theroadrunneria on disposal of credit cards.
June 8, 2010
0

found this helpful
We accumulate our files and then take huge bag fulls to the Goodwill Store to be shredded. The price is very reasonable plus all your items go into one large sealed container. I asked about 'Security' & was told that there are TV cameras all over the shredding area plus a supervisor who monitors all the shredders.
Also, Office Depot has a shredding system which is done while you wait near the machines. They also are quite reasonable priced.
Rosalie
June 8, 2010
0

found this helpful
Handmade paper from bills is a beautiful idea (I have not put in practice yet), just as several folks say they have soaked papers, the next step is to mush it up in a blender and then spread it out to dry into new sheets, adding whatever fun things you like to add to paper.
June 8, 2010
0

found this helpful
There are some mail order companies that offer "shredder scissors" -- Miles Kimball is one of them They are scissors that have five blades on each side to use for shredding documents and credit cards. Good luck finding what you want.
June 9, 2010
0

found this helpful
I have switched to paperless billing on nearly all bills. I mostly get ads and and junk mail (usually with my name misspelled) and the occasional letter or package. I sort through the mail and deposit most of the junk in the recycle bin on my way back in the house. I just hand shred or mark out sensitive info but there is rarely much anymore.
June 11, 2010
0

found this helpful
Sometimes I will tear things up really well and put them in the trash with the coffee grounds poured over them and maybe some grease and then throw in a poopy diaper for good measure!