I have a bookcase in my room and a few of the shelves have some old papers and magazines on them. I just was going through the papers and I noticed there were a lot of tiny tiny reddish brown bugs on them. They were about the size of a period.
They did not seem to jump, just crawled around in the papers. I can't even tell if they have legs (although they probably do). I also have on one shelf some beanbags that I have used outside for games, and I think the are coming from the bean bags. Any ideas? I'm about to go out of town and don't want to come home to a bug filled room.
By Joe from Fort Lauderdale, FL
Answers

PENNY K
Bronze Feedback Medal for All Time! 107 Feedbacks
August 13, 2009
0

found this helpful
The papers, magazines and bean bags have to go in the garbage. Vacuum the books, wipe the shelves with soap and water and put back books after shelves are dry.
If you must keep questionable items put in plastic tote with a lid and put in garage away from other boxes and put right where your car would be so you can be reminded to deal with it when you get home. But do not save the bean bags.

August 16, 2009
0

found this helpful
What! Throw all of those things in the garbage? No way, those are just Chiggers. I too live in Florida and we get them from the trees. Like falling off of moss.
They most likely are coming in on the bean bag chairs. I'd say spray the chairs after each use with Deet. I nice little coat should do the trick. If you get bites, use fingernail polish (clear might look best =)
Chiggers are an immature stage of a harvest mite. To harvest, they would need blood. Here is a link I looked up. www.howtogetridofstuff.com/.../

August 21, 2009
0

found this helpful
Hi, Joe58, Why not try putting the beanbags (and anything else which might be hosting the bugs) into ziplock bags. Press out all the air, and put the bags in your freezer. If you can't get them into the freezer, just seal the bags after pressing out the air.
The bugs should be dead when you get home, and you'll probably see them in the bag around the beanbags so you'll know for sure where the bugs are coming from. Nancy in NC

April 4, 2011
0

found this helpful
I have been noticing the same reddish brown sometimes even an orangeish colored bug in and outside my home. Most recently though, I have had something ooze from my hair ! I have also had drops of something plop onto my shirt from my hair I think. my family is trhreatening to have me commited as they think I am loosing my mind when I try to explain to them some of the things I have noticed relating to these same bugs. They don't see anything in my hair ( the 1 time I actually got someone to really look at my scalp) I am really frustrated to say the least . I have been finding little rice crispie like things all over my house on kitchen & bathrm floors and on my carpets.
Finally, my husband has admitted he too is seeing some of the same things. I now have a worrm like thing growing between my toes, Yech, and have increasing number of brown raised spots all over my body where this liquid stuff has dripped and If I don't actually wipe it off my arms or whereever it landed, the irritaed burning sensation will then begin to turn a brownish color and almost looks like those liver or sun spots we all get as we age. HELP! The two photos someone submitted using a micro lense is identical to my unwelcome guests!
Answer

this Question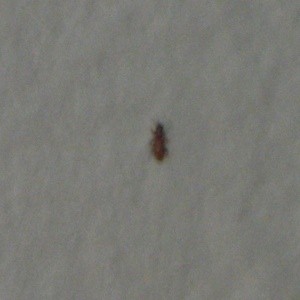 I have recently found a bunch of these tiny brownish red bugs crawling around my kitchen cupboards. I don't think they're bedbugs. At first glance I thought they were small ants. Does anyone know what they are and how to get rid of them?
By nyapt from Queens,NY
Answers

Lilac
Silver Feedback Medal for All Time! 450 Feedbacks
September 1, 2010
0

found this helpful
They look like roaches to me. The best way to get rid of them is to trap one and show it to the exterminator. He will then know what to use.

September 2, 2010
0

found this helpful
Don't know if I spelled it right but they look like boll weevils. They live on dry goods such as crackers and cereals or grains flours. You must freeze dry goods for 24-36 hours to kill any that may be in the foods when you first purchase them and keep foods in tightly seal containers.

September 2, 2010
0

found this helpful
It is a pantry pest type beetle/ weevil (boll weevils attack cotton bolls), need to locate what they are infesting in the pantry and throw it away, get rid of anything they could of infested too, thoroughly clean under the shelves and the corners. In 23rd year doing pest control.
July 25, 2017
0

found this helpful
Are the dangerous I think I ate one
Answer

this Question
I have tiny red and brown bugs in my apartment. I've been living here for 2 years and haven't had any before and it's driving me nuts. How do I get rid of these tiny red and brown bugs? Where did they come from? Please help, my lease is up in 2 months. I'm not taking my bed or couches or it will start all over.
By MR from Grandview
Answers

May 19, 2012
0

found this helpful
Lots of baking soda on everything, in all drawers and in corners of shelves and under pots and pans, dishes, everything. Under couch cushions, under the couch itself. on pillows, in the linen closet.
Bugs/insects (a lot of them) breath through their skin. The baking soda clogs their pores. They can't breath. Now wash everything, even your clothes. All of them. Then vacuum the carpet, shelves, drawers. Wrap the vacuum cleaner bag tightly in plastic and throw out. Do NOT keep this in the house. If one bug lives it will get out and lay eggs.
Now steam clean the carpet to get rid of the eggs. Steam clean the couches and chairs and mattresses too if there is an attachment. This will get the eggs. Scrub all the drawers and shelves.
If your lease is up in 2 months and you intend to move. This is the time to start packing. Sprinkle packing boxes with generous amounts of baking soda and pack with just washed items that are wrapped tightly in plastic. If you are not moving just be aware, to really get rid of bugs it is truly like moving out. One must move everything, wash everything in the washer in HOT water, scrub everything with hot water.
Putting vinegar on the baking soda helps for the carpet and upholstery and mattresses. Even if you see them only in one area, clean everything.

December 6, 2014
0

found this helpful
Hi JazzyMe. I agree with all but the wash in hot water as it shrinks clothing. You can put items into the dryer on hi heat 30 - 45 minutes.
Answer

this Question

I have these little bugs in my house that are really, really tiny. I would see 1 or 2 every few months, but now it's every day and sometimes 4 or more at a time. They seem to be where ever there is water. For example, under my sink, under my refrigerator (which is by the side of my sink), and the bathroom (bath tub, toilet, sink, or on the floor). I can see them in my rugs too because I have a 4 year old who spills everything.
I have killed a lot of them and did a big cleaning, but they still seem to come back or don't go away. Every now and then I will see them in my draws or couch, just one no more than that. I want to know what they are and how to get rid of them for good. I am going crazy with this thing it's been a few months now.
The picture is from Google, but this is what they look just like. I have tried to take pics for myself, but it's so small you can't see it well.
By Candace
Answers

August 26, 2011
0

found this helpful
Hi Candace, I can't view your picture... But I think I found the same thing in my apartment (on the rim of my glass of water) this morning. What is the google link to the picture? Also did you happen to have any luck determining what kind of bug is making a home in your home?

Lizzyanny
Bronze Feedback Medal for All Time! 226 Feedbacks
August 26, 2011
1

found this helpful
These look to me like wheat weevils. They are present in all wheat products. If you keep the product long enough, they will hatch. Go thru your cupboards and throw out any old cake mix, biscuit mix or flour etc. You may not see any of them near the flour source. they seem to hatch and then travel. I used to find them in the bathroom and kitchen primarily.
When I threw out all my old wheat products I stopped storing flour products in the paper bag or box they came it. I got plastic tight seal containers for products that were going to be around for awhile. I wiped out all my cabinets that I store food in too. I have not seen any of the little critters for years.
Answer

this Question

One day I decided to cook some chicken noodle soup because it was cold outside. As I was adding the seasoning I saw that there were a lot of reddish brown bugs with hard shells in the pot. After realizing that it was dead bugs I decided to open the top of the seasoning and saw a hand full of bugs.
They're also on the counter and in the cabinets. They are only in the kitchen. Can someone tell me where they come from or why they are taking over my kitchen?
By J. B. J.
Answers

December 6, 2011
0

found this helpful
When my mother had this it occured on a regular basis. We didn't know where they where coming from until one day I opened a cabinet that had a lot of extra dry beans in bags that my mother had been given. And found the source. The heat of the refrigerator I'm sure helped the insects flourish and the bugs I guess came out after the critters turned into bugs (From caterpillars). We cleaned out the cabinet and no more bugs.
I didn't realize my mother hadn't put these bags of beans in the freezer for a few days. Doing so will kill any eggs that may be in the beans (Sorry to tell you but there usually are bug eggs in most foods (Especially grains) so freezing them for about 3 days kills them. Also helps to them put them into some heavy duty zip lock bags or jars so no bugs manage to get into the beans or what have you.
So somewhere in your home there is a cabinet or container that has these little guys hatching and coming out. You just have to search your entire kitchen and even if you find it keep searching as the little bugs can reinfect beans. Once they turn to the bugs they can easily chew out of the plastic bag the beans where in.
Answer

this Question

I have little red bugs in my kitchen since I got new cabinets. Please help me. How can I get rid of these bugs? Are they harmful?
By arun kaushal from Hamilton, NJ

Answers

June 7, 2021
0

found this helpful
Wash your cabinets out with soapy warm water, then then let it dry then go over it with white vinegar and let that dry.
Answer

this Question