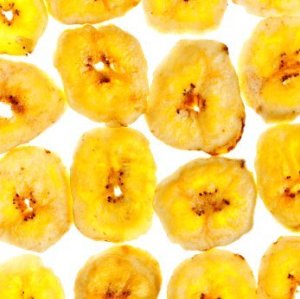 Banana chips are a delicious healthy snack that both adults and children enjoy. Drying bananas is an easy process. This is a guide about drying bananas.
Solutions
Read and rate the best solutions below by giving them a "thumbs up".
During the summer months, I enjoy eating frozen bananas, but now that it has turned cold, I have a new craving and it's for dehydrated bananas. They are so good, I have to watch myself and remember that 28 pieces is a whole banana. I don't put anything on the bananas, I just peel them, cut them, and put them in the dehydrator.
The first batch of bananas I dehydrated stuck really badly and it was so hard to get them loose from the tray. It was a mess. So, for the next batch I dehydrated, I stacked them in circles so only one edge is touching the tray. This method worked much better.
When they begin to get dry, I run a pancake spatula around the tray under the bananas and they come up with no problem. During the drying process, I turn them over and alternate the stacking of the trays, putting the bottom trays on top and the top trays on the bottom.
It takes 5 to 10 hours to dry a batch of bananas. It depends on how many you put in the dehydrator. I'm new at this and still learning. Dehydrated bananas and nuts make a great snack.
Approximate Time: 5-8 hours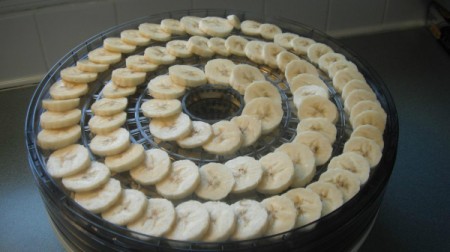 Share Your Feedback: Once you try any of the above solutions, be sure to come back and give a "thumbs up" to the one that worked the best for you. Do you have a better solution? Click "Share a Solution" above!
Questions
Here are questions related to Drying Bananas.
I am looking for a home made recipe to dry banana slices. Please can you help?

Sharlene from South Africa
---
Best Answers

By Linda08/01/2008
6 firm, fresh, ripe bananas
1/4 cup lemon juice
1/2 cup orange juice
1/2 cup wheat germ or coconut (optional)

Peel and slice bananas.
Dip in lemon juice.
Arrange on greased cookie sheet in a single layer.
Bake at 175 degrees F for 2-3 hours or until golden.
(They can be dried until they are crisp.)
Cool completely before storing.
Package in glass jars, tins, or reclosable bags.

http://www.uaex.edu/depts/FCS/EFNEP/recipes/Desserts/Dried_Bananas.pdf

---
Best Answers

By Anonymous07/31/2008
You will need a dehydrator. Even though they sound expensive it is a good investment because you can dry all sorts of fruits and veggies and the dehydrator will last for a lifetime. Here is the one I like and comes complete with recipe instructions (including how to keep certain fruits and vegetables from turning brown). http://www.hillmark.com.au/products ... s/ezidri_classic_everyday_dehydrator
The company does sell larger units if you are interested in drying mega amounts :-)