Easy Concrete Stepping Stones
Use half flat plant containers to make fast and easy paving stones for your garden. We had a bunch of half flat containers left over from buying plants this spring. I thought they would make great stepping stone molds but wasn't sure how to get the best results and be able to reuse the molds for future projects. I got the idea to line them with plastic and turned out to be the perfect solution.
Supplies
Half flat plant containers
Plastic garbage bags
Scissors
Bag of concrete mix
Wheelbarrow or bucket to mic concrete
Shovel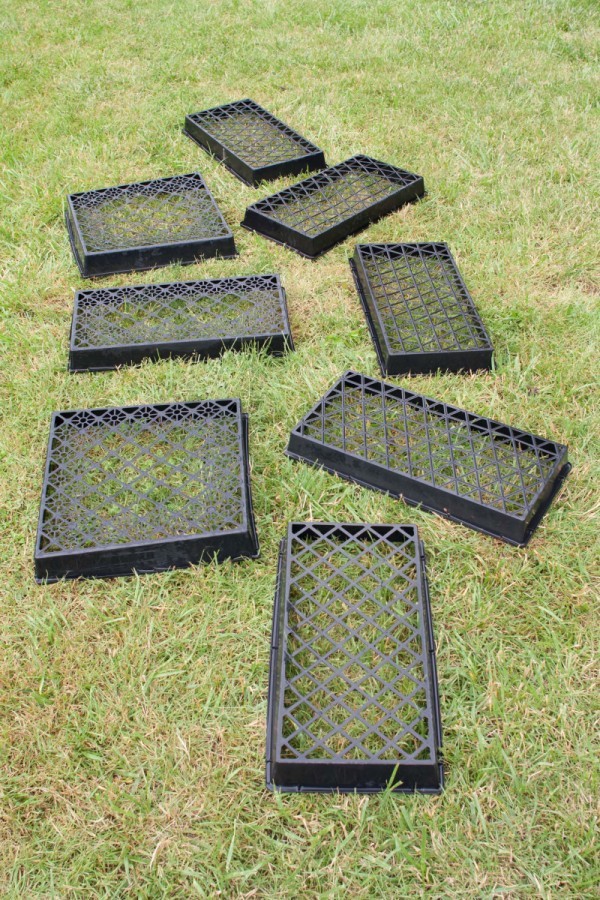 Instructions
Cut the garbage bag along the side and bottom of the bag and unfold it to make 1 large plastic sheet.
Cut the garbage bags to fit as a lining to the half flat containers. We found that we could easily get 4 from each garbage bag.
Line the half flat containers with the cut pieces of plastic. We found it helpful to wrap any extra loose plastic around the bottom of the mold as it was a bit windy that day. Keep it as flat as possible because folds in the plastic will show on your finished stepping stone.
Mix the concrete in your wheelbarrow or bucket. Use a shovel to stir the water in until it is the right consistency.
Scoop or pour the concrete mix into the molds
Lightly shake and tap the mold on the ground to level the concrete. This will also help push the concrete in to all the nooks and crannies of the mold design and reduce bubbles on what will be the top surface of the stepping stone.
Let the concrete set-up for about 24 hours
After the concrete is set, flip the mold over and remove it.
Now peal back the plastic to revel your new stepping stone.
The concrete will continue to dry out over the next few days, but you can put it in place right away.

By Jess from Hillsboro, OR
Feedback
Read feedback for this post below. Click here to post feedback.
Post Feedback
Add your voice to the conversation.
Related Guides
Related Posts