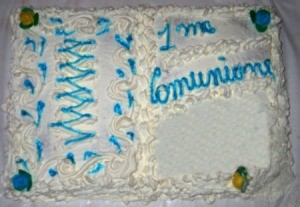 Your child's first communion is a very important religious rite of passage. This is a guide about first communion party ideas.
Ad
---
Solutions: First Communion Party Ideas
Read and rate the best solutions below by giving them a "thumbs up".
Communion is around the corner. My tips is to Moms who want to enjoy the day, yet can not afford or do not want to cater the food for a backyard party. Make dishes such as: Chicken Parmagiana, Chicken Cacciatore, Baked Ziti, Sausage Pep and Onion, ahead of time in the chafing pan inserts. Give the dish to a friend that will not be at the church and ask them to bake the item before the party starts and to bring to the party when they arrive. The dish comes to your house hot and ready to serve!
By Tkelly336 from Hamilton, NJ
For my son's First Communion party, we decorated the tables with small square glass vases. My son picked out the fresh cut flowers out and I cut them to the right size. I put decorative marbles in the bottom and used food coloring (blue for boys) to enhance the elegance of the centerpieces. Then I added decorative butterflies to the centerpiece. Butterflies mean "new life". I got endless compliments on the centerpieces. You can even use this in a everyday look at home.

By Kerry from Flat Rock, MI
Give a "thumbs up" to the solution that worked the best! Do you have a better solution? Click here to share it!
Questions
Here are questions related to First Communion Party Ideas.
How do I arrange a party for first holy communion of my son?
By Ivan
AnswerWas this interesting? Yes No
Ad
---
---
Most Recent Answer
By Eileen M. 56 240 05/03/2011 Flag
Much depends on time of day and your budget. If it is a morning Mass, you could have lunch or brunch, rolls with sliced meats and cheeses, salads, etc. If it is an afternoon Mass, thing cake and punch, If evening Mass, hors d'oevres or snackie things. Remember that this is not a big gift-giving occasion, more of a religious deal, so gifts of a bible, prayer book, rosary, etc are appropriate.
How can I host a First Holy Communion party for my daughter?
By sheebasunny
AnswerWas this interesting? Yes No
Ad
---
---
Most Recent Answer
By Katie 4 216 07/08/2010 Flag
My 8 year old twins were baptized a week ago and we hosted a BBQ at our house afterward. We kept it simple by serving hamburgers and hot dogs, plus several salads (pasta & Cool Whip-fruit cocktail-mini marshmallows-dry Jello), fresh fruit, giant cookies, and cheesecake. We don't drink alcohol so drinks were soda and CapriSun. We had about 30 people.
I am looking for homemade favor ideas for a 9 year old girl's communion party. Any suggestions?
By Lori from IL
AnswerWas this interesting? Yes No
---
Most Recent Answer
By kathleen williams 76 1,661 04/17/2010 Flag
When it comes to choosing First Holy Communion favors, there are many factors to consider. The type of First Communion party you will be having after the religious service, the number of people you are inviting and the type of favors you prefer.

For a casual First Communion party, your favors might just be some Jordan almonds or mints in an organza bag or a personalized chocolate bar. For a more formal party, you will want to choose elegant First Communion favors such as chocolate crosses or even rosary bead favors for guests. There are also imported chocolate favors incorporated with a magnet or other keepsakes.

The number of people coming to the First Communion festivities will also dictate what party favors to select. Affordable favor ideas for large numbers include religious candle favors, personalized Communion tea bag favors, personalized coffee Communion favors or even personalized cocoa Communion favors. Personalization with your childs name and First Communion date on the favor makes a special gift. Another idea is to place chocolate squares with a First Communion theme wrapper in dishes on every table. Do-it-yourself favor kits are also available for First Communion party favors that involve very little time to assemble but will save a lot of money. Bookmark favors come in kits that can be purchased.

The popular theme ideas for First Holy Communion favors are personalization, edibles and unique Communion favors.

Many people prefer a certain type of favor. Whether its candles, Communion cookies, soaps, edible favors or favors for personalizing, there are many choices to be found. Rosary beads, either large or small, are also very popular gifts for guests at a First Communion party.

Think about whether you want a generic keepsake or one that is specifically for a boy or a girl. Something like a delicious chocolate-covered oreo cookie in pink or blue, or a candle with a blue cross or a pink cross, or a bookmark with a pink cross or a blue cross, or almonds in a pink organza bag or a blue organza bag would be appropriate if you wanted to have Communion boy or Communion girl favors.

If a unique First Communion favor is what you are looking for, favors imported from Spain or Italy fit the bill. They will be something out of the ordinary that your guests will really notice and remember. Imported chocolate puzzles are also elegant and unique Holy Communion favors. Rose-scented rosaries will make a big hit at your Communion party also when you present them to every guests.

If you want something a little classier than the ordinary Jordan almonds, consider fine imported sugared almonds in pink, white, blue, or pastel. Even honey jars with your childs name and First Communion date on a personalized label will be something quite different.

Another thing to remember is how you will seat your guests. A plain place card will do, but there are also bells with a hanging cross that serves as a party favor but also as a way to display the seating arrangements for your guests.

Some other ideas are personalized tins with Communion designs and mints inside. These First Communion souvenirs are very usable but still remind your guests of the special day. Cookies in the shape of a cross, chalice or an angel are also good ideas for party favors for Communion parties.

Many of the candles used for Holy Communion favors have a cross in either pink or blue on the front and come in a gift box. The same is true of bookmarks and key chains. There are even Italian almond favors that also include rosary beads.

With the religious favors that are available, it should not be difficult to find what you are looking for. Votive candles can be personalized, chocolate crosses can have a custom tag attached, tea and coffee favors can be imprinted with the child's name and the date. Edibles range from chocolate bars to fancy imported almonds to wrapped chocolate squares to mint tins to Oreos. Chocolate crosses in milk or white chocolate will surely make an impression on your guests. An elegant frame can be taken home as a keepsake and also serve as a place card holder.

Personalized ribbon is another way to make a unique decoration. Have the ribbon printed with the childs name and date of the event and tie it around the table decorations for a special touch.

There are so many options, it should not be difficult to make your celebration successful and please your guests, all within a budget that will work for a small group or large group of guests. Good luck.
My daughter is 7 years old and will be receiving her First Holy Communion this year. We will be hosting a luncheon party after the church service. What happens at the party and what sort of prizes/games should one have? I'm new in this country and don't know what happens at one. Please help and thank you.
By Lydia
Do you have to have it the same day as mass?
By Serena
What games/activities would be appropriate for my 9 year old daughter's communion bearing in mind the dress and occasion.
By Sorcha O'Connor
I need some ideas for activities for my little brother's first communion. I need some ideas quick! It is in 1 day!

Jaime from Beaver,PA
Archives
Thrifty Fun has been around so long that many of our pages have been reset several times. Archives are older versions of the page and the comments that were provided then.
I am looking for First Communion celebration ideas.
Can I get some planning tips for a cousin's communion? I would like advice on games for children as well as adults. Thank you.
By EC